Baysox Outlast RubberDucks to Win Thrilling Friday Night Affair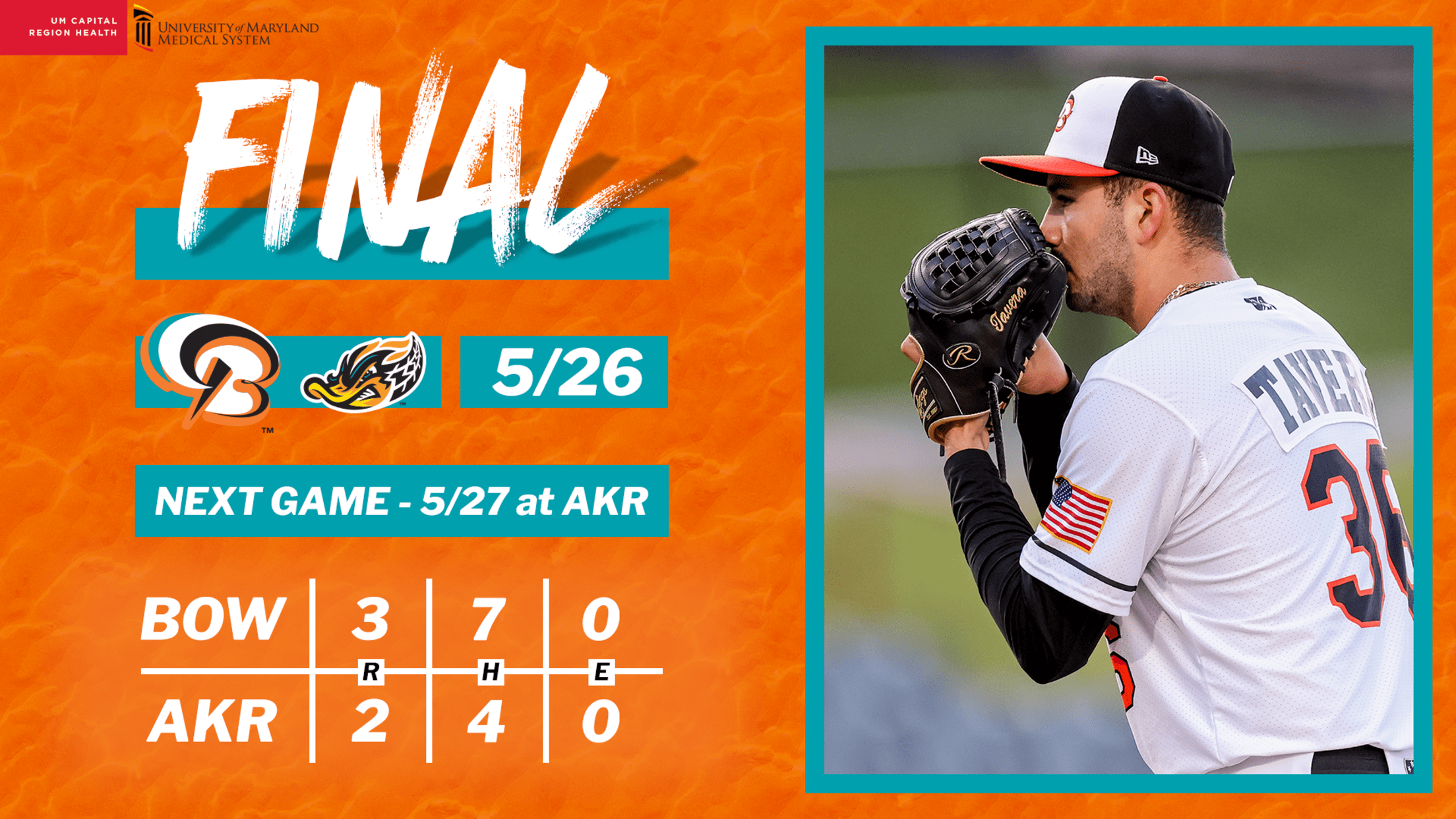 BOX SCORE AKRON, OH – A thrilling night in Ohio, the Bowie Baysox prevailed in a one-run contest with the Akron RubberDucks on Friday. After pushing ahead to an early three-run lead, backed by five hitless innings from Carlos Tavera, the Baysox held on just enough to win their third
AKRON, OH – A thrilling night in Ohio, the Bowie Baysox prevailed in a one-run contest with the Akron RubberDucks on Friday. After pushing ahead to an early three-run lead, backed by five hitless innings from Carlos Tavera, the Baysox held on just enough to win their third game of the week 3-2.
It was another early strike for Bowie as Heston Kjerstad walked and Coby Mayo drilled a two-run home run into the left field corner. The first inning set the tone for a short day from Akron's Jamie Arias (L, 0-2), as the left-hander only lasted until one batter into the fourth inning.
Following a leadoff single in that fourth inning, Bowie was able to bring across the eventual winning run against reliever Jared Jones by loading the bases and surviving a double play ball. Bowie made plenty of pushes to increase their lead across the night, which included a three-hit day from Randy Florentino, but could not scratch Jones or Bradley Hanner. Bowie left nine runners on base.
After an already impressive performance on Thursday that saw Chayce McDermott take a no-hitter into the sixth inning, Carlos Tavera felt up to task to match him. Tavera (W, 1-2) allowed only two baserunners over a near-perfect night, a pair of walks to Korey Holland. While Holland did reach second base both times, Tavera never wavered, striking out five batters.
Houston Roth took the back end of the game for Bowie, and while he did surrender the no-hit chance in on the first batter he saw, he maintained the shutout into the eighth inning. After a stretch of eight consecutive outs, Roth faltered briefly by walking Petey Halpin and allowing a two-run home run to Angel Martinez.
In the ninth inning, Roth (Sv, 1) squeezed two outs around a walk of Aaron Bracho, and when Joe Naranjo smoked a line drive that ricocheted off Heston Kjerstad's glove at first base. While Bracho tried to advance to third base on the line drive, Noelberth Romero picked up the deflected ball and fired to Coby Mayo at third. Bracho's slide brought him off of the base, allowing Mayo to apply the game-ending tag.
The heart-stopping win is the fifth one-run win for Bowie this season, and their fourth win in their last five games, as they improve to 15-26. With two more games left in the series, Bowie will try to take at least one of them for their first six-game series win of the season. Justin Armbruester will start for Bowie on Saturday, with the first pitch set for 7:05 p.m.