Bowie Blanks Akron to Win Third-Straight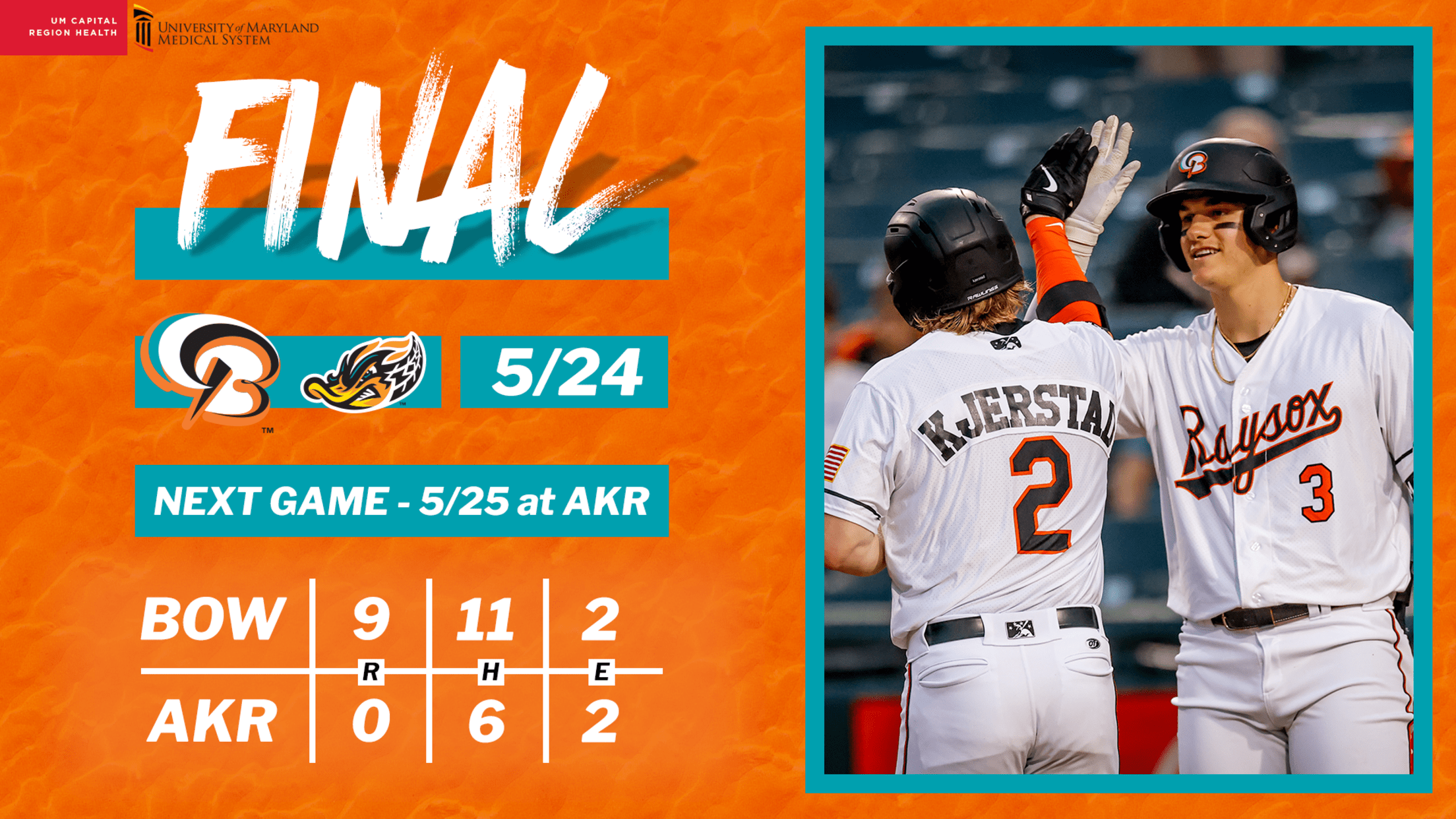 BOX SCORE AKRON, OH – Finally starting to stir after a slow start to the season, the Bowie Baysox put together one of their most dominant wins on Wednesday, as they took down the Akron RubberDucks 9-0 at Canal Park. Garret Stallings and Peter Van Loon combined for the fourth
AKRON, OH – Finally starting to stir after a slow start to the season, the Bowie Baysox put together one of their most dominant wins on Wednesday, as they took down the Akron RubberDucks 9-0 at Canal Park. Garret Stallings and Peter Van Loon combined for the fourth shutout of the season from Bowie, while Coby Mayo and Heston Kjerstad each contributed three-hit performances.
On a Major League Rehab, Cody Morris took the first inning for Akron, and sat down the Bowie offense on just nine pitches. Akron quickly shifted to left-hander Doug Nikhazy, who took a majority of the innings in long relief. Following a scoreless second inning, Bowie nicked Nikhazy (L, 1-1) for a run in the third, when Heston Kjerstad and Coby Mayo each knocked two-out hits.
After seven consecutive outs, Bowie reset their offense in the sixth, as Mayo crushed a two-run home run against the wind, followed by two more runs driven in by Isaac Bellony and Anthony Servidio.
Akron got a scoreless relief outing from Mason Hickman, but Bowie exploded against closer Cade Smith. Without a save opportunity, Smith gave up four runs, including RBI knocks to Kjerstad, Mayo, and Cook.
The strong offensive showing was supported by shutout work from Garret Stallings and Peter Van Loon. Stallings (W, 1-2) tossed five scoreless innings for the second time this season, while striking out seven batters. Twice, Stallings had allowed a runner to reach third base with only one out, but strong defense helped him maintain the shutout.
Working on the back end of a tandem, Van Loon (Sv, 1) turned in his best outing of the season, only allowing three baserunners over four scoreless innings, while striking out a season-high six batters.
Improving to 14-25 on the season, Bowie rides their first three-game win streak of the season into the third game of the series on Thursday. Chayce McDermott will get the ball for Bowie on Thursday as they look for four-consecutive wins, with the first pitch scheduled for 6:35 p.m.