Slow Offense Overshadows Strong Pitching as Bowie Falls to Akron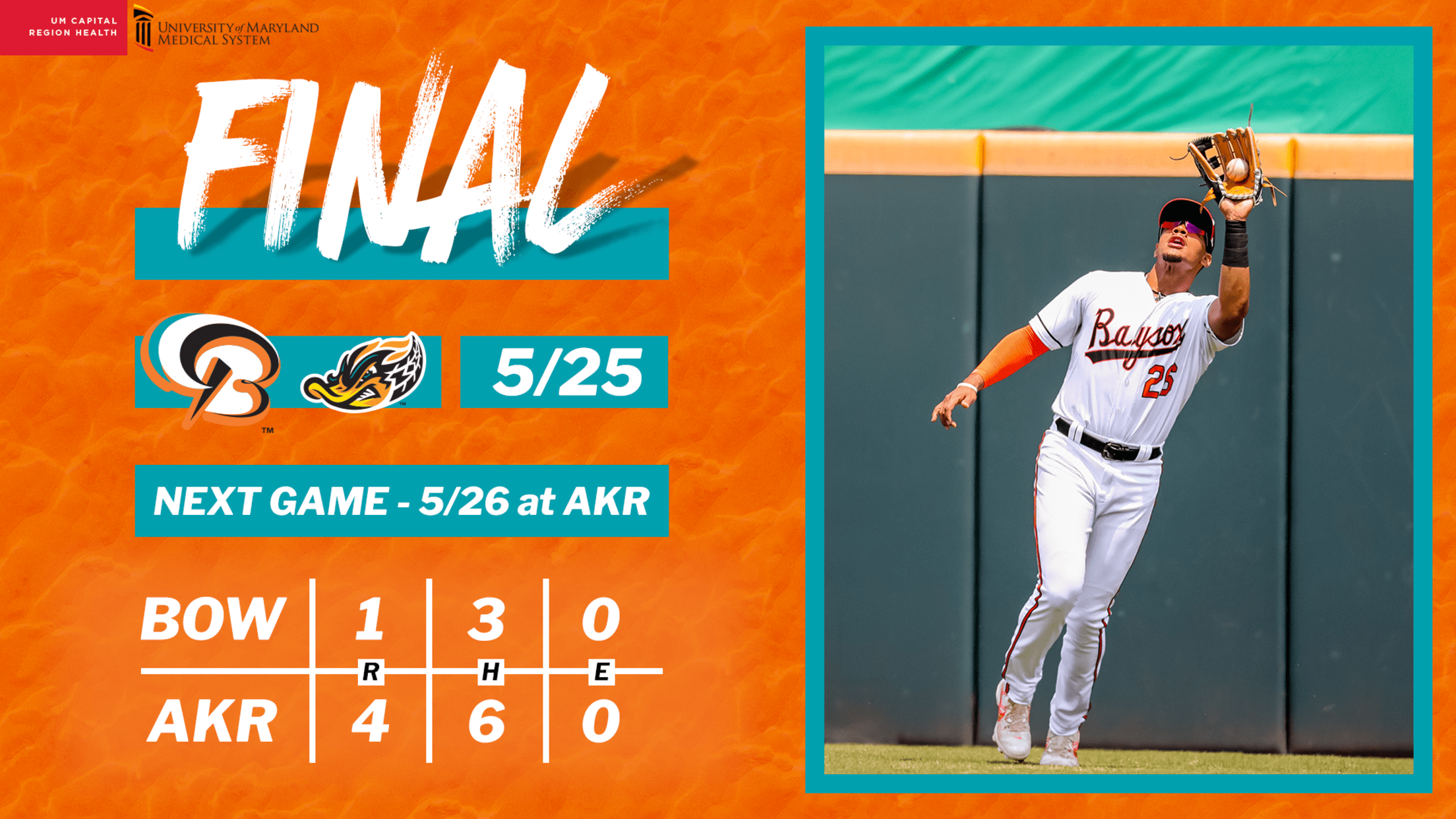 BOX SCORE AKRON, OH – Chasing history again, the Bowie Baysox were instead served a tough loss by the Akron RubberDucks on Thursday. After starting the fifth nine-inning no-hitter in franchise history on Friday, Chayce McDermott opened with another five hitless innings, but was eventually on the wrong end of
AKRON, OH – Chasing history again, the Bowie Baysox were instead served a tough loss by the Akron RubberDucks on Thursday. After starting the fifth nine-inning no-hitter in franchise history on Friday, Chayce McDermott opened with another five hitless innings, but was eventually on the wrong end of Bowie's 4-1 loss.
Having to stare down the barrel of a strong pitcher themselves, Bowie only managed two hits against Akron's Hunter Stanley. Heston Kjerstad doubled to start the game, and Bowie loaded the bases with one out in the first inning, but they failed to score. Stanley (W, 1-3) retired nine-consecutive batters before TT Bowens cracked a solo home run to left field, his second of the season. While Bowie did lead 1-0, Stanely returned to retire the next 11 batters, capping off a career-high seven-inning performance. Bowie only managed one more hit in the contest, an Anthony Servideo single against Randy Labout (Sv, 1) in the eighth inning.
Fighting with the wind and the strike zone, Chayce McDermott slowly held the line for Bowie while piecing together another strong performance. Despite tying a career-high six walks on the night, McDermott fired his second-consecutive start of five hitless innings. After two quick groundouts in the sixth, Bryan Lavastida broke McDermott's (L, 3-3) chances at a second no-hitter by singling to right field. With the seal broken, the very next pitch was smacked by Jonathan Rodriguez for a go-ahead two-run home run.
Bowie was forced to switch to Kade Strowd in relief, and the right-hander gave up a solo home run to Julian Escobedo, the first batter he saw. Akron plated one final run in the seventh inning on an RBI single by Angel Martinez. Xavier Moore wrapped up the day for Bowie by tossing a perfect eighth inning.
While Bowie losses their three-game winning streak, they fall to 14-26 on the season. They will turn to Houston Roth on Friday to try and begin a new streak, with the first pitch scheduled for 7:05 p.m.