Rafaela, Kavadas barreling toward Boston
Free-swingers, big thumpers loom large among Red Sox All-Stars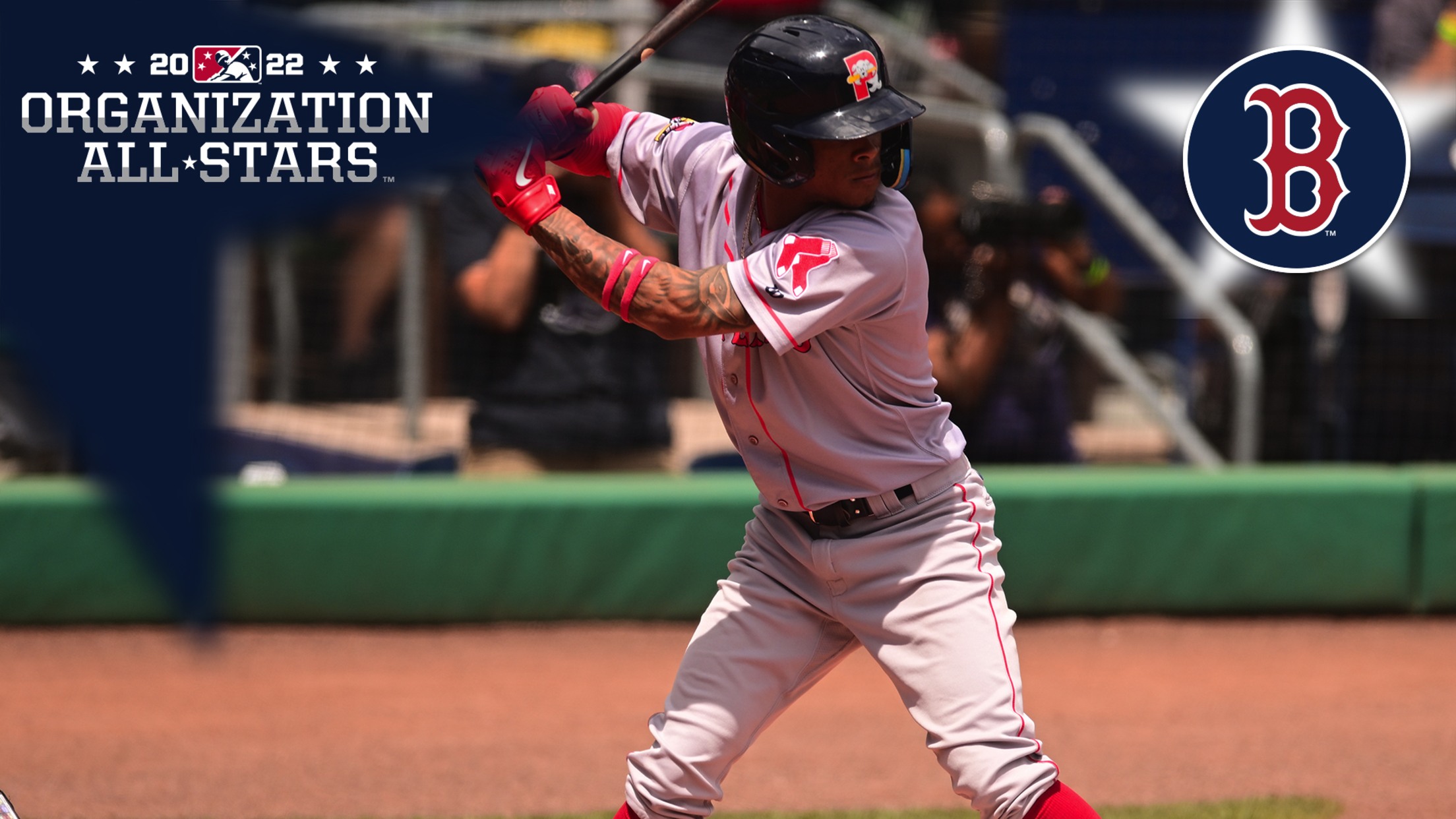 Ceddanne Rafaela led the organization in batting (.299) and total hits (144) between Portland and Worcester. (Kevin Pataky/MiLB.com)
Each offseason, MiLB.com goes position by position across each organization and honors the players -- regardless of age or prospect status -- who had the best seasons in each farm system. Next up in our 2022 Organization All-Stars series are the Boston Red Sox.
Each offseason, MiLB.com goes position by position across each organization and honors the players -- regardless of age or prospect status -- who had the best seasons in each farm system. Next up in our 2022 Organization All-Stars series are the Boston Red Sox.
2022 Organization Summary
Triple-A Worcester: 75-73
Double-A Portland: 75-63 (Northeast division, second-half champions)
High-A Greenville: 52-78
Single-A Salem: 64-66
FCL Red Sox: 35-20
DSL Boston Blue: 44-16 (North division winners)
DSL Boston Red: 36-23
Overall record: 381-339 (.529 winning percentage, sixth among MLB organizations)
Red Sox Organization All-Stars
Catcher: Nathan Hickey
The club's No. 19 prospect showed off his above-average power in his first full professional season between Salem and Greenville. Hickey had more extra-base hits than singles and finished second in the organization with a .936 OPS and 19.2 percent walk rate, while his .522 slugging percentage ranked third. The 2021 fifth-rounder tapped into his power a little more after the promotion and fared well in his limited opportunities against southpaws, batting .278 with four homers and an .887 OPS against them. He stayed behind the plate exclusively, committing eight errors and catching 10 runners trying to steal.
First baseman: Niko Kavadas
An ability to hit the ball hard and for extra bases will be a common theme among this group of All-Stars, and Kavadas was the organizational leader in OPS (.990) and slugging percentage (.547) while also being one of the best in the Minors at getting on base. His .443 OBP ranked second among all Minor Leaguers with at least 300 plate appearances while his 19.8 percent walk rate ranked 10th.
"He's a mature, hard-working young kid that has a really good understanding of who he is as a baseball player," said Red Sox director of player development Brian Abraham. "He just impacted the baseball on a higher than very consistent basis -- not only in the park, but over the wall."
Boston's No. 21 prospect was one of the older players in the Carolina League to open the season but was promoted twice and saw time in the Arizona Fall League. Kavadas played exclusively at first base, committing 10 total errors.
Second baseman: David Hamilton
Hamilton's 70 stolen bases are certainly the headliner here -- the most in a single season for a Red Sox prospect since Jeremy Hazelbaker's 63 in 2010 -- but he also had 37 extra-base hits, including a career-high 12 homers, while compiling a .251/.338/.402 slash line at Double-A.
"Elite talent on the bases, not only as a base stealer but a base runner," Abraham said. "Gap-to-gap guy with flashes of power. I think we saw him impact the baseball as he had a better feel for who he was and what he wanted to do throughout the season."
This was Hamilton's first season in the Red Sox system. He joined the organization in the Jackie Bradley Jr. deal with the Brewers last season. A 2019 eighth-rounder out of the University of Texas, the 25-year-old made his professional debut last season, where he mainly stayed at shortstop. This season, Hamilton saw most of his time at second base and was tested in center field in addition to shortstop.
Third baseman: Blaze Jordan
Jordan struggled out of the gate with Salem, but over 78 games before his August promotion, he maintained a .315 average with 36 extra-base hits and an .874 OPS.
"We saw the damage, we saw the power to all fields, we saw the hit ability," Abraham said. "I think we really saw him hone in on the pitches that he could drive with a better understanding of the strike zone."
Jordan opened the season with a 24.32 percent strikeout rate in April but lowered that to 14.37 percent leading up to his promotion. Despite having a 25.5 percent punchout rate in High-A, the No. 9 Red Sox prospect sported a .301 average with four homers and an .828 OPS over the final 25 games of the season. Overall, Jordan was second in the organization in batting (.289) and third with 134 total hits. A natural third baseman, he split time at both first base and the hot corner, committing 12 total errors.
Shortstop: Matthew Lugo
This spot was a toss-up between Lugo and top prospect Marcelo Mayer. But the edge has to go to the 21-year-old Lugo, who finished second in the organization with 135 hits. He was also one of only two players in the Red Sox system to hit at least 18 homers and steal 20 bases. The club's No. 12 prospect earned a late promotion to Portland but did most of his damage in Greenville. Overall, he batted .282/.338/.492 with 10 triples, 26 doubles, 79 RBIs and 77 runs scored. Although he showed off some sneaky power, Lugo, like Jordan, may benefit from a more patient approach. His 6.7 percent walk rate and .338 on-base percentage both ranked toward the bottom among Boston Minor Leaguers with a wRC+ better than 100. Defensively, he mainly stayed at his natural position at shortstop but played a lot at third base.
Outfield: Ceddanne Rafaela
The 22-year-old made so many ridiculous catches this year that it's easy to forget he also had one of the best offensive seasons in the system. Rafaela led the organization in batting (.299) and total hits (144) and tied for the lead with 10 triples and 86 RBIs between Greenville and Portland.
Rafaela, the No. 3 Red Sox prospect, is another hitter who likes to hunt and be aggressive. Among the 45 Minor Leaguers to reach 140 total hits this season, his five percent walk rate is second lowest and his .344 on-base percentage is fourth from the bottom. But there was a lot of good to come from this approach: He set career highs with 21 homers and 32 doubles and showed off his athleticism with 28 steals.
Defensively, the 5-foot-8, 152-pounder would likely be the best fielder at whatever position he's asked to play. He mostly stayed in center field this season, but also played 21 games at shortstop.
"Being able to play two premier positions above average is rare. And he can do that." Abraham said. "The athleticism, the range, the hands, the quickness, the arm strength – just a ton of instincts in both areas. Seemingly gets to where the ball is before it's there. More often than not, it's always a step ahead."
The 20-year-old showed some power in his first two seasons of Rookie ball but put on an impressive display in his full-season debut in Salem, collecting 58 extra-base hits. Paulino was one of three Red Sox prospects with 10 triples this season and led the system with 35 doubles and 96 runs scored. Overall, Paulino batted .266 with an .828 OPS while driving in 66 runs and swiping 27 bases. The No. 13 Red Sox prospect showed some swing-and-miss but had a little more patience than Lugo or Rafaela, finishing with a 11.9 percent walk rate. Paulino is a natural middle infielder who split most of his time between the three infield positions for Salem. But, playing alongside Lugo and Mayer, he was used in center and left field as well. Both Paulino and Rafaela were added to the club's 40-man roster this month.
The 24-year-old earned his first promotion to Triple-A in June and remained consistent at the plate all season. Castellanos finished with a .274/.305/.430 slash line, 13 homers, 28 doubles, three triples and 71 RBIs, which matched his career high. He didn't get into his power as much in Worcester, but he consistently got the bat to the ball. Castellanos fits the profile of a hitter with an aggressive approach. He drew only 14 total walks throughout the season, and his 2.8 percent walk rate was third lowest among all Minor Leaguers to receive 400 plate appearances. Castellanos was not protected on the 40-man roster and is currently a free agent.
Right-handed starting pitcher: Bryan Mata
In one of the more important developments in the Red Sox farm system, Mata pitched a full season. The 23-year-old had not pitched in a Minor League game since 2019 after undergoing Tommy John surgery but was able to give the Red Sox 83 innings across four levels in 2022, finishing with his first five Triple-A starts.
"We saw him reinvent himself during [the injury recovery period]. He got stronger, he changed his pitch mix a little bit. Focused on having a more consistent delivery," Abraham said. "He's turned into a little bit more of a sinker-slider pitcher versus being a little bit more four-seam heavy pitcher, as he was in the past. He still elevates that four-seamer, but he's really relying on his power sinker."
In total, Mata went 7-3 with a 2.49 ERA and 105 strikeouts while holding opposing batters to a .201 average. The No. 6 Red Sox prospect had a four-start tuneup in Salem and Greenville before making 10 appearances with Portland. Mata posted a 1.85 ERA with 58 punchouts over 48 ⅔ innings for the Sea Dogs. He wasn't as dominant in Worcester but still sported a respectable 3.47 ERA in 23 ⅓ innings.
Mata's 11.39 strikeouts per nine ranked second in the organization behind Brayan Bello, who also had a fantastic season at Double-A and Triple-A before joining Boston's rotation.
Left-handed starting pitcher: Shane Drohan
Out of Boston's four picks in the 2020 Draft, Jordan and Drohan received bonuses greater than slot value and both have gotten off to excellent starts in their pro careers. Drohan made his full season debut last year with Salem but took things a step further with Greenville and Portland this year, leading the organization with 157 strikeouts over 129 ⅔ total innings while maintaining a 3.89 ERA.
"We saw a guy with confidence. A guy who was willing to attack the strike zone," Abraham said. "A guy who was willing to challenge hitters, and with that got more swings and misses, more strikeouts to work ahead in the count."
Abraham added that the 23-year-old developed his changeup into a much more trustworthy pitch and found success throwing it to all parts of the zone against both lefties and righties.
Reliever: Andrew Politi
The 26-year-old righty had his best professional season in 2022, advancing from Portland to Worcester for his first Triple-A action. The highlight of Politi's season came during an August appearance behind rehabbing big leaguer Michael Wacha as he secured seven outs in a combined no-hitter. In total, the 2018 15th-rounder out of Seton Hall posted a 2.34 ERA with 83 strikeouts in 69 ⅓ innings. He was one of 55 Minor League pitchers to make at least 50 appearances this season, and his .183 opponent's batting average ranked ninth among that group.