Even without games, Pratto making strides
Royals No. 12 prospect progresses after disappointing 2019 season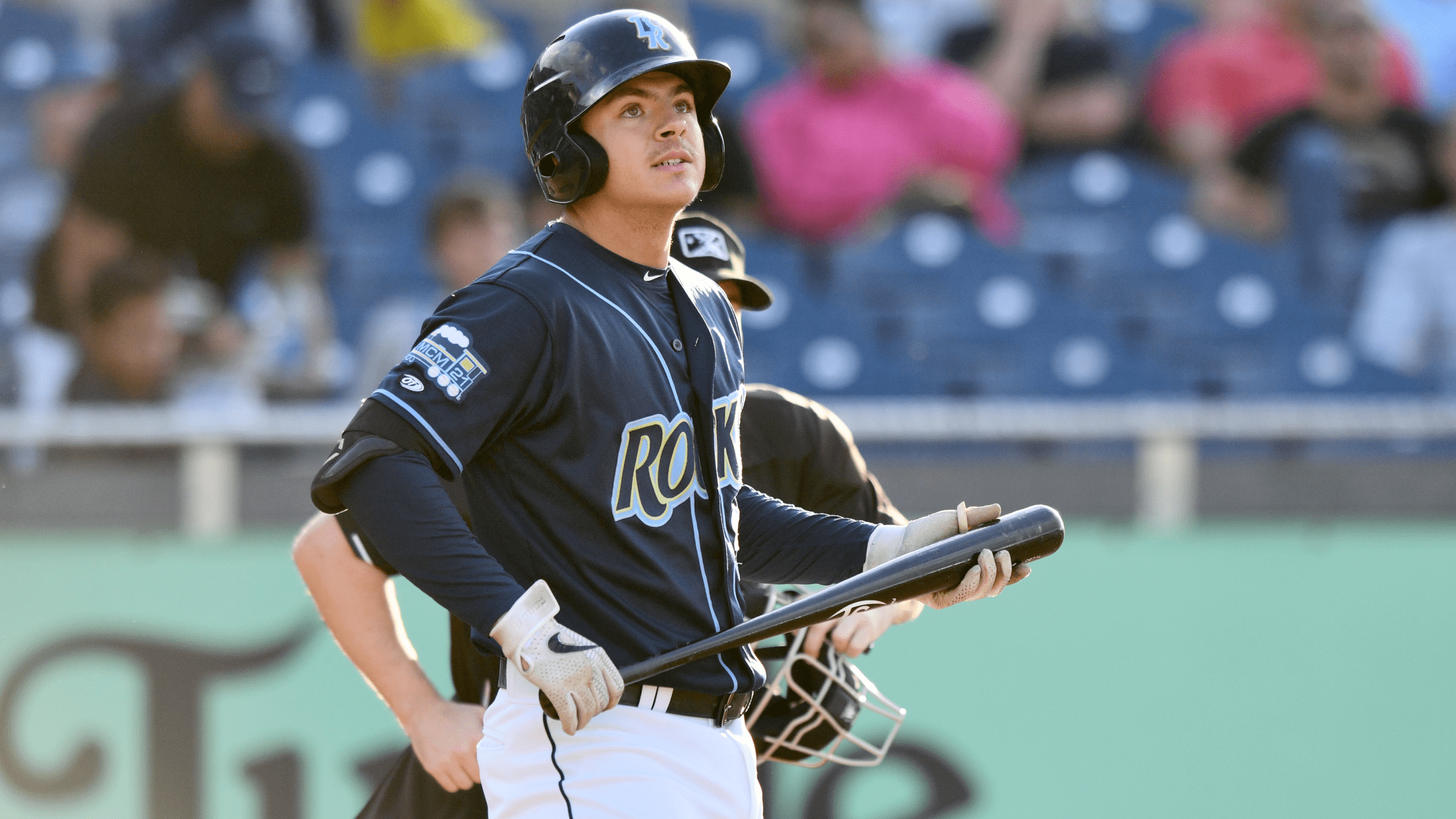 Nick Pratto smacked 27 homers in his first three seasons after the Royals took him in the first round of the 2017 Draft. (Ken Inness/MiLB.com)
After watching dozens of his team's prospects battle it out all summer at the alternate training site and into the fall at two instructional camps, Royals vice president and assistant general manager of player personnel J.J. Picollo didn't hesitate when asked which player made the biggest jump. "I think if
After watching dozens of his team's prospects battle it out all summer at the alternate training site and into the fall at two instructional camps, Royals vice president and assistant general manager of player personnel J.J. Picollo didn't hesitate when asked which player made the biggest jump.
"I think if you said who improved the most, it's [Nick Pratto]," he said. "No doubt."
Pratto and several other Kansas City youngsters spent the summer at T-Bones Stadium, developing together as the big league club played just a half-hour down I-70 across the state line. The Royals' No. 12 prospect also was one of more than 100 players who took part in one of the team's two instructional camps, in Pratto's case, the one at Kauffman Stadium that wrapped up at the end of October.
But while the 22-year-old was able to get in some meaningful at-bats and direction, the circumstances caused by COVID-19 prevented him from getting legitimate game reps in 2020 aside from the scrimmages and intrasquad contests he played in with teammates. It was realistically the best-case scenario given the situation, but it was still an adjustment to not see the diamond in earnest.
"Just like anything in the world right now, the only way to explain is just it's been weird. Hectic, weird," Pratto said. "It was different for me, only because, I mean, my whole life, growing up in California, we play baseball pretty much year-round. Even the offseason is a fairly long extended break for me."
In terms of progression, not much changed defensively during the year, as the first baseman's 60-grade glove and arm haven't wavered much since the Royals drafted him 14th overall in 2017. But he did take significant steps with the bat, most notably in the power department as he and Picollo recounted him hitting 16 homers, plus one during summer camp.
According to Pratto, there was no "magical moment" in which he tapped into some newfound strength or figured out an adjustment to his swing that suddenly unlocked a new supply of raw power. Instead, he believes the reason for his improvements at the plate came mentally, primarily through a more persistent approach and game plan when he stepped into the box.
"I think the power's been there," he said. "I think being more conscious of my decisions and what I was swinging at and how I was approaching the baseball had a lot to do with it. It was really just kind of me getting into positions to be able to get to what's been there, and just being stubborn and waiting for what I was looking for.
"I became a better student of the game than I've ever been before."
Picollo agreed, noting the development Pratto made reminded him of previous prospects who went on to do serious damage at the plate in The Show.
"He's made so many really good adjustments, not only to his swing but just understanding how his swing works," the assistant GM said. "He's developed an approach that's working for him. He's got a plan when he gets in the box and he's sticking with the plan. The traits you see in great hitters, he's displaying them right now."
Even beyond his swing, Pratto evolved as an all-around player tremendously in 2020 -- so much so that it was difficult for him to put that growth into words.
"I don't even know if I'd be able to quantify how much I've matured and kind of learned about the game," he said. "I mean, my whole perspective has changed."
And it couldn't have come at a better time. Pratto experienced a major setback in the 2019 season, when he posted a .191/.278/.310 slash line with only nine homers in 124 games for Class A Advanced Wilmington. That came in stark contrast to a 2018 campaign in which he hit .280/.343/.443 and clubbed 14 long balls in 127 games with Class A Lexington in his first full season as a pro.
To get back on that track, Pratto will need to carry his newly refined mental approach into next season. It won't be easy, but he's confident he can.
"I mean, there was never a doubt that I was -- at least in myself -- that I was going to be a productive player at some point in my career," he said. "But I think this year, the conversations I've had and kind of how I've been able to apply it, I've become a better problem solver. And when I get into those reps again, I know what I need to do to get back to where I need to be."
And, hopefully, he can do so with an audience.
"I really hope spring's going to be closer to the norm than what we saw this year, but you know, all we can be is hopeful," Pratto said. "I think the fans deserve it as well."
Jordan Wolf is a contributor to MiLB.com. Follow him on Twitter: @byjordanwolf.