Suns' Marisnick has 'grand' ole time
Marlins' No. 2 prospect smacks two slams, plates nine runs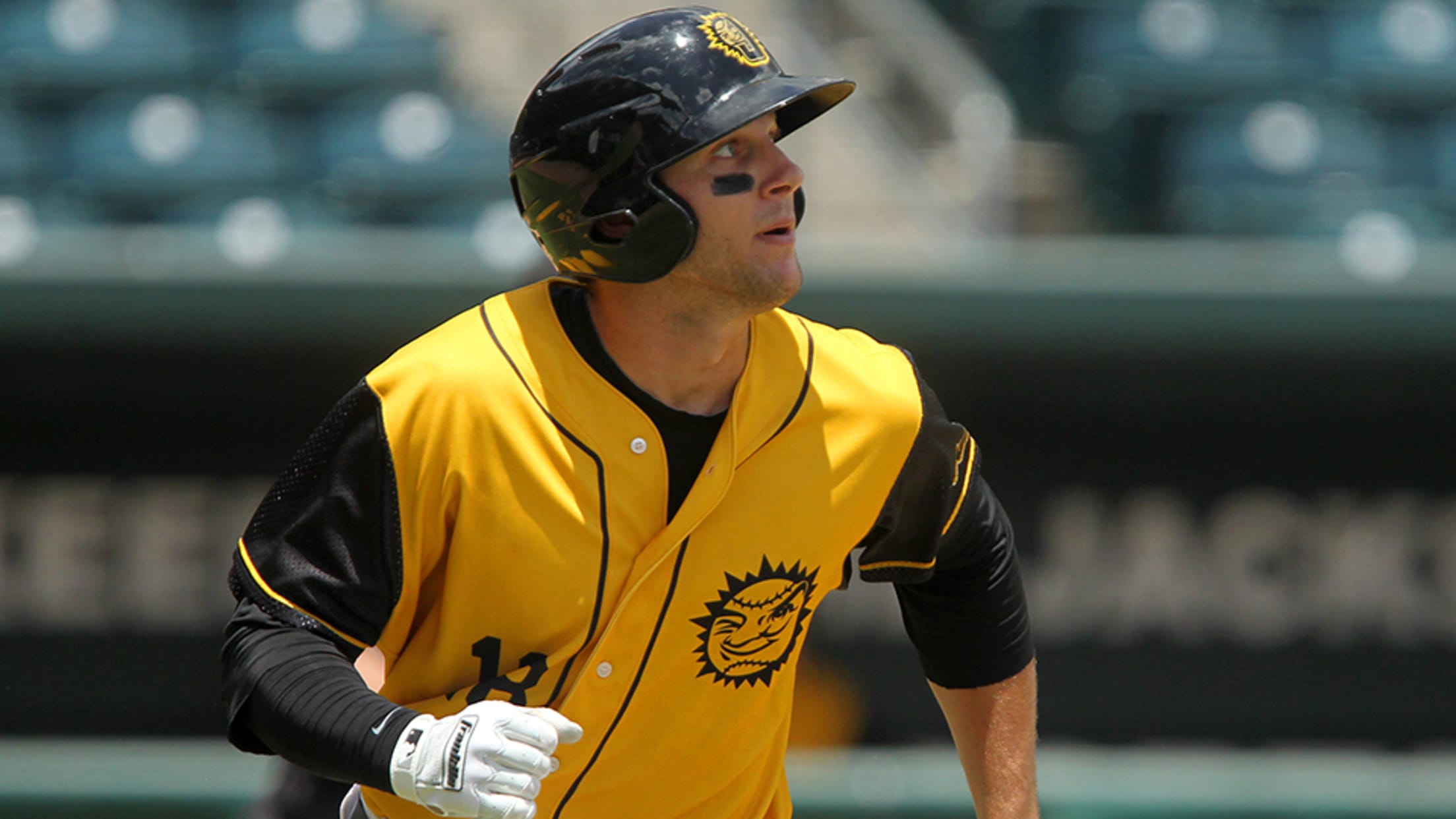 Jake Marisnick had never homered twice in a game before until Thursday. (Cliff Welch/MiLB.com)
Jake Marisnick had a career night after the seventh inning of the Suns' game on Thursday. Then he made it a record-setting evening an inning later. The Marlins' No. 2 prospect hit the first two grand slams of his career and tied the Southern League record with nine RBIs as
Jake Marisnick had a career night after the seventh inning of the Suns' game on Thursday. Then he made it a record-setting evening an inning later.
The Marlins' No. 2 prospect hit the first two grand slams of his career and tied the Southern League record with nine RBIs as Double-A Jacksonville routed Pensacola, 11-2.
It looked as though Marisnick's run-scoring double in the first inning might be the game's only run as the Suns opened their half of the seventh. Jacksonville loaded the bases with one out for the 2009 third-round Draft pick, who launched a home run off Josh Ravin to extend the lead to 6-0.
"I got a good pitch to hit. He left a curveball up and I put a good swing on it," Marisnick said. "I hit it pretty good, but the way the ball had been flying, the wind was blowing across and some guys had hit balls out there that just died. I thought I got it pretty good and I guess it got out by enough."
The 22-year-old outfielder found himself in an identical situation one inning later and did not disappoint, becoming the first Southern Leaguer to drive in nine runs in a game since Butch Garcia accomplished the feat for Charlotte on Aug. 4, 1989.
"It was awesome," said Marisnick, who had never driven in more than four runs. "All the guys were pretty fired up for me. They did a great job tonight, getting on, taking walks and laying off good pitches. We haven't been swinging the bats really well, so for us to put up a big number like that, it was a lot of fun."
No player in the Southern League had hit two grand slams in the same game since MiLB.com began compiling statistics in 2005.
Marisnick entered the game in a 2-for-26 slump. While he didn't do anything differently Thursday night, it was more returning to normal for the Florida native.
"Just little things I've been working on with Kevin Randel, the hitting coach," he said. "Just kind of got up there and let it happen. Sometimes I've been overswinging and that gets me into a bad situation."
He also received some help for Logan Morrison, who is rehabbing down with Jacksonville after undergoing knee surgery last September. Morrison walked as a pinch-hitter in the seventh and scored on Marisnick's first slam.
"It was awesome," Marisnick said. "He kind of had a lot to say to me. He watched some of my at-bats and he told me, 'Hey, you need to relax, you're pressing a little bit.'"
In the end, Marisnick seemed a little awestruck at his record-setting night.
"I don't really have words for it, I'm still kind of letting it sink in," he said. "It's a special night and I'm enjoying it."
Top Marlins prospect Christian Yelich was 2-for-4 with a triple and an RBI, while Mark Canha added three hits and scored twice for the Suns.
Robert Morey gave up six hits and struck out four over six scoreless innings to earn his second win for Jacksonville.
Robert Emrich is a contributor to MLB.com. Follow him on Twitter @RobertEmrich.