Englert extends hitless streak to 14 1/3 innings
Texas righty adds six no-hit frames as Hickory takes bid into 9th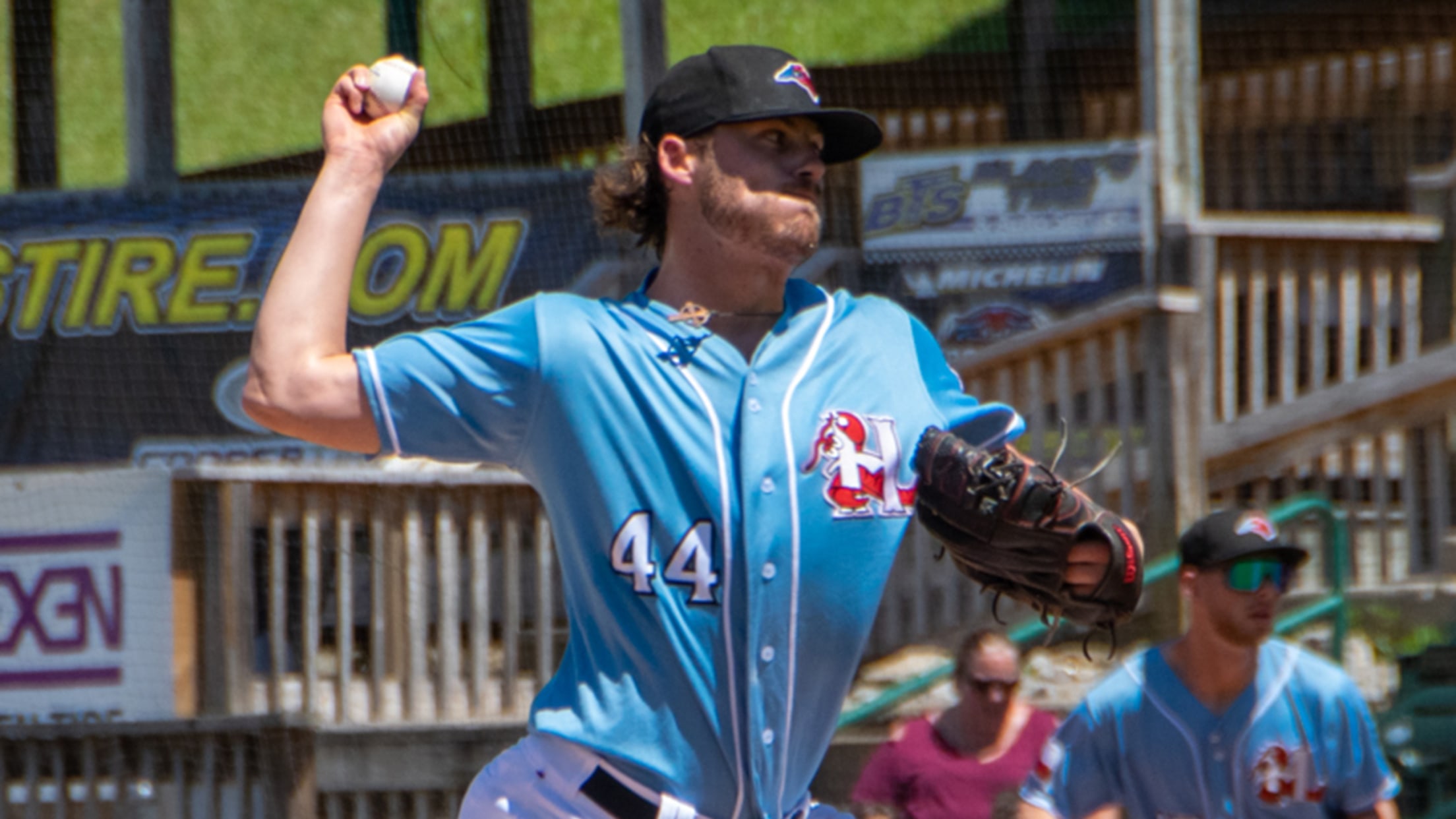 Hot on the heels of starting Hickory's last no-hitter, Mason Englert added six more hitless innings to his stat sheet. (Ashley Salinas)
Though High-A Hickory fell two outs short of their third no-hitter of the season, Mason Englert is still in the midst of an unprecedented stretch of his own. The Rangers prospect extended his hitless streak to 14 1/3 innings, scattering a walk and two hit batsmen across six scoreless frames
Though High-A Hickory fell two outs short of their third no-hitter of the season, Mason Englert is still in the midst of an unprecedented stretch of his own.
The Rangers prospect extended his hitless streak to 14 1/3 innings, scattering a walk and two hit batsmen across six scoreless frames as the Crawdads blanked Winston-Salem, 7-0, at L.P. Frans Stadium. He spun seven hitless innings in his previous start on Aug. 12 to help propel Hickory to its second no-no in a month and nearly did the same on Thursday.
"As far as the hitless streak goes, a lot of it is kind of out of my control. A lot of it is luck," Englert said. "I made a physical change about five or six weeks ago and that's contributed a lot to what's been going on lately. I've done a lot better job observing my thoughts and not reacting to them and just accepting how I feel when I go out there, whether it's good or bad."
The chance for a perfect game was spoiled in the first frame when the 22-year-old issued a two-out walk, but he quickly rebounded and retired the next seven batters he faced. It wasn't an easy road for Englert, though, who had to deal with runners in the fourth and fifth via a fielding error and two hit-by-pitches. He was able to escape both jams cleanly before tossing a clean sixth to cap off his outing.
The Texas native has pitched through several stressful situations on the mound in his past few outings, but Englert, who is big into meditation and breathing techniques to stay focused, never lets the nerves dictate how he pitches.
"Relaxing is a hard thing to do sometimes," Englert said. "The goal of it for me is to not be relaxed, it's just to view whatever I'm feeling and observe it as if I'm separate from it. Just accept it and create some space between whatever I'm feeling, whether it's good or anxious or anything, and just perform and do what I can, no matter what's going on on the inside."
The righty hurler started his streak on Aug. 4 when he retired the final four batters he faced in a seven-inning outing. He went that same distance again in his next start, where he and Theo McDowell combined to no-hit Greenville on the road.
Englert tossed 51 of his 84 pitches for strikes on Thursday to lower his ERA to 3.38. Opposing hitters are batting just .198 against him.
The Crawdads were well on their way to accomplishing the incredible feat of three no-hitters in the span of a little over a month, but a one-out, ninth-inning single from Winston-Salem's Bryan Ramos off reliever John Matthews broke up the bid for even more history. Luis Meises grounded into a double play after a six-pitch at-bat to secure Hickory's 59th victory of the year.
"I can't lie and say I don't think about [a no-hit bid]. Definitely, the thoughts come up before this game, after the first inning, all throughout the game, especially when I'm sitting on the bench," Englert said. "You can't help a lot of thoughts that float through your consciousness, so I just view them and don't latch onto them and let them pass, as thoughts tend to do."