Meyer's blast etched in Minor League lore
Denver Zephyrs slugger homered into Mile High's second deck in '87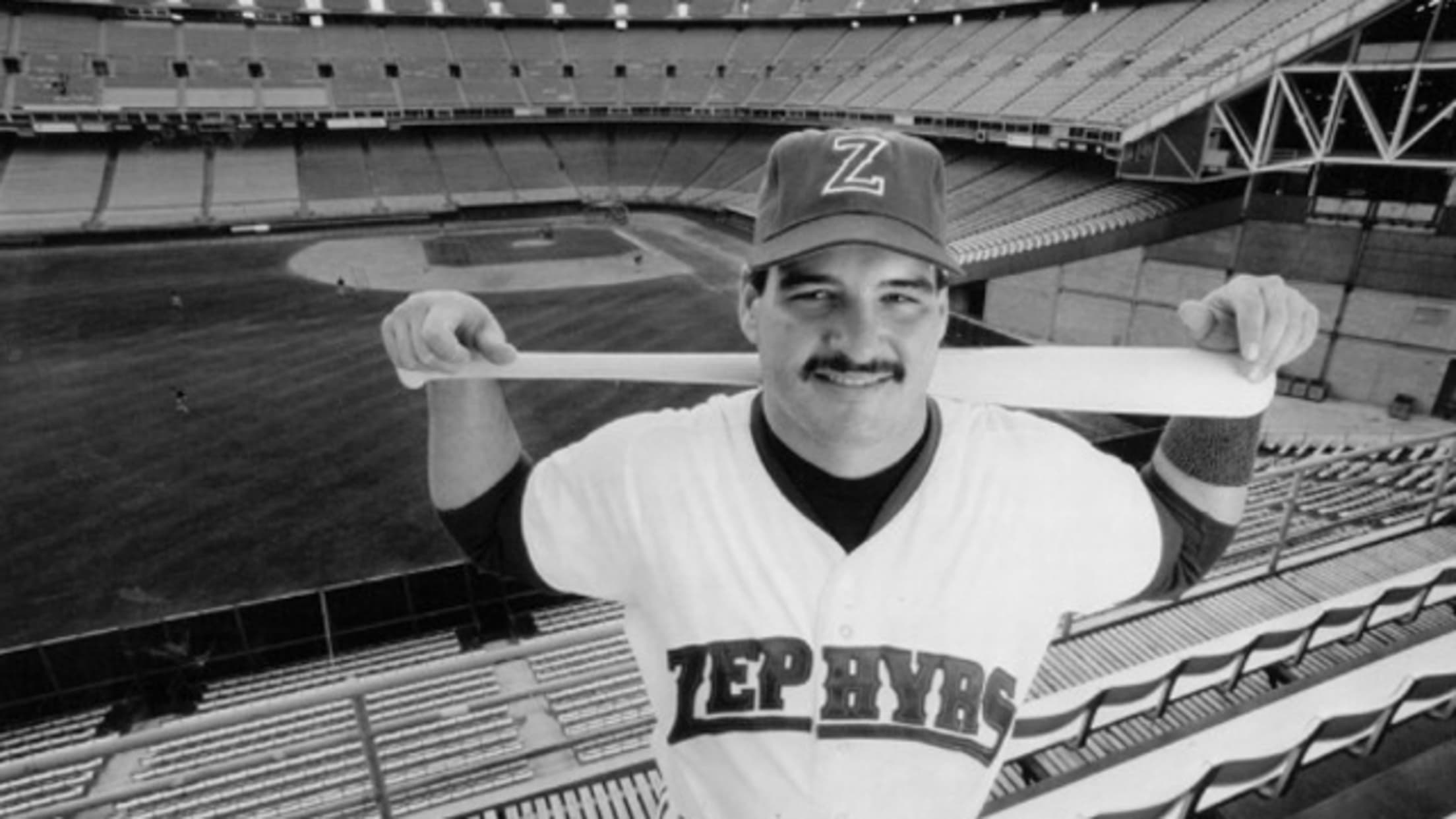 Joey Meyer poses from the spot his 582-foot home run hit in Denver's Mile High Stadium in 1987. (Karl Gehring/Getty Images)
This is a story about a chair. Actually, this is a story about two chairs, both of which occupy a place in history and one of which has been lost to it. On a late spring night in the largest Minor League stadium in the nation, a man bashed a
This is a story about a chair. Actually, this is a story about two chairs, both of which occupy a place in history and one of which has been lost to it.
On a late spring night in the largest Minor League stadium in the nation, a man bashed a baseball farther than perhaps anyone had before him. It sailed through air light on oxygen, over two outfielders who didn't move a muscle to pursue it, and slammed into a plastic chair almost 600 feet from the bat it left.
Nearly three decades later, Joey Meyer is still more than happy to remember it.
When asked whether he expected to be answering questions about a Triple-A American Association home run he hit 27 years ago, Tanner Joseph Meyer II's answer is quick and unequivocal.
"No," he said in the same gentle voice reporters remarked upon during his playing days. "I never thought I would. The older you get, you get very appreciative that people still think about something you've done. My career was cut short, and it wasn't exactly what I had hoped it would be. Just to be remembered for something is a great honor."
Meyer was once one of the biggest power hitters in the Minors -- both statistically and physically. At 6-foot-3, his weight usually hovered between 260 and 270 pounds.
"If this right-handed hitter … were to produce some homers," The New York Times said during Spring Training in 1988, "he would be baseball's answer to William (the Refrigerator) Perry, the Chicago Bears' 300-pound defensive tackle. When the Zephyrs needed a uniform shirt for Meyer a year ago, the only one big enough was a souvenir shirt in a Denver sports bar."
Meyer could have tried beating "The Fridge" at his own game. Recruited to play college football as well as baseball at the University of Hawaii, however, the Honolulu native quickly gravitated toward the sport where he'd make his name.
"I lasted about a week in football," Meyer told The Denver Post in the days after his monumental homer. "I was an offensive tackle, and they wanted to redshirt me for my freshman year. I decided all I really wanted to do was be a baseball player anyway."
That's where our story begins.
Cal Ripken Jr. was in Baltimore on June 2, 1987, somewhere at shortstop or in the dugout or perhaps at the plate when it happened. His Orioles were on their way to a 9-2 win over the Athletics; Ripken on his way in the midst of his 815th of an eventual 2,632 straight games played, an American professional sports record.
More than 1,500 miles and two time zones away in Triple-A, one of Ripken's bats was in the process of sending a baseball an almost inhuman distance.
From home plate at Denver's old Mile High Stadium to the first few rows of Section 338, city engineer Jerry Tennyson later estimated, a baseball would have had to travel 582 feet, soaring over the stadium's lower level, over a seam of luxury suites above it, over the name and number of former Denver Broncos defensive end Rich "Tombstone" Jackson in the Ring of Fame and into a section of dark blue rarely filled on baseball nights.
On June 2, 1987, then-Denver Zephyrs slugger Meyer sent a baseball on that journey.
An announced crowd of 1,404 sprinkled Mile High -- then with a seating capacity of greater than 76,000 -- and settled in to watch their Brewers-affiliated Z's clash with the cellar-dwelling Buffalo Bisons. With three thunderous swings, Meyer gave them the stuff of legend, and he did so with a bat belonging to a legend in the making.
"Donnie Scott [signed as a free agent with] Milwaukee, and he came into our Triple-A team in Denver," Meyer said recently from Maui, where he now lives and works in security at Maui Memorial Medical Center. "He liked my bats. He had a Cal Ripken bat, so we traded bats. He gave me some Cal Ripken bats, and that was the bat I used that day."
Three innings after he had given the Zephyrs the lead on a three-run homer off future Boston manager and then-Buffalo pitcher John Farrell, Meyer lofted himself into baseball mythology with The Iron Man's lumber. With one on, two out and Denver holding an 8-7 lead, Bisons reliever Mike Murphy left a 2-2 slider over the plate, and Meyer pummeled it.
Murphy's offering turned into Meyer's defining moment, screaming to left-center and into Mile High's second deck.
"My jaw just dropped," Zephyrs pitcher Dave Stapleton later told The Milwaukee Sentinel of his view from the home dugout. "It got real quiet. We just sort of looked at each other."
The unprecedented blast caught the eye of virtually everyone in the ballpark -- except Meyer.
"I'd never show up a pitcher by just standing there," he told The Denver Post the day after the jack. "My natural reaction after I swing is to start running to first."
After 27 years, his story is the same.
"When I hit it, I knew it was a home run," he said, "and when I hit third, [former Zephyrs manager Terry] Bevington asked me, 'Did you see where that landed?' I just kind of shook his hand and ran by, and everybody met me at home plate, and they were all pointing it out to me. I didn't really watch it.
"But that would've been one I wished I had watched."
In the eighth, Murphy knew he had to stay away from Meyer. It didn't matter. As the Buffalo righty worked outside, Meyer poked an opposite-field shot for his third homer of the game, one that capped a seven-RBI night.
The next day, Meyer came to the plate to the theme from Superman. He broke the bat in his first AB.
"Engineer projects Joey Meyer's blast at 582 feet," read the headline on the front page of The Post's sports section June 5. With the aid of city engineers, the Baseball Hall of Fame, the Society for American Baseball Research and others, Zephyrs general manager Robert Howsam Jr. had pinpointed Meyer's moment in history down to the foot. Then Howsam put a plan in place to promote it.
With the blessing of the Broncos and the city, the Zephyrs had the dark blue seat Meyer's home run hit removed and replaced with a bright orange one. For the stadium's final 15 years of existence, the orange seat marked the spot, bearing witness to the arrival of Major League Baseball in Colorado, a visit by Pope John Paul II, four Broncos AFC championships and more.
Then, it vanished.
"I was working through channels to try to get the orange seat when they were getting ready to tear Mile High Stadium down [in 2002]," said Paul Parker, club historian for the Colorado Rockies. "I was hoping to get it for the Rockies, and finally at the moment of the decision, the people at Mile High Stadium decided to give it to the Colorado Sports Hall of Fame, which is now housed at Sports Authority Field. We were disappointed, but then something happened, somebody got mad at somebody else and said, 'To hell with them. We're going to give it to the Rockies.'
"The seat was shipped over here to Coors Field, and I was called down to the dock to pick up the seat, which I assumed was going to be an orange seat. When I got down there, it wasn't. It was a blue seat, so I contacted the person who sent it, and she told me that that seat was actually the one that was struck by the home run and removed."
Meyer's original chair arrived to take its place in the Rockies' archives and did so with a companion.
"It's actually two seats," Parker said. "It was seat No. 7, and seat No. 8 is with it because they share a common stanchion. No. 8 had to come along for the ride."
As for the orange replacement seat -- does Parker have an idea what happened to it?
"No, I don't. Maybe someone does, but I don't."
Mile High Stadium went down in a heap of rubble in 2002. The orange beacon in the Section 338 sea of blue likely went with it.
At some point between the blast and the stadium's waning days, Meyer was promised his signature chair and the ball he crushed -- "What we'll do," Howsam told The Post the day after the homer, "is have [the ball] inscribed for Joey."
It didn't quite go that way. In fact, Meyer had no idea what happened to any of the instruments of his famous moment for years. Then, in 2012, fate found Joey Meyer again.
Tanner Joseph Meyer III was 11 months old when his dad hit a baseball over one-tenth of a mile. On a summer day 25 years later, he reconnected with history. The younger Meyer, stationed in South Dakota as a member of the Air Force, took a trip to Denver to catch a Rockies game and stopped in the National Ballpark Museum across the street from Coors Field.
"As he was walking through, checking out the museum, he noticed the items," Meyer said of his son's trip. "The guy asked him if he was familiar with those items, and he said, 'Yeah. They're my father's.' They brought all the items that they had out for him to take pictures with, and it was pretty cool.
"I was shocked and happy," Meyer said of discovering the whereabouts of the chair and ball. "[T.J.] said that it made him feel very proud and that felt good too. He was able to go back there not because I told him to go or anybody told him to go -- he just went."
After a year-long loan to the museum, the seat returned to the Rockies' archives at Coors Field, where it remains today. Though Denver has long since graduated to big league status in the decades following Meyer's home run, the slugger's name remains woven in the fabric of the city's baseball community.
"It's pretty special to know that people [walked] through there and they'll see it," he said, "and maybe they'll ask their aunt or uncle, 'Do you remember when he did that?' What made it more important was the Major League teams played there in Mile High before they built Coors Field. That made it more legit because everybody was saying, 'You've got the high altitude, the ball is traveling, it's not a legit 582 [feet].' It made it more legit that all these teams played there. All these teams had a chance to do it, all these players, and I don't think anybody hit it up there. That gave me a better feeling. The other guys had a chance.
"It means everything."
Tyler Maun is a contributor to MiLB.com. Follow him on Twitter @TylerMaun.