Prospect Q&A: Guardians catcher Naylor
2018 first-rounder on finding consistency in turnaround season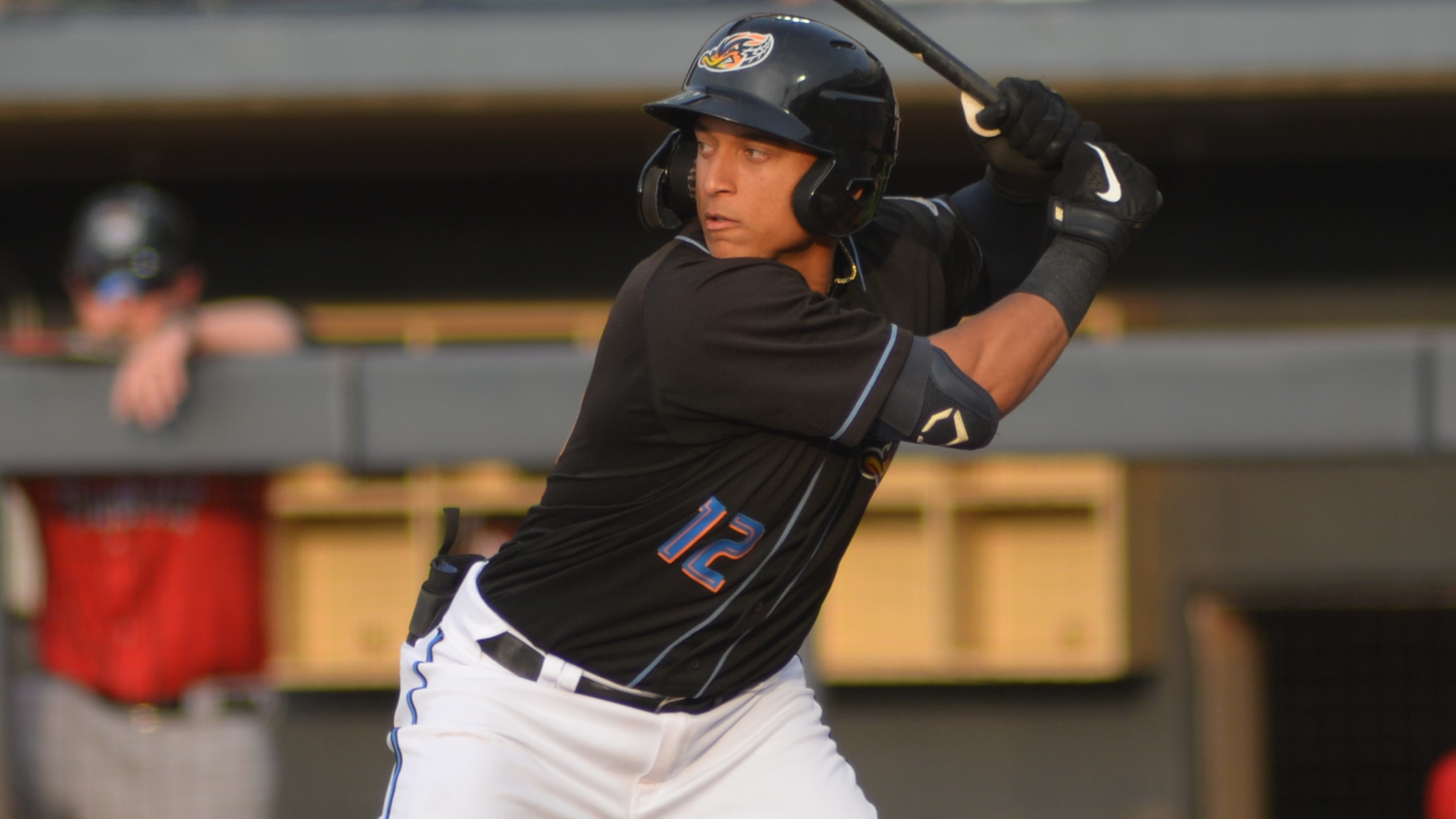 Bo Naylor, Cleveland's No. 15 prospect, has vastly improved his on-base percentage and strikeout rate in 2022. (Lianna Holub/MiLB.com)
In his second season with Double-A Akron, Bo Naylor seems to have turned a corner. The Guardians' No. 15 prospect has shown a vast improvement in just about every aspect of his offensive game while remaining a terrific contributor behind the plate and working with one of the better rotations
In his second season with Double-A Akron, Bo Naylor seems to have turned a corner.
The Guardians' No. 15 prospect has shown a vast improvement in just about every aspect of his offensive game while remaining a terrific contributor behind the plate and working with one of the better rotations in the Minors. Naylor's offensive rebound is highlighted by a .436 on-base percentage and 19.6 percent strikeout rate, following a season in which he posted a .280 OBP and struck out in 31.5 percent of his plate appearances at the same level.
While it seems it was absolutely necessary for Naylor to repeat Double-A, he did finish 2021 with a positive memory. His only hit in 11 at-bats in the playoffs against Bowie was a walk-off single in Game 3 to complete the sweep and secure a championship.
In the latest Prospect Q&A, the 22-year-old discusses the offseason work that led to his turnaround, returning to Akron and the memories of his championship walk-off. The Mississauga, Ontario, native also talks about being in the same organization as his brother -- Cleveland outfielder Josh Naylor -- and working with a rotation that features almost many of the organization's top pitching prospects.
MiLB.com: What's been working for you the past couple months and what's been different from last year?
Bo Naylor: I feel like I really took the offseason very serious, and I went down and got a lot of work done and really set myself up in a good place to start the year -- no matter where it was. It's kind of like building a routine, sticking to the routine and letting everything else go free on the field. And I think I've been riding with that and it's been playing up for me.
MiLB.com: Your on-base percentage stands out over the first couple months of the season -- what did you have to do to improve in that area?
Naylor: I feel like I've always been a player with a good eye at the plate, and along the way I think I got a little away from myself. But it's one of the goals that is set out for myself at the beginning of the season -- to get back to that thought process of only swinging at the pitches that I can do damage on and not chasing after the pitcher's pitch. I think I've just been sticking to the approach that I always had growing up, staying patient and kind of allowing the pitcher to have to come to me rather than me to him.
MiLB.com: Have you noticed any other effects of this approach? Your strikeout rate is down as well.
Naylor: I would say it definitely allowed me to see a lot of different types of pitches in different situations. I feel like, compared to years prior, when I have that approach of only swinging at the pitches that I know I could handle the best, it really opens up the door for me to be able to put more pressure on the pitcher. Making them have to work, rather than the other way around.
MiLB.com: You did end your first season with Akron on a high note -- what was that like?
Naylor: I mean, it's a memory that continuously replays in my head. Being able to get that last hit and kind of peel off an amazing season surrounded by a great group of guys, it was amazing and it's still amazing to this day. Coming back to Akron this year, I definitely feel like we have a really, really strong club. Surrounded by a bunch of talented players, just like last year. And we have an amazing chance to be able to have an end of the year, great story like that one again.
MiLB.com: You're in a unique position as a catcher on a club with some of the organization's best -- and league's best -- pitching prospects like Daniel Espino and Logan Allen. What's it like working with a staff that's this talented?
Naylor: It's amazing. Definitely being able to get to know these guys a little more and being in the clubhouse makes it that much better. Once you get to know these guys on a personal level, it makes you want to root for them that much more. I'm out here just trying to do my best to make sure that I'm setting these guys up for success and helping them get better. It's really just being that guy that they can rely on back there.
MiLB.com: In your own education as a catcher, do you see how things have changed and grown for you?
Naylor: Everything is always a process, especially at that position. It's continuous learning. There's always more to learn, always more things to adapt to your game, like anything. But I feel like behind there, it's amplified because there's such a strong requirement for the aspects of catching that you need to fulfill. I feel like I've been blessed with a great group of guys that I can look to be able to help guide me -- other players and coaches in the organization. It's just always having to learn to adapt and be able to figure out the best way to help your pitcher get from the first to the last inning with the most success possible.
Josh and Bo Naylor with some brotherly love: pic.twitter.com/ws2AEzodlP

— Mandy Bell (@MandyBell02) February 27, 2021
MiLB.com: How has it been to have your brother in the organization?
Naylor: From that moment that my mom told me he got traded to us, it was just like a dream come true. I feel like every group of brothers always imagined playing with the same ballclub. Those are things that you play Whiffle ball, street baseball growing up thinking about. I'm one of the few who kind of have that opportunity, and hopefully at some point we can make that happen soon. It's awesome. We're very, very close. We're always talking on the phone and sharing our experiences. I knew that from that day forward, it was going to be a really good opportunity for him.
MiLB.com: He can be a pretty tremendous source of energy for a ballclub. Are you the type to match that energy?
Naylor: Sometimes I wish I could. But, I don't know. I just don't think that's part of my personality. But that's definitely been him from Day 1. He's that guy you want on your side that gets the fire going, lights that spark in the clubhouse and in the dugout. And it just kind of really gets the team going. I feel like I'm definitely a little more laid back and a little more quiet. But that's definitely one of the traits I love about him. He's very competitive and he shows it out there.
MiLB.com: What does a successful season look like for you in 2022?
Naylor: Just having that understanding from Day 1 to the last day of the season, I was consistent. I think that generally covers everything I'm trying to do in this game -- being consistent on defense, getting the job done, being consistent at the plate with my approach, consistent with my routine before the game, consistent with my attitude, just consistent on all bases. If I could look back and really see that I held this standard for myself from Day 1 to the last day, then I would definitely consider that a really successful season.