Prospect Q&A: Tigers right-hander Madden
Detroit's No. 5 prospect discusses pro routines, adding a cutter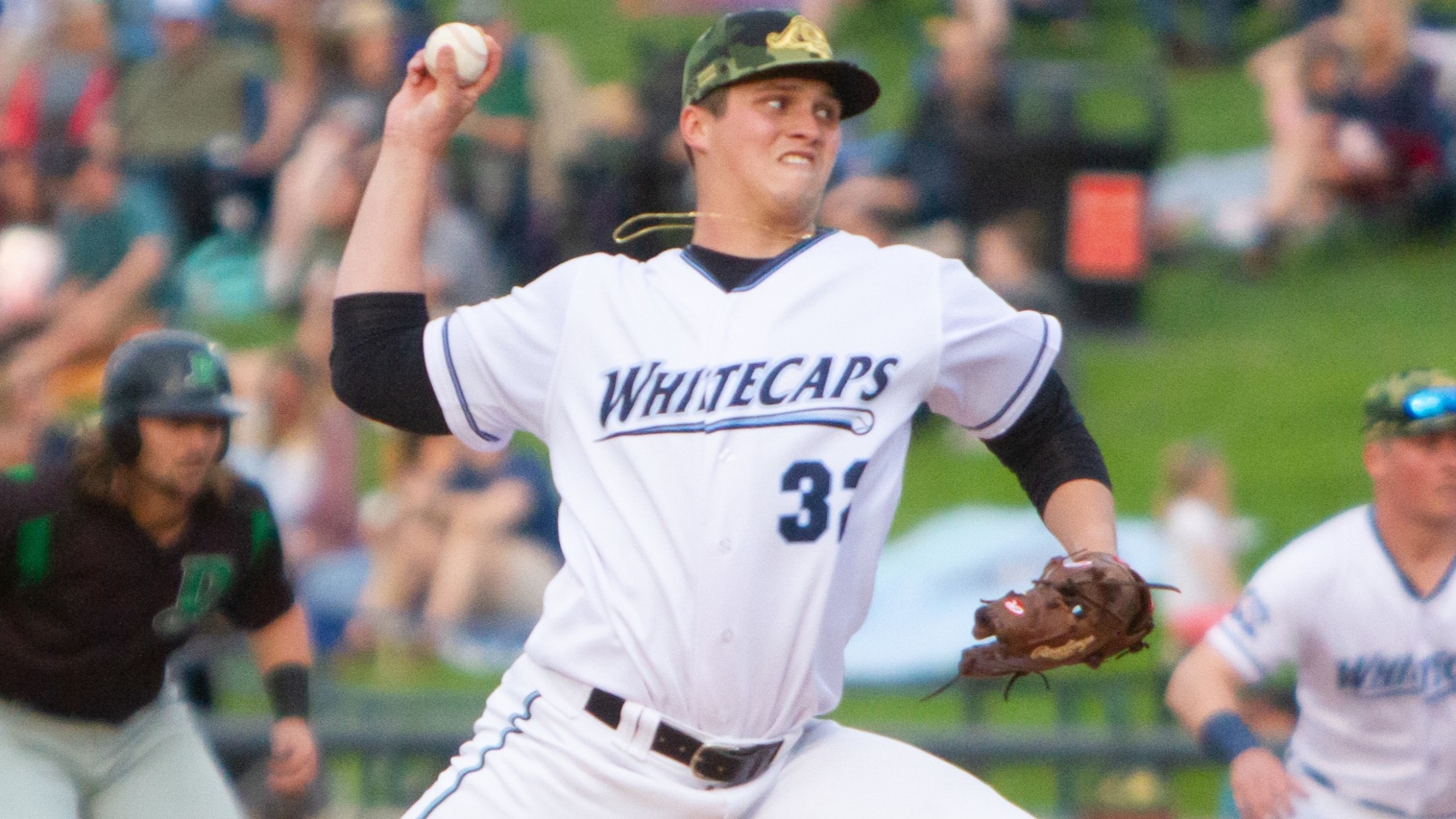 Ty Madden has a 3.24 ERA with 59 strikeouts over 58 1/3 innings in his first 13 professional starts. (Emily Jones/MiLB.com)
Ty Madden's slide in last year's Draft seems to have been a boon for the Tigers. Detroit's fifth-ranked prospect was viewed as a top-10 Draft talent by MLB Pipeline after posting a 2.59 ERA over his college career at the University of Texas, but he slid to the competitive balance
Ty Madden's slide in last year's Draft seems to have been a boon for the Tigers.
Detroit's fifth-ranked prospect was viewed as a top-10 Draft talent by MLB Pipeline after posting a 2.59 ERA over his college career at the University of Texas, but he slid to the competitive balance round. Detroit already selected right-hander Jackson Jobe, one of the few players with a higher Draft ranking than Madden, with the No. 3 overall pick.
In one Draft, the Tigers may have created another dynamic duo of high-end prospects, similar to Spencer Torkelson and Riley Greene or Casey Mize and Matt Manning.
Scouting reports mentioned some concerns about Madden's over-the-top delivery making it difficult to work up in the zone and change eye levels. He was very effective at pounding the lower third of the strike zone in college but did not register the overwhelming number of strikeouts that has been common for first-rounders.
Madden did not pitch last year after being drafted 32nd overall and signing for an above-slot $2.5 million bonus. His first professional innings with High-A West Michigan have been something of a mixed bag in terms of results, but he's shown an ability to figure things out quickly. The 6-foot-3, 215-pound, 23-year-old has a 1.50 ERA over his past six starts, spanning 30 innings. But that comes after a three-start stretch in which he allowed nine runs in 10 1/3 innings. Overall, Madden has a 3.24 ERA with 59 strikeouts over 58 1/3 innings in his first 13 professional starts.
In the latest Prospect Q&A, the Houston native discusses the mechanical changes he's made since being drafted as well as his first experiences in professional games. He also talks about what it's like to develop in the Tigers organization and adding a cutter to his pitch mix.
MiLB.com: You've experienced struggles and some dominant stretches in your first professional innings. How do you view your season so far?
Ty Madden: Definitely been throwing well recently, and I had a couple rough starts in between. I think I've just learned a lot since pro ball started. It's definitely different from college -- just the routine and travel and stuff, but I've enjoyed it. It's definitely developing more as a pitcher than I probably ever have. I can use some of my pitches more.
MiLB.com: Besides results and box score success, what do you notice about yourself that separates a good outing from a bad outing?
Madden: I think it all just starts with fastball command. Whenever I'm able to work in and up effectively is when I've had success. And I think another huge thing is being able to land not just my slider, but my other breaking stuff like my curveball and changeup for strikes. Whenever those are more in the zone, I've had more success.
MiLB.com: You mention working up in the zone, which scouts noted as difficult for you coming out of college. Did you notice that as well and make some sort of change?
Madden: I made some delivery changes this offseason and it's more kind of keeping my torso more in line and not climbing my arm slot so much. Since these changes, I feel like my delivery has been more repeatable, and I've been able to work more effectively up in the zone than in college. I think I'm also doing it more which is making me better at it, for sure.
MiLB.com: Could you describe your pitch mix?
Madden: I throw a four-seam fastball, and then my probably best off-speed is my slider. That's my highest use pitch. And I throw a curveball and a changeup as well. My curveball is more kind of a strike stealer, around mid-70s. And then I've been recently messing around with a cutter as well.
MiLB.com: How'd this experiment start with the cutter?
Madden: It came from our pitching coordinator, Gabe Ribas. He's the one who first kind of gave me the idea and wanted me to start working on that. And it's definitely grown. I've been throwing it in bullpens for a couple weeks now, and I've just slowly started using it in games. ... I throw a pretty vertical slider, so just having a cutter just gives me an option [of a pitch] that moves more horizontally.
Jackson Jobe and Ty Madden seem like good friends. Bullpens coming up next. #Tigers pic.twitter.com/qsdeg14phy

— Evan Petzold (@EvanPetzold) February 17, 2022
MiLB.com: You're in a similar position to a lot of prospects who have followed a similar path with the Tigers, like Casey Mize and Alex Faedo. What's it like to learn in that environment?
Madden: I just think it's reassuring that they develop college pitching well, and they give guys in my situation shots. I mean, being able to talk to some of those guys -- Faedo, we had a good relationship this summer, early spring. And just kind of the advice he gave me was just keep cruising. They have a lot of faith in the college arms they take. And it's definitely reassuring that this is an organization that likes to move him and develop him.
MiLB.com: What was the initial work like for you after the Draft?
Madden: They took things pretty slow at first. They flew most of their draftees down to the Spring Training facility, and I was there for the rest of the summer. Obviously, I didn't go compete last year, and so when we had about seven weeks down in Lakeland. Just, getting to know everybody, getting to know like the routines and the facilities -- I threw a lot last year in the college season -- so just to get that time building my body back up, getting strong in the weight room and just diving into like speed, agility and nutrition and stuff like that.
MiLB.com: You mentioned that the professional routine has been a big adjustment -- what have you had to do to get comfortable with that?
Madden: I write a bunch of it down. I keep a notebook and just kind of make notes of what I do throughout the week, and then how I feel on start day as well. If I have start days where I don't feel as great, I can go back in the week and look at some things I did differently throughout the week or some things that I've consistently done and choose what to keep and what to change. Also, here in West Michigan, I run a five-day and a six-day routine. With the six-game schedule, we have five starters. So for four weeks I'm on a six-day rotation, and then that fifth week, I throw that Tuesday and Sunday game. So, it's just figuring out what I can do, where I can push my body in five days versus six.
MiLB.com: What's the difference in the work between the two routines?
Madden: It's really just, when I throw my bullpen, on the six-day [routine], I wait one more day to put on my 'pen or my side. When I go on five days, I throw it two days from my previous start. And then, just kind of in the weight room. I squeeze an extra lift in there when I get an extra day, and it's just one intensity to do my lifts and do my arm care and stuff like that.
MiLB.com: You're about halfway through the season here -- what do you want to accomplish in the second half?
Madden: First and foremost, just staying healthy for a whole pro season. Other than that, my goal is always to continue to give my team a chance to win every time I take the ball. As far as individual goals, I think if I could get more consistent with my other offerings and just my command continuing to tighten up, that would definitely be a successful season for me.