Prospect season in review: D-backs' Thomas
No. 40 prospect tears up Triple-A pitching after promotion to Reno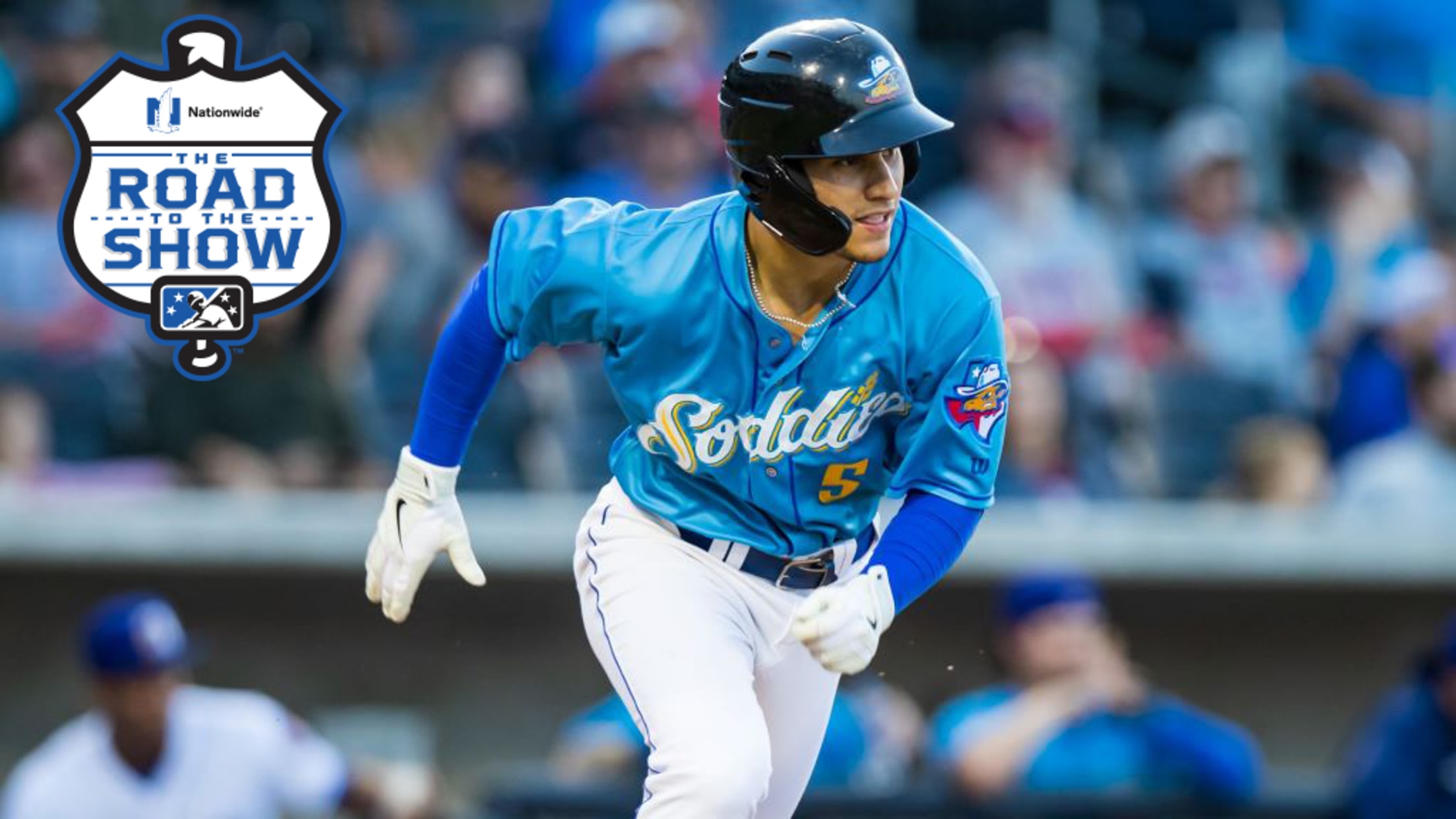 Alek Thomas batted .390 with eight homers and 29 runs scored over the final 32 games of the season with Triple-A Reno. (John Moore/Amarillo Sod Poodles)
MiLB.com's Prospect Season in Review series spotlights players who shined brightest during the 2021 campaign. Here's a look at third-ranked D-backs prospect Alek Thomas. For more player journeys on The Road to The Show, click here. Throughout the final month of the 2021 season, Alek Thomas simply crushed everything at
MiLB.com's Prospect Season in Review series spotlights players who shined brightest during the 2021 campaign. Here's a look at third-ranked D-backs prospect Alek Thomas. For more player journeys on The Road to The Show, click here.
Throughout the final month of the 2021 season, Alek Thomas simply crushed everything at the Minors' highest level.
There was obviously more to Thomas' year than just his brilliant curtain call -- he was named the D-backs' Minor League Player of the Year, and he made MLB Pipeline's 2021 Prospect Team of the Year.
But the second full season for the D-backs' third-ranked prospect will always be underscored by his final 32 games with Triple-A Reno.
Thomas batted .390 with a 1.140 OPS, 23 extra-base hits, including eight homers, 29 runs scored and 18 RBIs over the year's final stretch. He had 19 multi-hit games over that stretch, including all four of his season-best four-hit efforts.
The pendulum swung both ways for Thomas leading up to this ridiculous stretch. By the time he finished his third game with the Aces, the 21-year-old had gone a full week without a hit, and he carried a 1-for-23 slump that dated back to his time with Double-A Amarillo.
But he had earned the Aug. 16 bump to Triple-A on the heels of an eight-game stretch in which he went 15-for-31 (.484) with three homers and 11 RBIs.
It's obviously unfair to expect this kind of production in either direction -- either the good or the bad -- over a longer term from Thomas, or any player for that matter. But he showed more than enough to believe that he could be a lot closer to the extremely lofty goals he set for himself when his professional career was still in its very early stages.
"I don't want to just get to the Majors, I want to stay and have an impactful career as one of the best Diamondbacks ever," Thomas told MLB.com in January of 2019. "I set high standards. If you don't, you are selling yourself short. Aim for the clouds."
The No. 40 overall prospect's final numbers were more indicative of the actual ability he's shown throughout his career. Which still provides a lot to be excited about.
Thomas went hitless in two at-bats as the lead-off hitter for the National League squad at the Futures Game in Denver, and his 12 total triples ranked second among all Minor Leaguers.
Thomas has hit better than .300 in each of his three Minor League seasons, and he finished the year with a .313 average while setting career highs with a .954 OPS, 18 homers, 59 RBIs and 86 runs scored across 106 games across both levels.
He has a compact left-handed swing that hasn't traditionally produced too much power -- until that last month with Reno. But if the consistent pop can catch up to what is already an advanced approach and excellent bat-to-ball skills, he could be one of the most entertaining hitters in the Minors if he isn't already.
The D-backs organization reportedly encouraged Thomas to work on pitch selection, but not necessarily be more selective. His strikeout rates were nearly identical from Amarillo to Reno, but the effects of this plan were made clear as day over those final 32 games.
His work with the bat wasn't all that made him such an attractive Draft prospect coming out of Mount Carmel High School in 2018. The 5-foot-11, 175-pound outfielder has long been praised for an athleticism that could have taken him down a different career path.
Thomas was a three-sport star in high school, playing both basketball and football while earning Illinois' Gatorade High School Player of the Year honors for baseball in 2017. He chose not to honor his commitment to play baseball and wide receiver at TCU after signing for $1.2 million, which was above slot for the No. 63 overall Draft selection.
Thomas has been close to professional baseball his entire life. His father, Allen, has been the White Sox's strength and conditioning director since 1995, and was present in the Chicago dugout during a Spring Training game where Thomas homered off Lucas Giolito.
"My dad was my biggest influence. He made me into the man I am today on and off the field," Thomas told MiLB.com. "My dad would always tell me that you always have to have the mentality that someone is better than you, so keep working hard."
Thomas may not have much time left as a prospect after this season. There's a more than fair chance that he can crack the big-league roster by the time the D-backs play a rare series against the White Sox in August.