Prospect season in review: Cardinals' Gorman
Slugging infield prospect steps up power display at new position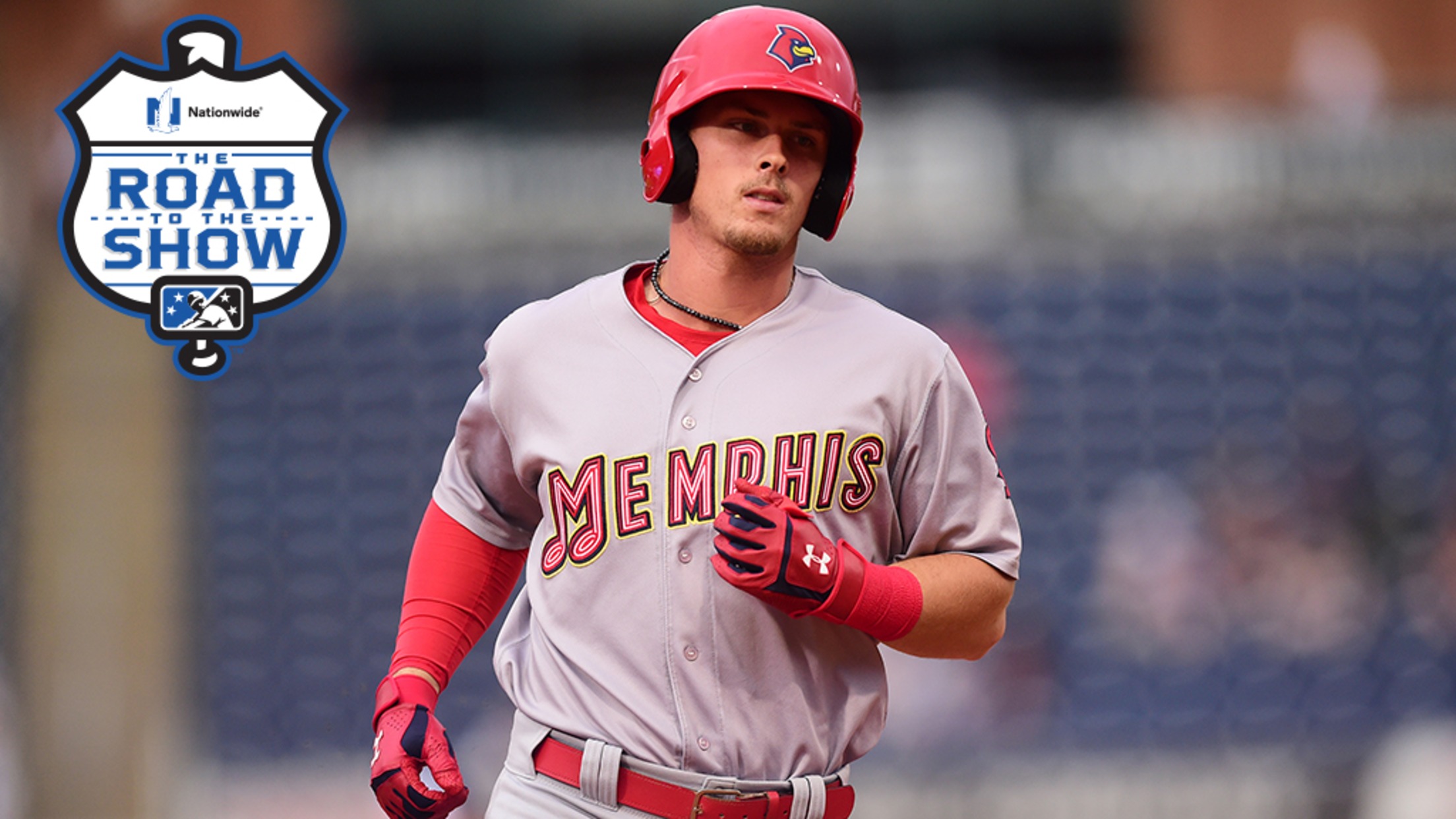 Nolan Gorman set a career high with 25 homers across the two highest levels of the Minors in 2021. (Kevin Pataky/MiLB.com)
MiLB.com's Prospect Season in Review series spotlights players who shined brightest during the 2021 campaign. Here's a look at top Cardinals prospect Nolan Gorman. For more player journeys on The Road to The Show, click here. A new defensive focus didn't distract Nolan Gorman from his greatest strengths as a
MiLB.com's Prospect Season in Review series spotlights players who shined brightest during the 2021 campaign. Here's a look at top Cardinals prospect Nolan Gorman. For more player journeys on The Road to The Show, click here.
A new defensive focus didn't distract Nolan Gorman from his greatest strengths as a ballplayer.
The top Cardinals prospect has been lauded for his long ball prowess since he won the 2017 High School Home Run Derby at Marlins Park in Miami. Gorman, playing his first season at the Minors' two highest levels, tapped into that prolific power enough to set a career high in 2021 with 25 homers between Triple-A Memphis and Double-A Springfield.
The Cardinals' trade for Nolan Arenado brought some question marks about the defensive future for Gorman, who exclusively played his natural position of third base entering the season. But his offensive effort throughout the 2021 season proved that he's worth the project.
The new homer benchmark was the highlight of a giant leap forward from his first full season in 2019. He improved in almost all offensive categories, batting .279 with an .814 OPS while setting career highs with 75 RBIs and 71 runs scored. Gorman actually drew seven fewer walks and had five fewer extra-base hits but turned a lot of his gap power into more over-the-fence pop.
"Everything is so, so much simpler than we make it. We think it's this super complex thing, and it's really not. It's getting to the basics really," Gorman told MiLB.com before the season. "For me, that means my load needs to be pretty early so that I can get my foot down in time and be on time for that fastball. I'm able to adjust from there. Being early helps me see the ball a lot better and be able to pick up where it is, what pitch is coming in and how to make a good decision on whether or not I want to swing or not."
The most drastic improvement offensively was his overall strikeout rate. In 2019 with Peoria and Palm Beach, Gorman whiffed 156 times -- which was 29.7 percent of his plate appearances. But even with 11 more PAs this year, he lowered that to 22 percent. It's also worth noting that Gorman's 19.2 percent strikeout rate at Memphis was the lowest he's had at any stop through the Minors, even though he's played more games at Triple-A than any other level in a given season.
"To start, [the jump to Triple-A] was a little slow," Gorman told MLB.com in October. "Just going through a little swing change and had to dial down the approach and keep it more simple and get good pitches to hit. But once that happened, it was all good."
Gorman did post better numbers at Springfield than he did at Memphis. But that probably says more about how well he tore through the Double-A Central than it says about his play at the Minors' highest level. He batted .288/.354/.508 at Double-A -- none of which were career highs thanks to his monster performance in Rookie-ball after being drafted 19th overall in 2018. In Memphis, he hit 14 homers -- the most he's had at any one stop in the Minors -- and collected 14 of his 20 total doubles.
The middle of the season was an interesting time for Gorman. He earned his promotion to Memphis at the end of June but stumbled out of the gate at. He had four hits and struck out 10 times in his first 35 at-bats (.114) at Triple-A but got an invite to the Futures Game at Coors Field, going 1-for-2 with an RBI double while starting at third base for the National League squad.
After that stop in Denver, the 21-year-old rattled off a 28-game stretch in which he batted .316 with six homers, 23 RBIs and 22 runs scored. Gorman capped that streak with a career-high-tying four-hit performance -- he had five of them this season and eight in his career -- against Norfolk on Aug. 12.
The bulk of this offensive production came as he was learning to play second base as his primary position. Gorman played 77 games at second across both levels, committing seven errors on 347 total chances, and added 31 games at third.
While the possibility of the designated hitter coming to the National League would provide even more options for the Cardinals to get Gorman's bat into the lineup in the Majors, Arenado's presence would certainly prevent the No. 24 overall prospect from seeing time at the hot corner in St. Louis. On the day of the trade in February, Gorman posted a joke to Instagram about finding Dustin Pedroia for second base lessons.
"I feel good over there. I went down to Spring Training early, got some work in and throughout the season [I've] been able to make adjustments on the fly, learn the position each and every day. It's been fun and I've liked it so far," Gorman told MLB.com in October. "At second base you're always in a play, no matter what's going on. At third base, you can be a little bit more laid back. There's not as much going on with cuts and relays and all that.
"It's more of I get to play with Arenado now, than I have to compete with this guy for a position. ... We both want to win a World Series and do great things for this team. Being able to play with him and compete with him and learn from him is going to be obviously tremendous for me and my development."
Gorman held up well at the new position but got the opportunity for more work in the Arizona Fall League. Of course, he homered in his first game for Glendale, but it was his only long ball in 16 at-bats before being shut down with a hamstring injury just six games into the AFL season.
He did earn an invitation to the Fall Stars Game after going 6-for-16 (.375) with four RBIs and eight runs scored in those games.
Just on offensive talent alone, Gorman could certainly make a push for the Opening Day roster next year. But his willingness to learn and continue to work at second base might actually be what solidifies his chances at breaking camp with the big-league club in 2022.