Ready and waiting: Triston McKenzie
Indians No. 9 prospect fighting through latest test of patience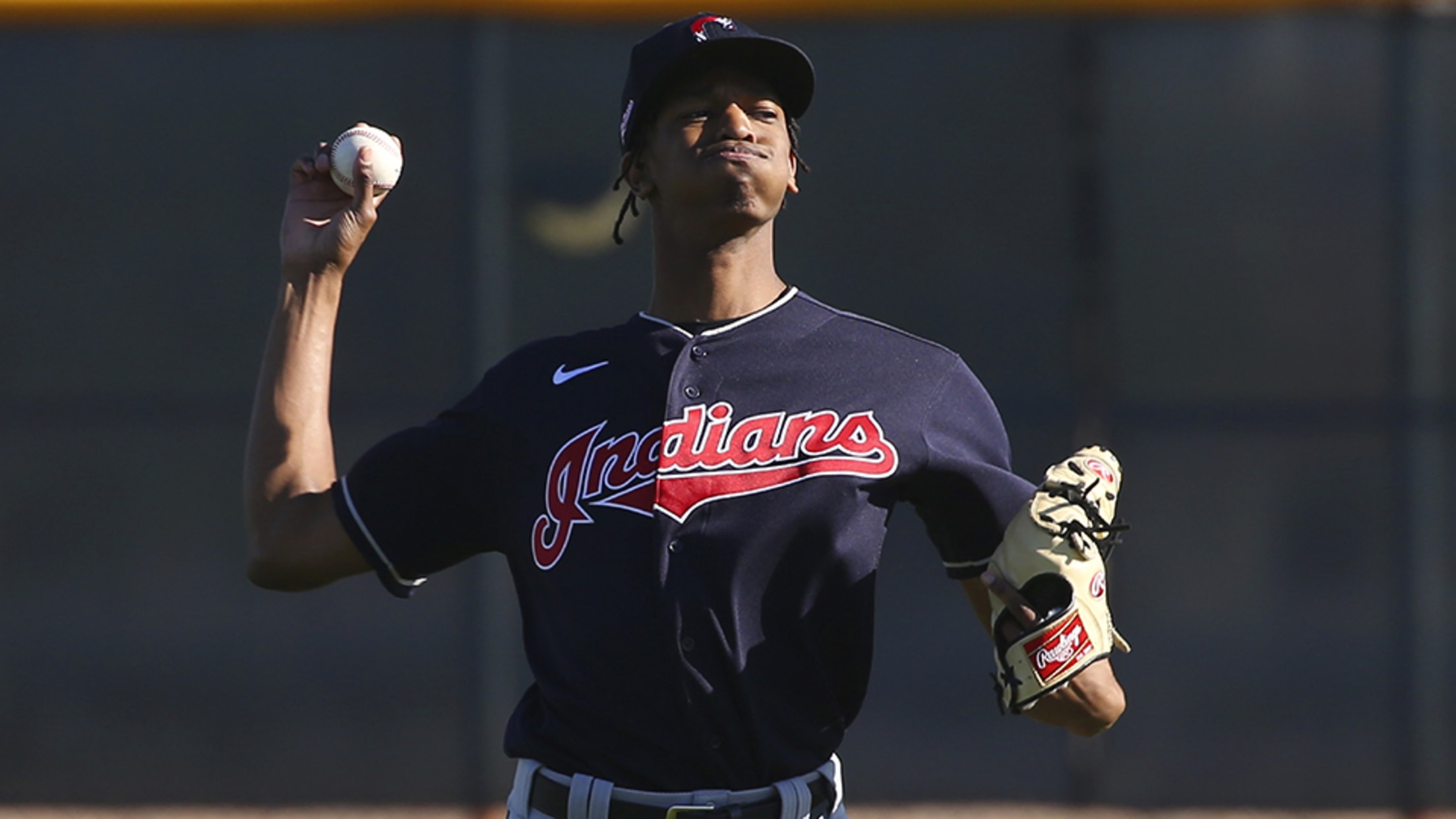 Triston McKenzie has a 2.68 ERA and .194 opponents' batting average in his professional career. (Ross D. Franklin/AP)
Players at all levels of the Minor Leagues missed significant playing time in 2019 due to injury only to have their return interrupted by the global pandemic. Each week, MiLB.com checks in on an elite prospect's road back from injury. This week, we focus on Cleveland Indians right-hander Triston McKenzie.
Players at all levels of the Minor Leagues missed significant playing time in 2019 due to injury only to have their return interrupted by the global pandemic. Each week, MiLB.com checks in on an elite prospect's road back from injury. This week, we focus on Cleveland Indians right-hander Triston McKenzie.
It's been a long time since Triston McKenzie took the mound in an official game.
In fact, Wednesday marks 664 days since the Indians' ninth-ranked prospect last pitched for Double-A Akron on Aug. 30, 2018. A lanky 6-foot-5, 165-pounder, McKenzie's development has been stunted by myriad injuries the past three years.
At first, it was forearm soreness that pushed his 2018 debut to June. Then an upper-back strain shut him down last spring, and a pectoral injury wiped out his entire 2019 season. It took a long time and even more work to get back into game shape, and his return was scheduled for the Cactus League this spring.
Then things started to get weird.
It doesn't rain much in Arizona. It's one of the reason the state is appealing for Spring Training and the Fall League. But the Tribe's last two contests before the global pandemic scuttled Spring Training entirely were washed out. McKenzie remembers the official shutdown date vividly.
"It was March 16!" an exasperated McKenzie recalled with a laugh. "I was scheduled to throw in like my first actual game in Spring Training, and it ended up getting rained out in Arizona, which was very surprising."
The postponements threw the Indians' pitching schedule out of whack. MLB canceled the weekend slate of Spring Training games before the official shutdown the following Monday. Unfortunately, the plan called for McKenzie to pitch that Friday, the first day canceled by COVID-19.
"It was just very disheartening," said McKenzie, who's been back home in Florida since about a month after the shutdown. "I actually stayed out in Arizona for probably a month or so, just because I was still able to go to the complex a little bit. And I tried to keep my routine as similar as possible so that I could stay ready for whenever the corona stuff blew over. But it lasted a little bit longer than I thought it would."
McKenzie's entire career has been a test of patience. The Indians took things slowly for the 2015 first-rounder early in his professional career, limiting him to 95 1/3 innings and keeping him at Class A Short Season Mahoning Valley at the start of 2016.
In the few games McKenzie pitched, it was obvious he stood head and shoulders over the competition in the lower levels. The right-hander had a 1.51 ERA across 2015-16 in the Rookie-level Arizona League, Mahoning Valley and Class A Lake County. He completed his first full Minor League season in 2017 with a 3.46 ERA and 11.7 strikeouts per nine innings to earn Carolina League Pitcher of the Year honors.
Even his injury-shortened 2018 season with the RubberDucks was excellent. McKenzie sported a 2.68 ERA while holding opponents to a .191 batting average. He went 4-0 with a 1.77 ERA in six starts in July and eclipsed 100 pitches for the first time in 60 career appearances in that final Aug. 30 start against Bowie.
The ultimate test of patience was the 2019 season. The now-22-year-old had recovered from his back injury and was throwing live batting practice when the pectoral strain flared up over the summer. He had to figure out how to find the proper mental state so he would not rush through rehab.
"I kind of had to sit back and learn how much the game means to me and what I needed to do, day in and day out, both on and off the field," McKenzie said. "Whether that be in the weight room or the training room, on the field, getting my sleep right, eating right, just so that I can be healthy and go out there and play."
McKenzie said team officials can attest to his clean bill of health heading into this spring. His year-long rehab was aided after he developed a routine in Arizona. He'd wake up early to get to the field and make sure he got in a hot tub to warm up. Then he went on a bike or treadmill, again before anybody else, to get loose before going to the training room to ready his arm.
"Even on the days where we had meetings or the shortest days, I would be fully confident that when I would go out there my arm is 100 percent ready to go," he said.
The largest step in rehab also was one of the more interesting moments of his career. Just before the start of Spring Training, McKenzie got to face live batters again. It's nothing he hadn't done before, but the competition made for a special moment. McKenzie faced big leaguers like Francisco Lindor, Jose Ramirez and Carlos Santana in the closest he's gotten to game competition since 2018.
"So I was really, really ecstatic about it," McKenzie said. "The arm felt really good, so I cannot complain at all."
Pitchers, like most ballplayers, are always harder on themselves than what's probably necessary. So it wasn't surprising for McKenzie to claim that, though he wasn't disappointed, he didn't feel he was as sharp as he'd like to be. Although he cleared a major hurdle, he said he's going to have to face hitters on a regular basis to really get comfortable.
"I got some good feedback from some of those big league guys," he said. "Frankie said my slider looked good, he said my fastball looked good. Changeup needed a little bit of work, but everybody knew that."
The big moment in McKenzie's career was followed by another hiatus. Throughout the shutdown, McKenzie has been training at Cressey Sports Performance center in nearby Palm Beach Gardens, Florida. He's in good company at CSP, the facility where Mets righty Noah Syndergaard began his rehab from Tommy John surgery and World Series winners Max Scherzer and Justin Verlander have worked out in the offseason.
Although he got a lot out of his conversations with Lindor, McKenzie has been keeping his head down at the facility.
"I'm a pretty shy guy when it comes to that," he said. "[We] talked in passing, but I haven't had any intellectual, deep conversations with any of them. But they all seem to be really nice guys, honestly."
McKenzie has been working more at game speed to fine-tune and sharpen his stuff ahead of his return to an actual outing. It's a huge but rewarding departure from the rehab routines that have occupied a big chunk of his career. And he finally has a handle on what needs to happen next.
"For me, it was more just, I would get a lot of reps in, but a lot of the reps didn't necessarily help me if I couldn't see a hitter in the box and kind of get feedback from hitters," he said. "I talk a lot to my coaches and the hitters' feedback helped me a lot, especially when we started moving more toward game action. I'd say the biggest thing for me was kind of like getting action and then making it consistent."
Gerard Gilberto is a contributor to MiLB.com. Follow him on Twitter @GerardGilberto._