Fisher, Sanchez highlight White Sox rookies
Strong bats with versatile gloves get first tastes of The Show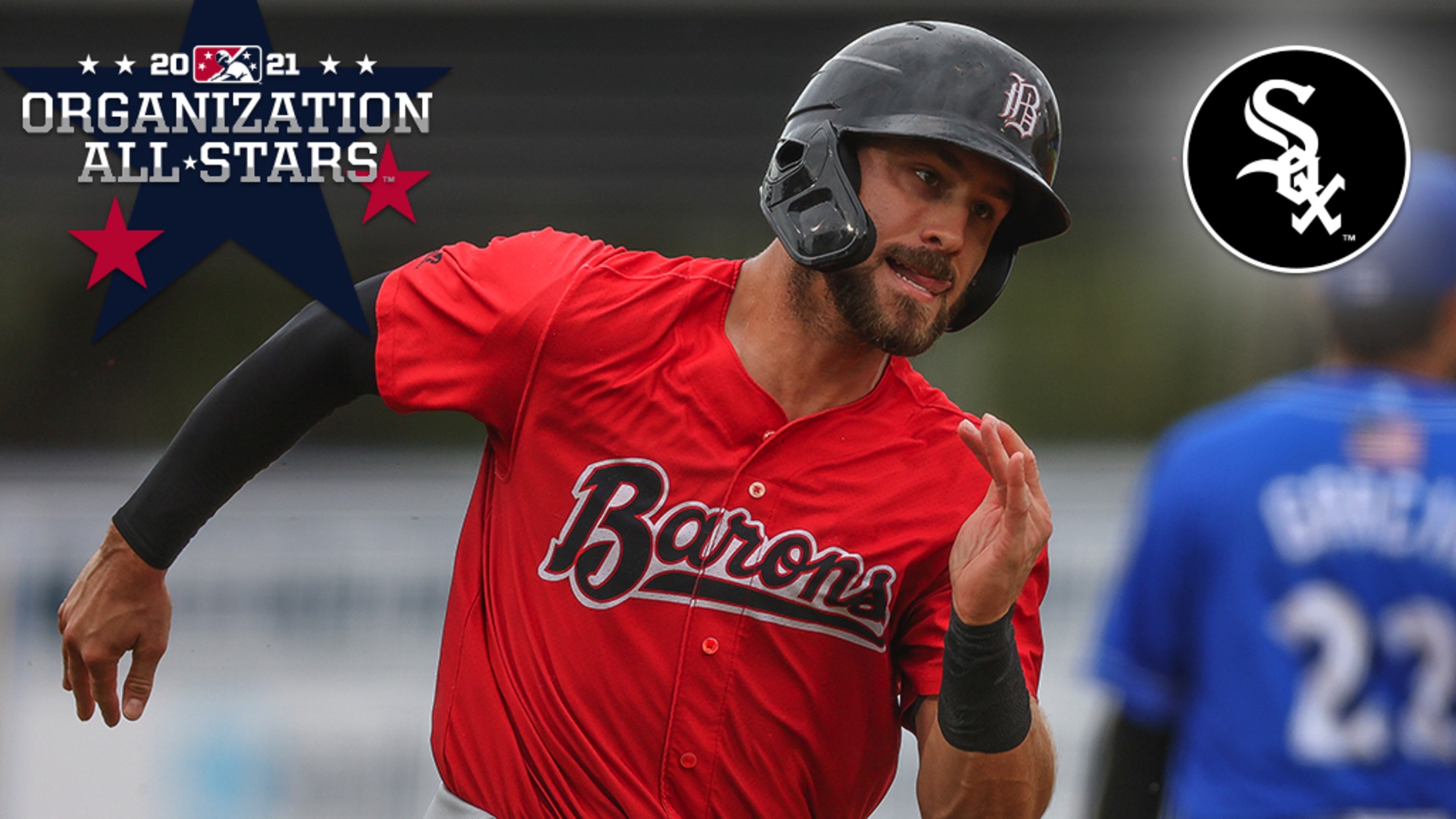 Jameson Fisher was drafted as a fourth-round outfielder in 2016 but became an everyday first baseman last season. (Bobby McDuffie/MiLB.com)
Each offseason, MiLB.com goes position by position across each system and honors the players -- regardless of age or prospect status -- who had the best seasons in their organization. Click here to locate your favorite club. Things are heating up on the South Side. For the first time in
Each offseason, MiLB.com goes position by position across each system and honors the players -- regardless of age or prospect status -- who had the best seasons in their organization. Click here to locate your favorite club.
Things are heating up on the South Side.
For the first time in franchise history, the White Sox reached the postseason in back-to-back seasons. Following the lineage of Yoan Moncada, Eloy Jiménez and Luis Robert, Andrew Vaughn was tapped as the next top prospect to join this trending ballclub.
Along with Vaughn, Romy Gonzalez, Jake Burger and Gavin Sheets also made their debuts, bringing their strong bats and versatile gloves to The Show.
"They helped us win the division this year. They really did," said Chris Getz, White Sox assistant general manager/player development. "After having some significant injuries with some mainstay players, they helped us on that journey toward the division. That's what you need an organization, to build depth and fill in when a need arises."
With plenty of talent vying for a Major League spot next spring, Getz said the player development focus is now on the lower levels. Seven of the club's top 10 prospects have yet to play above Low-A, meaning this could be just the beginning of Chicago's postseason reign.
White Sox Organization All-Stars
Catcher -- Carlos Pérez, Double-A Birmingham (107 games), Triple-A Charlotte (4 games): Pérez turned on the power for his Double-A debut. The Venezuela native shattered his previous career high of three homers with 13 jacks for the Barons. Two weeks after his 25th birthday, Pérez was promoted for the Triple-A Final Stretch with Charlotte.
Across the two levels, he notched a .258/.309/.410 slash line with a .719 OPS -- his highest mark since leaving Rookie ball. Behind the plate, Pérez has also improved, yielding just four passed balls compared to 13 two seasons ago. The 5-foot-11 backstop notched a 42 percent caught stealing rate while also playing nine games at first.
First baseman -- Jameson Fisher, Birmingham (88 games): Fisher came out of the gate strong in 2016 when the White Sox selected him in the fourth round of the 2016 Draft, posting a .922 OPS in his pro debut. But over his next three seasons, the production just wasn't there for the left-handed batter.
"We've always liked his potential, his hitting ability," Getz said. "But he got a little bit out of control with his swing at times."
Since the 2019 season, Fisher made "significant changes" to his swing. A simplified approach resulted in a 129 wRC+ and a .287/.359/.463/.822 slash line, his best since hs debut campaign. Along with a consistent bat, Getz said the Southeastern Louisiana product's versatility will also help him get to The Show. Fisher, who turns 28 in December, was drafted as an outfielder but became an everyday first baseman in 2019.
Second baseman -- Yolbert Sanchez, Winston-Salem (60 games), Birmingham (39 games): Making his full-season debut, Sanchez started the campaign slowly before breaking out in June with a .348 average for the High-A Dash and earned a promotion to the Barons in July. After the bump to Double-A, the Cuban infielder only got better, notching a .343/.369/.469 slash line to cap the year.
Sanchez's composite .308 average led all non-complex, qualified White Sox Minor Leaguers, while the 24-year-old registered a .771 OPS across the two levels. Signed as a shortstop, Sanchez also played second and third this summer. While Getz said they don't necessarily view Sanchez as a utility player, they like the value he brings around the diamond.
After the big season, Sanchez has kept it going in the Arizona Fall League, bringing a consistent bat that can play to all fields. Competing against a high level of talent, the righty snagged Hitter of the Week honors on Nov. 9.
Third baseman -- Jake Burger, Charlotte (82 games), Chicago (15 games): Although he was drafted in 2017, Burger was held to 51 games before this summer due to two Achilles tears and the canceled Minor League season in 2020. To finally get a taste of game action, the St. Louis native played at a local collegiate league in 2020 before getting invited to Chicago's alternate training site.
At Spring Training, the White Sox weren't sure where to assign Burger after so much missed time, but the 25-year-old proved his bat was ready for Triple-A. Burger met the challenge, batting .322/.368/.596 in May and June. The White Sox felt he could give them quality at-bats in the Majors while making plays at third, so they called him up for his debut. After 15 games in which he helped "win games that eventually led us toward a division title," Burger was back at Triple-A where he could play every day.
While Burger's primary position of third base is blocked in Chicago by Moncada, the Missouri State product ventured to second this year, as well as DH. The White Sox believe he could handle first base and "perhaps down the line even go to the outfield."
"His body was something that he had really focused on, and he's become more athletic, lighter on his feet," Getz said. "Jake's a sneaky athlete, moves very well for his size, and he's got some thump at the plate, so with his offensive potential, finding a home defensively is very important."
Shortstop -- Romy Gonzalez, Birmingham (78 games), Charlotte (15 games), Chicago (10 games): No one in the White Sox farm system had a bigger season than Gonzalez. Just a year ago, the University of Miami product owned a career .248 average, was outside of MLB Pipeline's Top 30 White Sox prospects and was left off both the club's alternate training site and player pool.
Gonzalez doubled his career high with 20 homers at Double-A to earn a promotion to Triple-A, and he only got better from there. In nine games with the Knights, Gonzalez hit .344/.382/.750 with 10 RBIs to force his way to a big league debut. While his bat didn't adjust to the league right away -- he went 8-for-32 with 11 strikeouts -- the 25-year-old brought his signature versatility, playing every position except center, first and catcher. Gonzalez even threw four pitches from the mound.
In total, Gonzalez led all non-complex qualified White Sox Minor Leaguers with a 144 wRC+ and an .896 OPS. In the Minors, Chicago's No. 20 prospect reached career highs with 24 homers and each part of his .283/.364/.896. His 43 walks were a personal best, but so were his 112 strikeouts.
"You could say he got a little bit more aggressive; he's still fairly selective," Getz said. "There is some swing and miss in the zone. He does a nice job not chasing pitches out of the zone. So, I think there is a happy medium with his aggressiveness."
Honorable Mention: Jose Rodriguez led White Sox prospects with 141 hits and 30 stolen bases in 111 games between Low-A Kannapolis, Winston-Salem and Birmingham.
Outfielders
Micker Adolfo, Birmingham (57 games), Charlotte (44 games): Making his pro debut in 2014 as a highly touted international signee, Adolfo was limited to 364 games entering this season due to ankle and hamate injuries, two elbow surgeries -- including Tommy John -- and the canceled MiLB season.
After a slow start to the season, Adolfo heated up for the Barons in July. And after an eight-game adjustment period, he tore up Triple-A in August, hitting .320/.370/.560 in 15 games. The club's No. 11 prospect was second in the farm system with 25 homers and 69 RBIs while leading qualified outfielders with a 121 wRC+.
"He's such a strong kid that he doesn't need to put effort into hitting for power," Getz said. "So, if he has a sound, right-center approach, he will almost mistakenly hit balls to the pull side versus trying to drive balls to the pull side."
The White Sox have always liked Adolfo's raw power, and now that he's healthy, the 25-year-old just needs to find consistency at the plate in order to reach The Show.
Mikie Mahtook, Charlotte (106 games): The White Sox signed Mahtook in February, and the Minor League veteran did not disappoint. Mahtook drilled a career-best 26 homers, which led all South Side Minor Leaguers. The 2011 first-round pick recorded an .836 OPS with 62 RBIs while ranking second behind Adolfo among qualified outfielders in the White Sox system with a 117 wRC+.
Mahtook moved around the grass and even made his first career appearance at first base. The LSU product elected free agency earlier this month.
Gavin Sheets, Charlotte (60 games), Chicago (54 games): The White Sox selected Sheets in the second round of the 2017 Draft out of Wake Forest as a first baseman. After tearing up the Southern League in 2019 as one of the league's best hitters, Sheets did not receive an invite to the alternate training site. Instead, he spent the downtime training with his dad -- former Major Leaguer Larry Sheets -- and developing in the outfield.
The result was a strong showing on both sides of the ball with the left-handed hitter posting a .295/.362/.507 slash line with 11 homers and 46 RBIs in the Minors while earning three trips to the Majors in which he totaled 11 more jacks and 34 RBIs. Across both levels, Sheets played first, left and right while also DHing at times.
"You compare him to anyone in our Minor League system in regard to giving us professional at-bats, he was at the top of the list," Getz said. "He always had a pretty good feel of the strike zone, hit the ball hard. This year, he was able to use the whole field, make good decisions at the plate, run into some home runs and show us his ability to play multiple positions."
Sheets kept it going for Chicago in the postseason, going 4-for-12 in three ALDS starts, including a homer in an elimination game against Houston.
Honorable Mention: White Sox No. 2 prospect Yoelqui Cespedes made plenty of strides in his pro debut, hitting .285/.350/.463 in 72 games for Winston-Salem and Birmingham.
Right-handed starting pitcher -- Emilio Vargas, Birmingham (21 games): The White Sox claimed Vargas off waivers on Nov. 20, 2020, and the 25-year-old made a strong showing for his new organization. Among starters, Vargas topped the farm system with a 2.90 ERA and a 3.62 FIP. The 6-foot-3 right-hander struck out 99 batters against 28 walks in 83 2/3 innings for a filthy 28.5 percent K-rate. After finishing the season 7-4, Vargas elected free agency.
Left-handed starting pitcher -- Taylor Varnell, Winston-Salem (13 games), Birmingham (six games): After easing into the season with several relief appearances, Varnell quickly became the ace of the Dash rotation. The 6-foot-1 hurler notched a 1.96 ERA through his first 46 innings across 11 games (nine starts). And though he ran into trouble in July, his progress to that point earned him a spot in Birmingham.
Varnell was not able to find the same consistency at Double-A, but thanks to the strong start, his composite 3.60 ERA was one of the best in the system. Across the two levels, Varnell went 5-6 with 80 strikeouts and 28 walks in 75 frames over 19 games (16 starts).
Following the conclusion of the season, the 26-year-old announced he was retiring to spend more time with his family.
Relief pitcher -- Zach Muckenhirn, Birmingham (30 games): After posting a 4.50 ERA across his last three seasons, Muckenhirn broke out in a big way this summer. The 26-year-old southpaw notched a stingy 1.77 ERA with 42 strikeouts and 19 walks in 40 2/3 innings.
Although just under half his workload came after the seventh, Muckenhirn was lights-out when he pitched late. In the eighth inning or later, the North Dakota product spun 19 scoreless frames. And while his strikeout rate of 25.3 percent is lower than in past years, Muckenhirn continued to find ways to fool Double-A South hitters.
"What really stands out is the command of the zone," Getz said. "He can get ahead, he strikes early, and he can control the bat. And that's what he was able to show us this year."
Kelsie Heneghan is a writer for MiLB.com. Follow her on Twitter @Kelsie_Heneghan.