Scouting report: Guardians righty Williams
Patience seems to be paying off for Cleveland's No. 7 prospect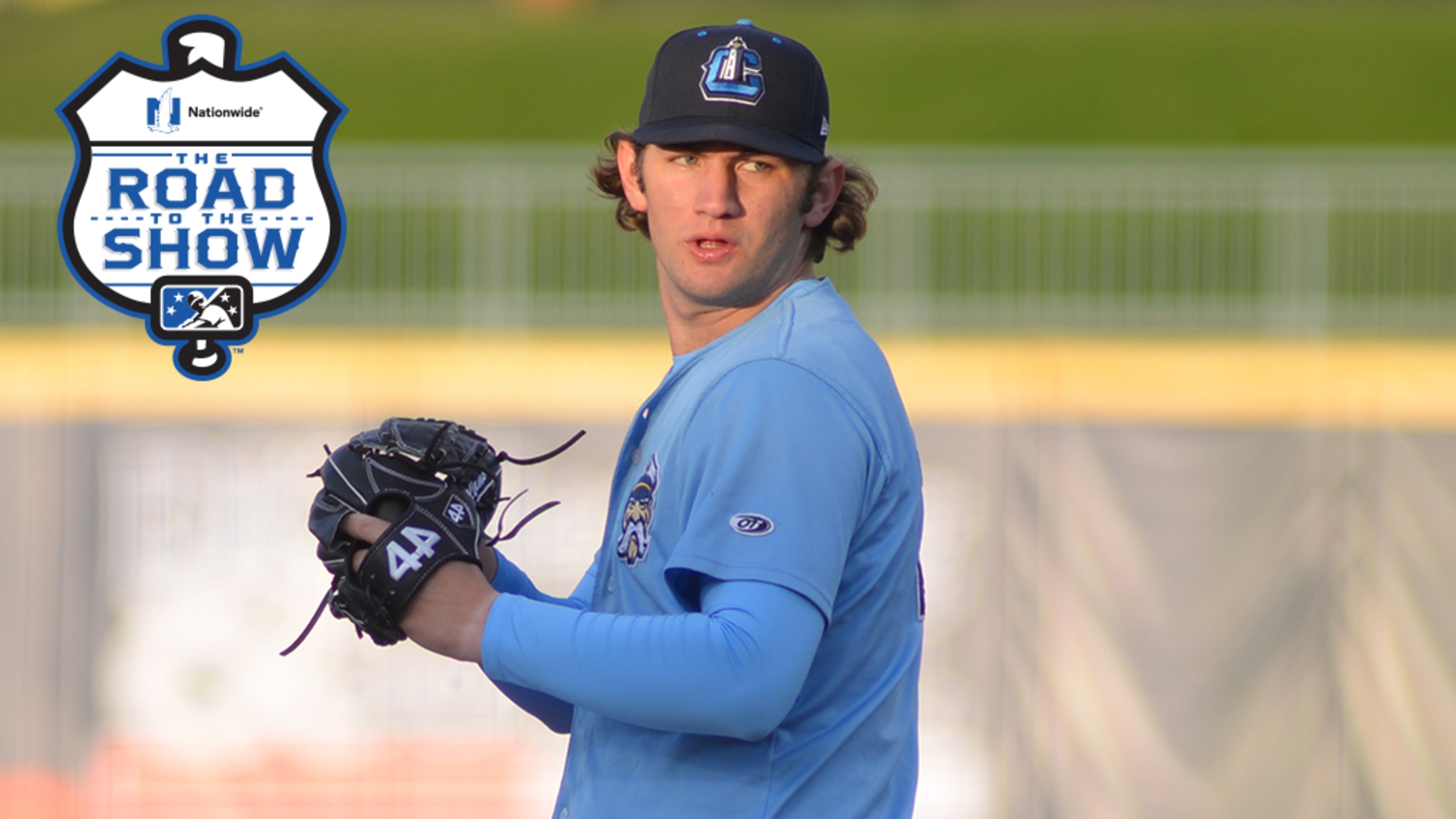 Gavin Williams was a finalist for both the Dick Howser and Golden Spikes Awards in his senior season at East Carolina. (Lianna Holub/MiLB.com)
MiLB.com's Scouting Report series spotlights players who are just starting their professional careers, focusing on what the experts are projecting for these young phenoms. Here's a look at seventh-ranked Guardians prospect Gavin Williams. It took four years of college ball for Gavin Williams to fit his new mold and only
MiLB.com's Scouting Report series spotlights players who are just starting their professional careers, focusing on what the experts are projecting for these young phenoms. Here's a look at seventh-ranked Guardians prospect Gavin Williams.
It took four years of college ball for Gavin Williams to fit his new mold and only two starts in the Minors to show how special he can be.
The Guardians No. 7 prospect opened the season with a pair of very strong outings for High-A Lake County. Williams tossed four hitless innings in his professional debut against Lansing, allowing just two walks while striking out six. He returned to collect 11 strikeouts in his next start against Dayton, giving up three runs on three hits and a walk over 4⅔ frames.
The Williams that appeared in those games is a very different pitcher from the North Carolina high schooler selected by the Rays in the 30th round of the 2017 Draft. It was the dominant, well-rounded Williams who emerged as a senior at East Carolina University and turned heads all throughout camp this March.
Although he didn't pitch in any Cactus League games, plenty of Cleveland batters claimed Williams was their toughest opponent during intrasquad games and live batting practice.
"It definitely makes me smile a little bit when people are already talking about me," Williams told MLB.com during Spring Training, "but I'm gonna try not to let that get to my head early. I still have a job to do; I haven't even gone through my first year, so I haven't really proved anything [to] anybody."
There was plenty for the Fayetteville native to prove when he first arrived at ECU. Coming out of Cape Fear High School, he seemed destined for a future reliever role as a lanky 6-foot-6 righty with a fastball that touched triple digits and not much else in terms of complementary offerings. His first three years with the Pirates did little to change that perception. But he bulked up to nearly 240 pounds and earned a spot in the club's rotation for his senior season.
Williams' final season at ECU solidified his status as a first-round talent. He went 10-1 with a 1.88 ERA and struck out 130 batters over 81⅓ innings. He was a semifinalist for the Dick Howser and Golden Spikes Awards and earned the American Athletic Conference Triple Crown. Williams was outdueled by Vanderbilt's Kumar Rocker in their Super Regional matchup last year, but he still carved through one of the better lineups in the NCAA with 13 punchouts over 7⅔ frames.
It was during that season that scouts got to see an expanded repertoire from Williams. His fastball remained his best pitch and he also maintained velocity on the heater after a few innings – which could have been a cause for concern after three years in the bullpen. But Williams also showed new life to a power curve and mid-80s slider while displaying some feel for a developing changeup.
The now-Guardians established a relationship with Williams when he was first Draft-eligible in high school. Cleveland director of amateur scouting Scott Barnsby was elated to see Williams available when it was their turn in the Draft at No. 23.
"We had a recent conversation with [Gavin], and he shared a few examples of where he always wants to be the best player on the field," Barnsby told MLB.com after the Draft. "He always wants to compete against the best. Just talking to him, you can tell there's that inner drive there. I think it speaks to the person he is, but then also that work ethic in terms of maintaining his throwing program, maintaining his workouts, maintaining hits routines in-between starts. He's done a great job with that all season.
"Just a physical right-hander, power arm, up to 100 mph," Barnsby added. "He's held his velocity all spring. Two different breaking balls, both power breaking balls. We feel like he's gonna get swing-and-miss with his fastball, his curveball and his slider. Hasn't had to use the change as much, but we feel like there's gonna be a feel there as well."
Last year's first round pick Gavin Williams in today's sim game.

Cleveland pitching coordinator Joel Mangrum on Williams last week: "It's the easiest 98 to 100 [mph] you'll ever see, I think. At least from a kid that age." pic.twitter.com/dqFrIfsAJf

— Mandy Bell (@MandyBell02) March 8, 2022
While the 22-year-old has already begun to validate Barnsby's excitement, the Guardians' recent track record for developing pitchers should be uplifting for Williams as well. An overwhelming majority of Cleveland's pitching staff is homegrown, especially in the rotation.
"We're really excited about what we have when we dig in on those guys," Cleveland assistant GM James Harris told MLB.com this spring. "Enhancing pitch characteristics is our bread and butter. We make guys more of themselves and it's allowed us to have that consistency with our pitching."
Williams has gotten off to a strong start and seems to be developing in the right environment. His next test will be maintaining his recent form – if not necessarily this level of dominance – for a longer professional season. Cleveland has plenty of arms to work with, including No. 52 overall prospect Daniel Espino, and can afford to be patient with Williams' development.
He doesn't currently profile as a frontline starter, but by the time he lands in the Majors, Williams could once again change perceptions.
Here's what the experts at MLB Pipeline have to say about Williams:
Scouting grades (20-80 scale)
FASTBALL: 70
CURVEBALL: 55
SLIDER: 50
CHANGEUP: 55
CONTROL: 50
OVERALL: 50
"Williams hit 95 mph as a North Carolina high school senior and 100 mph as an East Carolina freshman, but he couldn't grab a rotation role in his first three years of college. Then he dramatically improved in 2021, earning American Athletic Conference pitcher of the year honors and finishing fifth in NCAA Division I in strikeout rate (14.4 per nine innings). The 23rd overall pick in the Draft, he signed for an under-slot $2.25 million and will make his pro debut in 2022.
Williams still can light up a radar gun, holding 94-97 mph fastball velocity for several innings and tickling triple digits. After showing little feel for spin before last year, he suddenly added power and shape to his curveball, which now sits in the upper 70s with outstanding metrics. He also turned a mediocre slider into a mid-80s offering that shows flashes of becoming solid while retaining his aptitude for throwing a mid-80s changeup with fade.
In addition to improving his breaking pitches, Williams also upgraded his strike-throwing, cutting his walk rate from 4.2 per nine innings in his first three college seasons to 2.3 in his fourth. He cleaned up his delivery during his time at East Carolina and began repeating it better last spring. If his breakout is sustainable, he won't need much time in the Minors before becoming a mid-rotation starter."