The Road to The Show™: Michael Kopech
Fireballer ready to complete comeback in South Side bullpen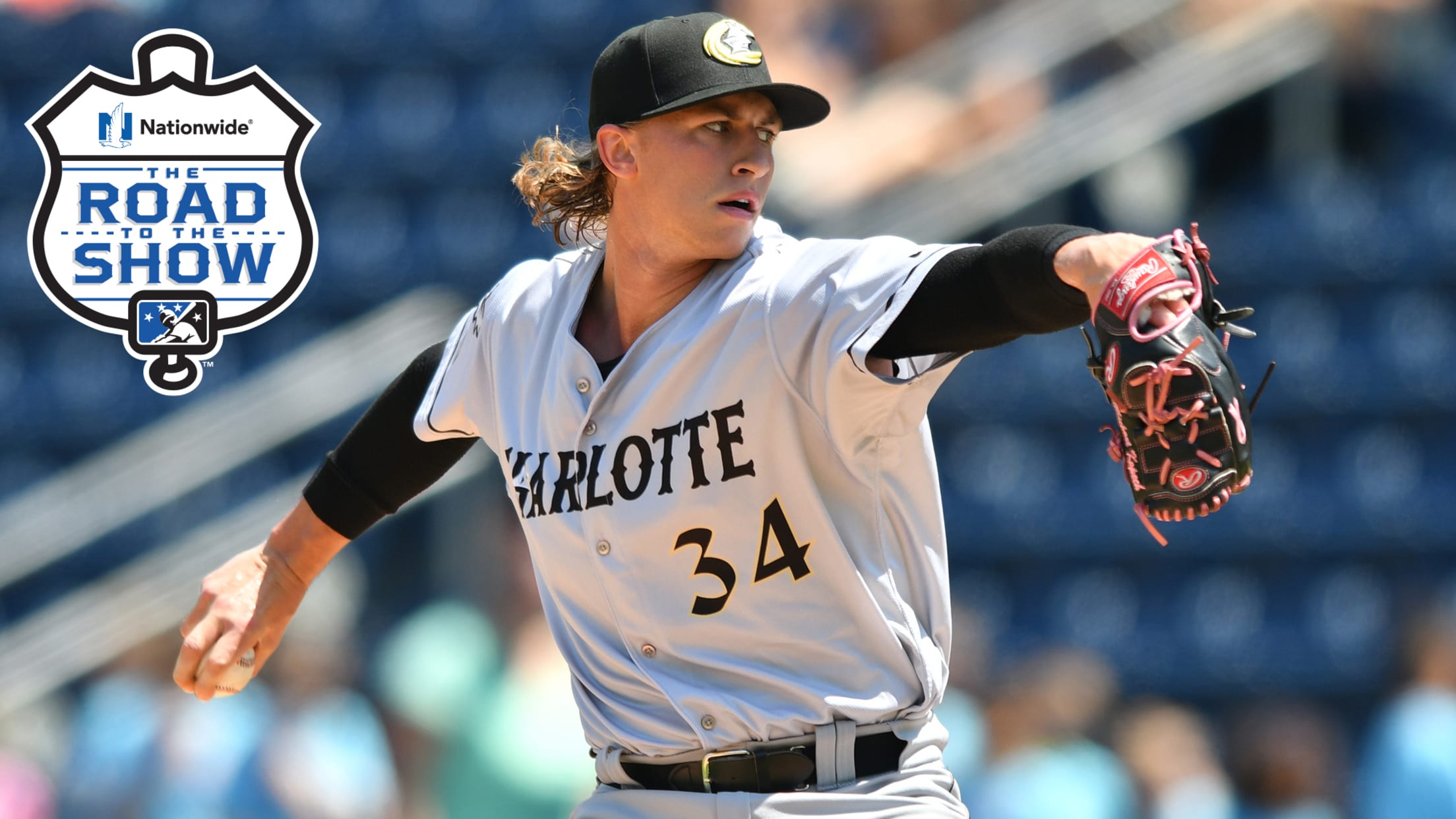 Michael Kopech has established himself as one of the most dominant pitchers in the Minor Leagues over the past five years. (Ken Inness/MiLB.com)
Each week, MiLB.com profiles an elite prospect by chronicling the steps he's taken to reach the brink of realizing his Major League dream. Here's a look at Chicago White Sox right-hander Michael Kopech. For more player journeys on The Road to The Show, click here. Among the highly ranked and
Each week, MiLB.com profiles an elite prospect by chronicling the steps he's taken to reach the brink of realizing his Major League dream. Here's a look at Chicago White Sox right-hander Michael Kopech. For more player journeys on The Road to The Show, click here.
Among the highly ranked and relatively unknown, there exists a group of Minor Leaguers who demand additional attention. Michael Kopech has earned this distinction for the better part of his professional career.
Injuries and external circumstances have softened the glow for baseball's No. 39 overall prospect. But Kopech remains among a rare group of prospects who possess a skill that can max out the 20-80 scale and provide limitless excitement every time he steps onto the field.
Recent reports indicate the White Sox plan to deploy their second-ranked prospect in the Major League bullpen to open the 2021 season. This might seem like a setback for a player once viewed as a top-10 overall prospect. But any appearance on a mound in a professional game can be considered progress for Kopech.
The 24-year-old has endured an eventful career largely on the strength of his 80-grade heater. The fastball was his best offering as a Texas high schooler and 2014 Draft prospect, and it's continued to be one of the most attention-grabbing pitches among the prospect ranks. He's developed a devastating slider to add to a mix that also includes a curveball and changeup.
Kopech reached the Major Leagues for four starts in 2018. But that dream was cut short by Tommy John surgery that September. He returned with a bang – firing triple-digit heat in his only Cactus League inning in 2020.
"It's been a long time coming for me," Kopech told MiLB.com last March. "I was taking it day by day, but the closer we got, I started to feel a little more anxious, a little more excited. Worked up, but in a good way. There's a lot of excitement going on."
The 6-foot-3, 225-pound hurler proved he was ready to retake the mound for the White Sox last year, but opted out of the pandemic-shortened season before play resumed in July.
He enters the 2021 season with one of the seven 80-grade tools among MLB Pipeline's Top 100 prospects. If all goes according to plan, he'll join lefty Garrett Crochet – who also wields an 80-grade fastball – in the bullpen on the South Side before rejoining the rotation at some point this season.
Kopech fits the profile of a fireballing right-hander and should be part of a significant playoff push in Chicago this season. But his journey began in different color Sox.
2014 (Rookie-level Gulf Coast League)
Boston was rewarded a compensatory Draft pick after Jacoby Ellsbury spurned the defending World Series champs to sign a seven-year deal with the rival Yankees in 2013. With the No. 33 overall selection, the Red Sox tabbed Kopech, a raw Texas high-schooler, with their second pick in the Draft -- one spot ahead of Cardinals ace Jack Flaherty.
"As far as the mechanics, he's got an electric arm. We really like the way he commands his fastball," Boston's then-director of amateur scouting Amiel Sawdaye told the <a href="https://www.providencejournal.com/article/20140606/SPORTS/306069944" target="blank" >Providence Journal_ in 2014. "We've been scouting this guy for about two years. People that saw him in the Under Armour game could see how he commanded his fastball and commanded his secondary pitches. Obviously, we're really excited to get him out and watch him develop."
The Red Sox signed Kopech away from his University of Arizona commitment for $1.5 million. He ranked as Boston's No. 14 prospect after posting a 4.61 ERA with 16 strikeouts in 13 1/3 innings in the GCL following the Draft. At that point, Kopech hadn't developed his slider, and his delivery needed to be simplified. He had a frame with room to fill out and could not run his fastball anywhere near the triple-digits he can produce regularly in 2021.
2015 (Class A Greenville)
The offseason heading into Kopech's first full year was his last one that could be considered uneventful.
Kopech seemed to be finding his footing in his first full season with the Drive in 2015, but his time in the South Atlantic League was cut short by a banned substance suspension. He tested positive for Oxilofrine, a stimulant in violation of the Minor League Drug Prevention and Treatment Program and made his last appearance of the season in July.
"I would like to start by apologizing to all of baseball, baseball fans, and specifically the Red Sox and Red Sox fan base," he said in a statement to MiLB.com after the suspension. "I respect the game as much, if not more than, anyone else. With that being said, I never have and never will intentionally cheat the game that has been so great to me."
On the mound, Kopech posted a 4-5 record with a 2.63 ERA and 70 strikeouts in 65 innings. He yielded only two homers and held opposing batters to a .228 average. He also yielded 27 walks in 16 appearances, which pointed to understandable command issues for a pitcher who was 19 at the time.
2016 (Class A Short Season Lowell, Class A Advanced Salem)
After the inauspicious conclusion to the 2015 season, another off-field incident prevented Kopechfrom making up for lost time.
Kopech suffered a broken bone in his throwing hand after reportedly getting into a fight with his Spring Training roommate that March. The 20-year-old's season did not begin until June, when he made one start for the Spinners, yielding four hits and four walks while striking out four over 4 1/3 innings.
He continued to show some command issues through 11 starts for Salem, but also established himself among the best strikeout pitchers in the Minors. Kopech registered the first four double-digit strikeout games of his professional career in Salem, recording a season-best 11 punchouts twice.
Kopech finished his lone Carolina League season with a 2.25 ERA and 82 strikeouts in 52 innings. Opposing batters only managed a .147 average-against as he forced himself into consideration as one of the best pitching prospects in the sport.
2017 (Double-A Birmingham, Triple-A Charlotte)
Another eventful offseason landed Kopech and former No. 1 overall prospect Yoan Moncada in Chicago as the main pieces in the deal that sent All-Star left-hander Chris Sale to Boston.
In 22 starts for Double-A Birmingham, Kopech posted an 8-7 record with a 2.87 ERA and 155 strikeouts in 119 1/3 innings. He struck out a season-best 12 batters on July 26 against Chattanooga, yielding a run on two hits, a walk and two hit batsmen. His 4.36 walk rate remained an issue, but it had improved from 5.72 the previous year.
"I'm trying to get better every start," he told MiLB.com in 2017. "I've had a few too many walks so far, and that comes from Double-A hitters being more patient. So what I took from tonight is that I need to get ahead of these guys earlier in the at-bats. I'll take that into my next start and move forward. I need to quit nibbling and be more aggressive. I have the stuff to do it, but I haven't pitched with the mentality that I can do it yet."
Kopech earned a promotion to Charlotte for his final three starts of the season. He struck out 17 over 15 innings, yielding five runs and issuing five walks.
So happy to see Michael Kopech back in action! pic.twitter.com/lWbbdjt69o

— Chicago White Sox (@whitesox) March 10, 2020
2018 (Triple-A Charlotte, Chicago White Sox)
The story of Kopech's 2018 campaign was dampened by another unfortunate ending.
The righty got the call to Chicago on Aug. 21 and posted a 5.02 ERA with 15 strikeouts and two walks over 14 1/3 innings in four starts. He previously made 24 starts in Charlotte and compiled a 3.70 ERA and 170 strikeouts over 126 1/3 innings in 24 starts.
"It's been a whirlwind of emotions for me in the past couple of weeks, obviously," Kopech told MLB.com after learning he had a torn ulnar collateral ligment in his pitching elbow. "From just about my absolute peak to the absolute rock bottom for me. I think to say it's unexpected would be an understatement."
In 140 2/3 innings between Charlotte and Chicago, Kopech's walk rate continued to trend in the right direction, shrinking to 3.97 per nine innings.
Kopech missed the 2019 season while recovering from the Tommy John surgery, then bowed out of the pandemic-shortened 2020 season. Kopech seems ready to complete the comeback ahead of his 25th birthday in April.
"I think I learned that I need this game a lot more than I realized," Kopech told MLB.com in February. "It's made me kind of regain the motivation to get back out there, along with some other things that have happened in my life.
"I've found that motivation that I may have lost -- not that I ever completely lost it, because I never want to be known as a guy that hasn't worked really hard for everything that he's had to earn. But with this time away, I've really had the chance to come back and prove to myself at least that this is what I want to do."
Gerard Gilberto is a contributor to MiLB.com. Follow him on Twitter @Gerard_Gilberto.