The Road to The Show™: Nolan Jones
Top Tribe prospect excels with patient approach, strong work ethic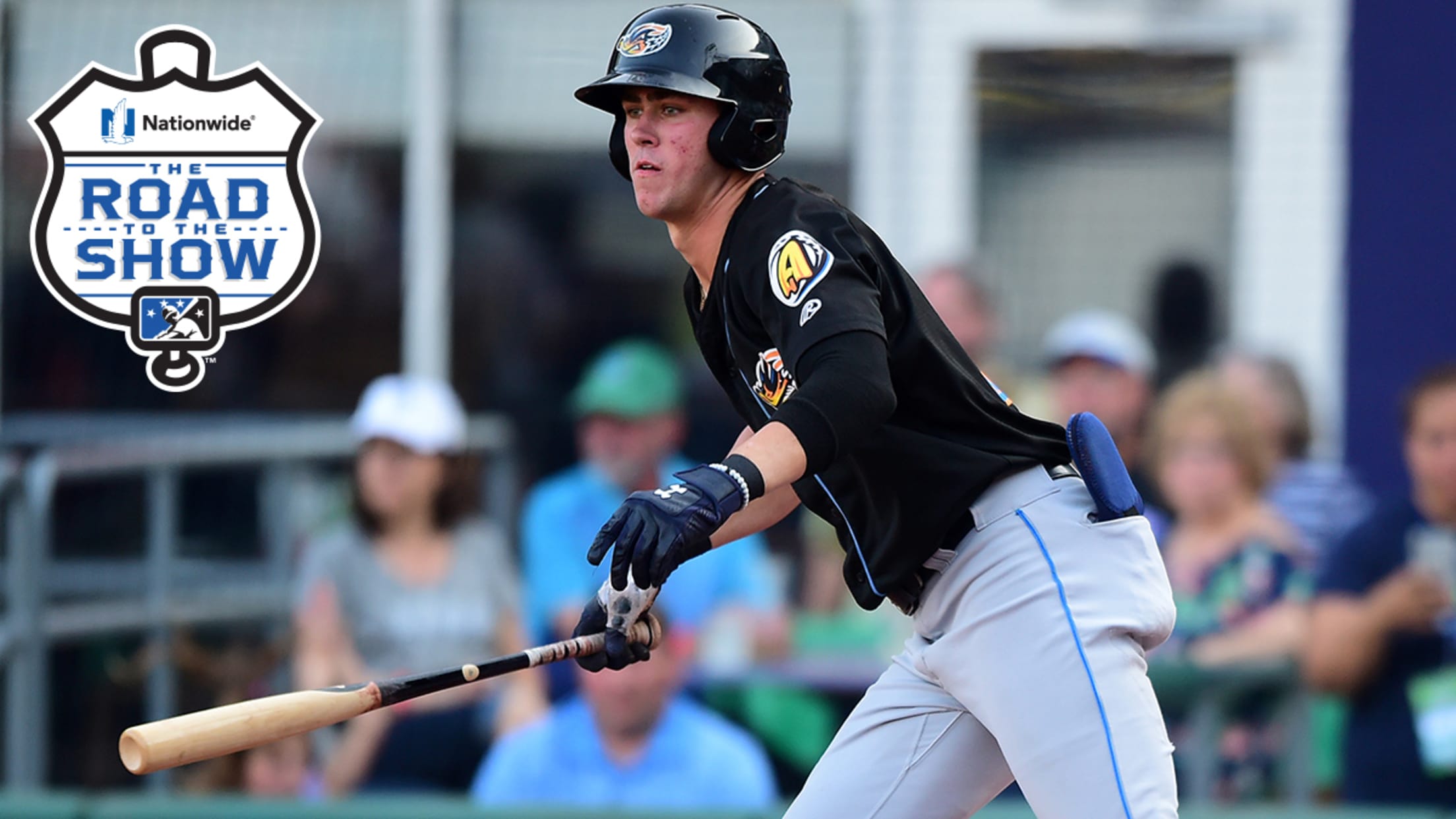 Nolan Jones has a .409 on-base percentage in 340 games over four Minor League seasons. (Kevin Pataky/MiLB.com)
Each week, MiLB.com profiles an elite prospect by chronicling the steps he's taken to reach the brink of realizing his Major League dream. Here's a look at Cleveland Indians third baseman Nolan Jones. For more player journeys on The Road to The Show, click here.
Each week, MiLB.com profiles an elite prospect by chronicling the steps he's taken to reach the brink of realizing his Major League dream. Here's a look at Cleveland Indians third baseman Nolan Jones. For more player journeys on The Road to The Show, click here.
Many of MLB.com's Top-100 prospects were multi-sport stars as youngsters. For few, if any, was one of those sports ice hockey.
Growing up in the northern Philadelphia suburbs, top Indians prospect Nolan Jones was a center on the ice before concussion issues forced him to concentrate on playing shortstop on the diamond. The lessons learned on skates helped turn him into a prized Draft pick in 2016.
"If I could have, every single year, a team of baseball players that were also hockey players ... that would be my perfect team," Holy Ghost Prep baseball coach Vince Rossomando told MLB.com after Cleveland selected his star shortstop in that year's Draft. "They are one of those athletes. You can see among all professional sports, they are the most well-conditioned and they are usually just the best competitors."
For the Indians, the equation was even simpler.
"He's a guy we feel is going to hit," Cleveland's director of amateur scouting Brad Grant said, "and hit with power."
Jones has done just that since entering the Indians system. A first-round talent who fell to the 55th overall pick due to questions about his signability, he was lured away from a commitment to the University of Virginia with a first-round-level bonus of $2.25 million. He got his feet wet -- and worked on adjusting to his new position at the hot corner -- that summer in 32 games with the Indians' Rookie-level Arizona League squad.
Jones showed the New York-Penn League what he was capable of the following summer when he batted .317/.430/.482 in 62 games with Class A Short Season Mahoning Valley. That campaign, at age 19, displayed the youngster's strengths and weaknesses in equal measure. Despite his long and powerful swing, Jones slugged only four homers (after not hitting any in the AZL the year before), thanks to a heavy propensity to hit the ball on the ground. The length of that swing, combined with a willingness to work deep into counts, contributed to a strikeout rate that has risen throughout his career in full-season ball. And he committed 22 errors in 53 games at third base.
On the bright side, the left-handed-hitting Jones finished fifth in the league in batting and OPS and ranked second with a .430 OBP. The latter has been a hallmark -- in 340 Minor League games, Jones sports a .409 on-base percentage, and in 2019, he led the Minors with 96 walks.
Opening the 2018 season with Class A Lake County, Jones began his transformation into the slugger who currently ranks as the No. 38 overall prospect. His strikeout rate went up a little and his walks remained plentiful, but his power emerged in a big way. Jones, who turned 20 that May, bashed 16 homers in 90 Midwest League games before earning a late-season promotion to Class A Advanced Lynchburg. While he hit only three more homers in 30 Carolina League contests that year, his nine doubles helped raise his slugging percentage. Overall, Jones batted .283/.405/.466 in 2018 and earned his first Organization All-Star nod from MiLB.com.
Last year, Jones continued to make adjustments at the plate, specifically by adding loft to his swing and using all fields. Starting the season back at Lynchburg, he compiled a .286/.435/.425 slash line with seven homers in 77 games while earning invitations to the Carolina League All-Star Game and the All-Star Futures Game.
"Honestly, my contact rates have gone up a lot from last year. I think I'm swinging at better pitches this year," he told MiLB.com that May. "The power numbers haven't exactly shown yet, but I think I'm in a good spot as far as knowing the strike zone and knowing what I can hit and what I can hit hard."
The Indians promoted Jones to Double-A Akron following his appearance at the Futures Game in Cleveland. Now 21, he faced big-time pitching on a daily basis and passed the test with flying colors. While his average dipped to .253, he maintained a .370 OBP and smacked eight more homers in 49 games with the RubberDucks. A brief stint in the Arizona Fall League, where he hit four long balls in 16 games, was cut short by surgery to repair a thumb injury.
With the thumb woes behind him, Jones received a non-roster invitation to Major League Spring Training this year.
"I've heard so many good things about the kid from everybody," Indians manager Terry Francona told MLB.com in February. "For however long he's here, we just want him to kind of be a sponge and watch how guys do things. I told him, 'I don't know how many at-bats you're gonna get. I hope you get some hits because it's fun to watch guys get hits. That's not going to define who you are. You're going to get ready for the season.'"
His handful of Cactus League plate appearances was a study in extremes -- he went 1-for-12 with nine strikeouts and seven walks -- before COVID-19 forced baseball's shutdown.
Jones spent the summer at the Indians' alternate training site in Lake County, where he continued to refine his approach at the plate and spent time working as a corner outfielder. Although Jones has played all but five of his Minor League games at third base (the remainder came at short), the Cleveland front office feels he has the athleticism to play the outfield, an area of need at the Major League level.
He also took time out to go to Cleveland to see his buddy Triston McKenzie make his big league debut against the Tigers. Technically not allowed to enter Progressive Field, Jones watched McKenzie strike out Miguel Cabrera from the roof of the parking garage across the street.
"I think, one, it shows the great character of the guys the Indians have in general," McKenzie told MLB.com after the game. "Nolan's a really good friend of mine and he didn't have to do that, but he did. And I'm gonna try to be there for his, because I'm gonna feel bad if I'm not. He wasn't even allowed in the stadium and he was watching."
In Jones, who seems destined to join McKenzie in Cleveland in 2021 after being added to its 40-man roster last week, the Indians have not just a promising hitter, but a leader -- not unlike the captain of a hockey team.
John Parker is an editor for MiLB.com.