The Road to The Show™: Sixto Sanchez
Top Marlins prospect shined in first season with club in 2019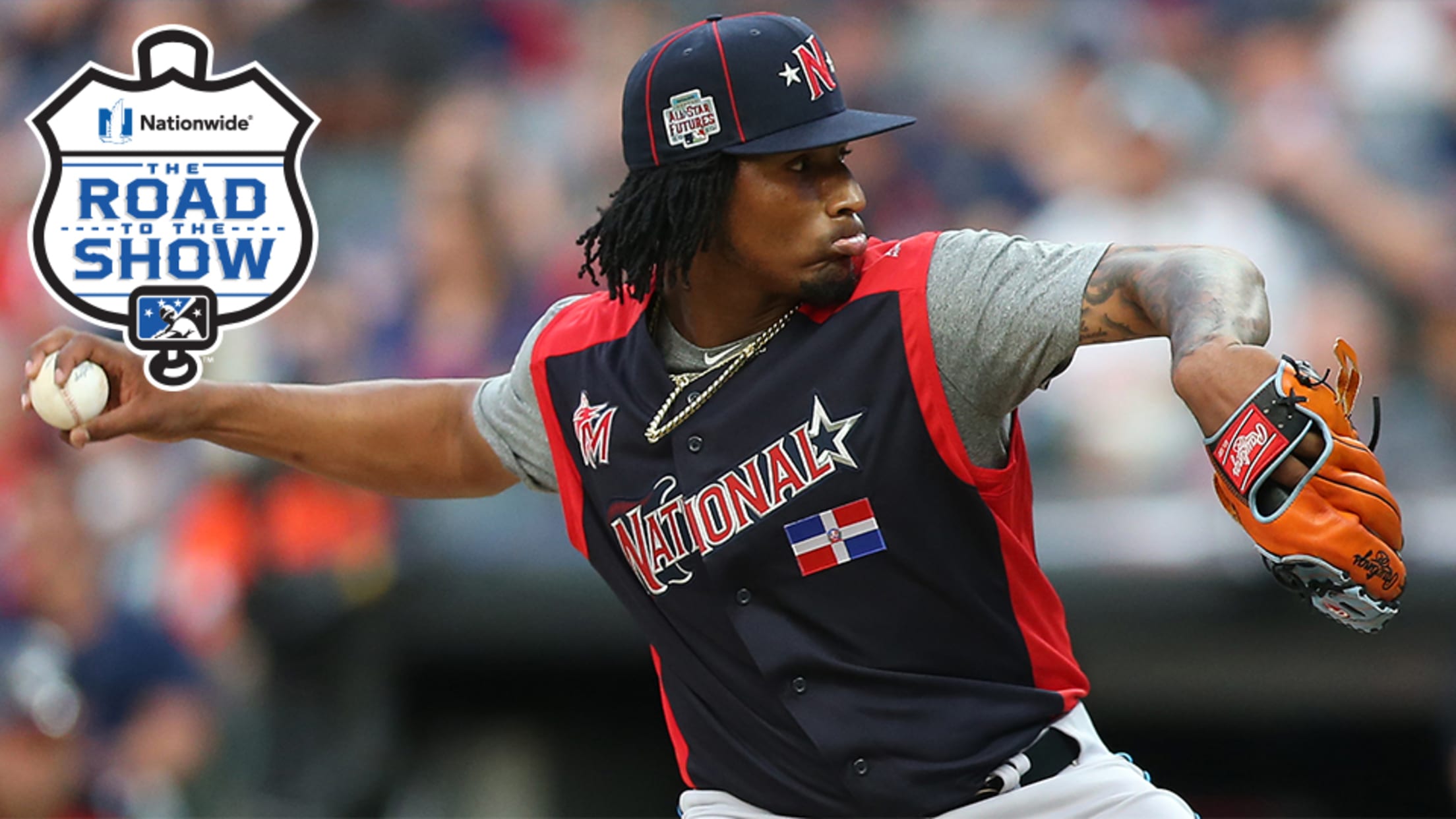 Sixto Sanchez compiled a 2.76 ERA last season, his first in the Marlins organization. (Rob Tringali/Getty Images)
Each week, MiLB.com profiles an elite prospect by chronicling the steps he's taken to reach the brink of realizing his Major League dream. Here's a look at Miami Marlins right-hander Sixto Sanchez. For more player journeys on The Road to The Show, click here. When the Marlins acquired Sixto Sanchez
Each week, MiLB.com profiles an elite prospect by chronicling the steps he's taken to reach the brink of realizing his Major League dream. Here's a look at Miami Marlins right-hander Sixto Sanchez. For more player journeys on The Road to The Show, click here.
When the Marlins acquired Sixto Sanchez from the Phillies in February 2019, he immediately shot to the top of a farm system that was the definition of thin when it came to top-shelf prospects. But even as Miami has built up its wealth of such talent -- including the addition of three new players ranking among MLB Pipeline's Top 100 prospects -- Sanchez remains top dog in the organization. He impressed in his inaugural season as the Marlins' No. 1 prospect last year and will have the chance to build on that success as part of the team's 60-man player pool at Summer Camp.
2015 (Rookie-level Dominican Summer League)
Statistically speaking, Sanchez's first season as a pro was his worst. That's not really a fair indictment, however, considering he was just 17 years old and only threw a handful of innings.
Over 11 appearances, including two starts, for the DSL Phillies, he logged a 4.56 ERA across 25 2/3 innings. He struck out 18 batters and walked six while compiling a 1.48 WHIP and a .291 opponents' batting average.
2016 (Rookie-level Gulf Coast League)
If one were to apply the same flawed analysis, then Sanchez's sophomore season was the best he's ever had as a professional -- statistically speaking.
In his first campaign in the United States, he made 11 appearances -- all starts -- and was nothing short of magnificent. He allowed just three earned runs over 54 innings, good for a 0.50 ERA. He also notched 44 strikeouts and issued eight walks, producing a 0.76 WHIP and a .181 average-against.
2017 (Class A Lakewood, Class A Advanced Clearwater)
Two years after being signed out of the Dominican Republic, Sanchez finally made his non-complex debut in the South Atlantic League. He was a bit shaky in his first start for the BlueClaws, allowing four runs in 4 2/3 innings, but was absolute nails after that. The right-hander lowered his ERA with almost every subsequent appearance, ending his time in Lakewood with a 2.41 mark.
Sanchez earned a promotion after dealing back-to-back scoreless outings at the end of July, which also netted him Sally League Pitcher of the Week honors.
Much like in Lakewood, Sanchez stumbled a bit out of the gate in the Florida State League, surrendering five runs on 10 hits over six innings in his first start for the Threshers. He recovered again, however, yielding no more than three runs in each of his final four starts of the season. That led to a 4.55 FSL ERA and a 3.03 mark for the year.
2018 (Class A Advanced Clearwater)
The 2018 campaign was a bit of a lost one for Sanchez. He began the season back in the FSL with the Threshers and opened with another rocky outing as he gave up four runs in four innings. The not-yet-20-year-old showed the same ability to bounce back, though, not allowing more than two runs in six of his seven subsequent starts to reduce his ERA to 2.51 and eventually land him midseason All-Star honors.
Unfortunately, he did not get the chance to keep that success rolling. Sanchez experienced inflammation in his right elbow at the beginning of June, landing him on the Injured List. An MRI came back clean, but the Marlins ultimately decided to shut him down for the rest of the season.
The team didn't consider the injury to be serious, calling it a setback, but it's understandable why the organization wanted to be careful with the future ace. Sanchez was set to pitch in the Arizona Fall League, but he experienced tightness in his collarbone while working out in the instructional league and the plans were canceled.
2019 (Class A Advanced Jupiter, Double-A Jacksonville)
Sanchez didn't know it at the time, but the last pitch he threw for Clearwater on June 3, 2018 also was his final one as a member of the Phillies organization.
On Feb. 7, Philadelphia dealt the right-hander to Miami with Minor League left-hander Will Stewart, big league catcher Jorge Alfaro and international bonus slot money for All-Star catcher J.T. Realmuto. Sanchez immediately became Miami's top prospect and was one of only two Marlins included on the MLB Pipeline Top 100 Prospects list.
He started the season in extended spring training but returned to the FSL by the beginning of May to hop aboard with the Hammerheads. He wasn't in Jupiter long, however. He gave up two runs on six hits over five innings at Charlotte on May 3 and four runs on eight hits over six frames against Florida on May 9.
That was good enough for the team to bump him up to Double-A and send him four hours up I-95 to Jacksonville to join the Jumbo Shrimp. After struggling somewhat when advancing levels previously, Sanchez dazzled in his Southern League debut. Against Biloxi on May 14, he allowed one hit and two walks while striking out seven over six scoreless frames.
That outing set a dominant tone for the rest of the season. He retired two of the three batters he faced for the National League at the Futures Game, then produced five consecutive scoreless starts for Jacksonville from July 23 to Aug. 10.
Overall, Sanchez went 8-4 with a 2.53 ERA and a 1.03 WHIP in 18 starts for the Jumbo Shrimp and would have ranked second in ERA and WHIP if he had enough innings to qualify. He recorded 103 strikeouts while walking 21 over 114 frames.
Sanchez racked up a laundry list of achievements after the season, including Minor League Pitcher of the Year in the Marlins system.
Going into 2020, Sanchez was a non-roster invitee to big league Spring Training team. He was assigned to Minor League camp before long but was named to Miami's 60-man player pool for the restart.
He'll almost certainly spend the abbreviated 2020 campaign at the team's alternate training site in Jupiter, back in the familiar environment of Roger Dean Chevrolet Stadium. And even though he's unlikely to see any game experience this year, being able to work out with the rest of the team's prospects will help maintain the momentum he generated after returning from injury in 2019.
Jordan Wolf is a contributor to MiLB.com. Follow him on Twitter: @byjordanwolf.