The Road to The Show™: Triston McKenzie
Right-hander has Major potential after injury-stunted development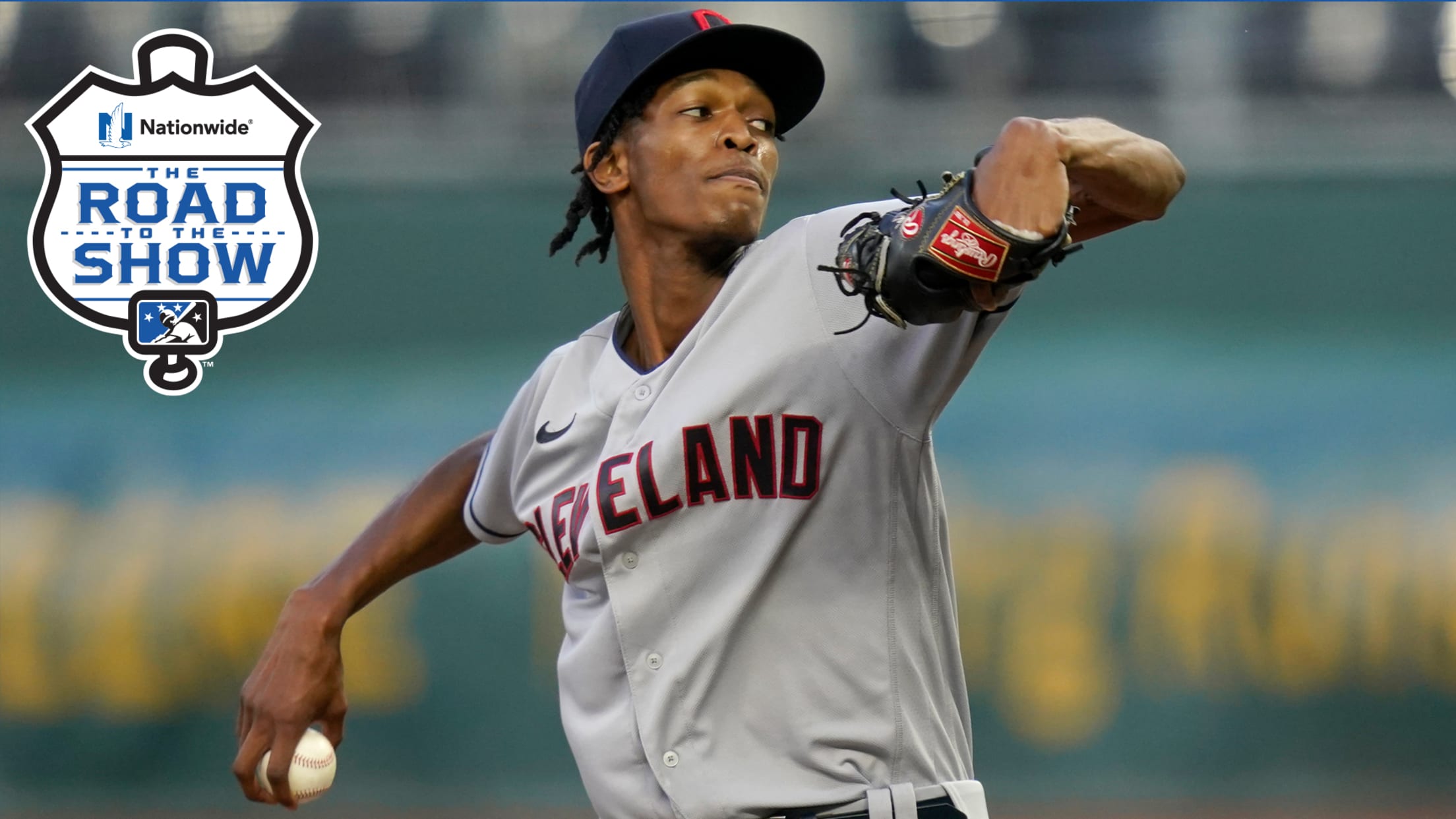 Cleveland right-hander Triston McKenzie went nearly two years between appearances in a professional game. (Orlin Wagner/AP)
Each week, MiLB.com profiles an elite prospect by chronicling the steps he's taken to reach the brink of realizing his Major League dream. Here's a look at Cleveland Indians right-hander Triston McKenzie. For more player journeys on The Road to The Show, click here. After a professional career that constantly
Each week, MiLB.com profiles an elite prospect by chronicling the steps he's taken to reach the brink of realizing his Major League dream. Here's a look at Cleveland Indians right-hander Triston McKenzie. For more player journeys on The Road to The Show, click here.
After a professional career that constantly tested his patience, Triston McKenzie was able to breathe a sigh of relief in a Major League start.
The second-ranked Indians prospect took the mound at Progressive Field in August -- nearly two full years after his previous Minor League game -- and struck out 10 batters over six two-hit innings in a 6-1 victory against the Tigers.
"It helped keep me grounded that a lot of the people that I wanted to watch this game and I wanted to pitch for definitely helped relax me and bring me back to center," McKenzie told MLB.com after his debut. "Shane Bieber, Aaron Civale, they talked to me beforehand and gave me a rundown about [how] everybody's been through it. 'Just go out there and be you.'"
The advice from the eventual Cy Young winner and Civale could be based on McKenzie's track record in the Minors. The now-23-year-old compiled a 26-16 record with a 2.68 ERA, .194 opponent's batting average, 1.00 WHIP, 10.8 K/9 and 2.7 BB/9. McKenzie showed he certainly could be good enough, but he needed to stay on the field.
McKenzie developed a lengthy medical history throughout his time in the Minors, having pitched just one full season since being drafted in 2015. But it all came after he was signed away from his Vanderbilt commitment with a $2.303 million bonus – the highest among high school pitchers in that Draft class.
There was a popular phrase written in McKenzie's pre-Draft scouting reports: Once he fills out. The logic behind this thinking is sound. McKenzie was a 6-foot-5, 160-pound, 17-year-old who did, in fact, have room to fill out. But adding weight and muscle was not important to his development. He debuted in the Majors at 165 pounds, more than a full five years after being drafted.
His fastball, which scouts deemed a plus pitch prior to the Draft at 89-91 mph, has gained velocity, sitting in the low- to mid-90's. His power curveball has developed into what could be considered his best pitch. He still throws a respectable, fading changeup, and he's added a slider to the repertoire during his time in the professional ranks.
He's pitched in 362 1/3 innings as a pro, including 33 1/3 frames in the pandemic-shortened 2020 season. He is very much in the mix for a rotation spot in Cleveland while possessing the skills to make for one of the best rotations in the game – if he can stay on the field.
"I feel healthy," McKenzie told MLB.com in February. "That was kind of the goal last year to kind of test the waters and make sure I can go out there and perform. I feel healthy right now. I'm just excited to go out there and do it hopefully for 30 starts or 162 games."
2015 (Rookie-level Arizona League)
The Indians chose not to be aggressive with their 17-year-old prospect after selecting him with the final pick of competitive balance round A, No. 42 overall. McKenzie shined during four appearances, three starts, in the AZL, yielding one run on four hits and three walks while striking out 17 in 12 innings.
He still faced questions about his physique, but the club made note of his maturity as he dominated hitters on the Rookie circuit.
2016 (Class A Short Season Mahoning Valley, Class A Lake County)
Cleveland was once again cautious with McKenzie in what could have been his first full season. But in 2016, the club opted to start him in the New York-Penn League, where he quickly proved to be advanced beyond that level of competition.
In nine starts for the Scrappers, McKenzie allowed three earned runs in 49 1/3 innings (0.55 ERA) with 55 strikeouts and 16 walks. He held opposing batters to a .180 average and registered his first complete game in a five-inning effort against Wilmington, striking out eight while yielding three hits and a walk.
He didn't take the Midwest League by storm sustained enough success to prove he could be among the best pitchers in the Minors. In six starts for the Captains, McKenzie was 2-2 with a 3.18 ERA and 49 strikeouts in 34 innings.
2017 (Class A Advanced Lynchburg)
By the end of the 2016 season, McKenzie cracked MLB Pipeline's Top 100 Prospects list for the first time, debuting at No. 96. His performance in the Carolina League allowed him to leap to No. 21 overall by year's end.
"He's a guy that's going to wow you when you come to the park, and he does that consistently," Indians farm director James Harris told MiLB.com. "When he shows up and he's on the bump, you got a chance to win."
McKenzie went 12-6 with a 3.46 ERA, 11.7 K/9, 2.8 BB/9 and a .203 opponent's batting average. Perhaps most importantly, he proved he could last a full season with his 143-inning workload dwarfing his previous Minor League output by nearly 60 frames.
He was named Carolina League Pitcher of the Year after leading the circuit in wins and strikeouts (186). McKenzie reached double-digit strikeouts six times, including a career-high 14-K performance over six innings of one-hit ball against the Mudcats in May.
"My command was great and everything was really working out there," McKenzie told MiLB.com after that start. "I used the changeup intermittently to keep the hitters off balance. I mean, I'm definitely not keeping count of how many strikeouts I have out while I'm on the mound, although I knew I had tallied a decent amount. But I was a little surprised when they told me how many I had when I was done."
Most of McKenzie's Minor League accolades, including an invitation to the Futures Game, came during the 2017 season – before his luck began to turn.
Triston McKenzie picked a Hall of Famer for his first Major League punchout.pic.twitter.com/GFRrXn30Xb

— Minor League Baseball (@MiLB) August 22, 2020
2018 (Double-A Akron)
An unfortunate bout with forearm soreness pushed McKenzie's Eastern League debut to June. But upon his return, the Royal Palm Beach High School product continued to show he could be an effective professional pitcher – even as his strikeout numbers diminished.
In 16 starts for the RubberDucks, he posted a 2.68 ERA with 87 punchouts in 90 2/3 innings. His 8.6 K/9 rate was three full strikeouts lower than the 11.6 mark with which he entered the season. But he still finished with a 7-4 record and did not miss a start after being activated in June.
McKenzie threw a season-high 101 pitches and yielded four hits and two walks over six scoreless innings in his final start of the year on Aug. 30 against Bowie.
"I think that's for most guys who go on the [injured list], when they come back they want to prove themselves and that's definitely something I wanted to come back and do," McKenzie told MiLB.com after that start. "In the beginning, I was a little rushed, trying to make up for lost time, but I found my groove and I think the guys here helped me feel real comfortable right off. The starters here, my coaches, my other teammates and I think it showed tonight."
McKenzie earned the rank of the No. 38 overall prospect following the 2018 campaign. But unfortunately, that brilliant start against Bowie would be his last for nearly two full years.
2020 (Cleveland)
McKenzie was twice felled by injuries that wiped out his chances of playing in the 2019 season. First, an upper-back strain suffered in Spring Training meant he'd have to deal with another delayed start to the season. Then a pectoral injury put him on the shelf for the remainder of 2019.
He was just about ready to make his Cactus League debut in 2020 before two very strange things happened: a global pandemic and rain in Arizona.
"I was scheduled to throw in like my first actual game in Spring Training, and it ended up getting rained out in Arizona, which was very surprising." McKenzie told MiLB.com in June.
"It was just very disheartening. I actually stayed out in Arizona for probably a month or so, just because I was still able to go to the complex a little bit. And I tried to keep my routine as similar as possible so that I could stay ready for whenever the corona stuff blew over. But it lasted a little bit longer than I thought it would."
McKenzie famously debuted against the Tigers and finished his first Major League season at 2-1 with a 3.24 ERA and 42 strikeouts in 33 1/3 innings. He ranked as the Tigers' No. 9 prospect at the time of the debut, but returned to the Top 100 by season's end and jumped all the way up to No. 51 overall going into this spring.
In two Cactus League starts, McKenzie has yielded three runs on four hits and four walks in 3 2/3 innings. He's beyond the point at which any appearance on the mound represents progress and should be among the Tribe's Opening Day rotation.
"I feel like one, they're very confident in the guys they have in the organization, the pieces they've developed from Rookie ball all the way up to big leagues," McKenzie told MLB.com. "I think you have proven examples over and over again. You see [Aaron] Civale, you see [Zach] Plesac, you see [Shane] Bieber at the big league level, and you come in as a rookie and you don't know what to expect from those guys, but you get consistency out of those guys. I think that allows them to make the moves that they have and be confident in those decisions."
Gerard Gilberto_ is a contributor to MiLB.com. Follow him on Twitter @Gerard_Gilberto._