Erie's Policelli finds calling as a jack of all trades
Tigers prospect is using super utility role as a beeline to the Majors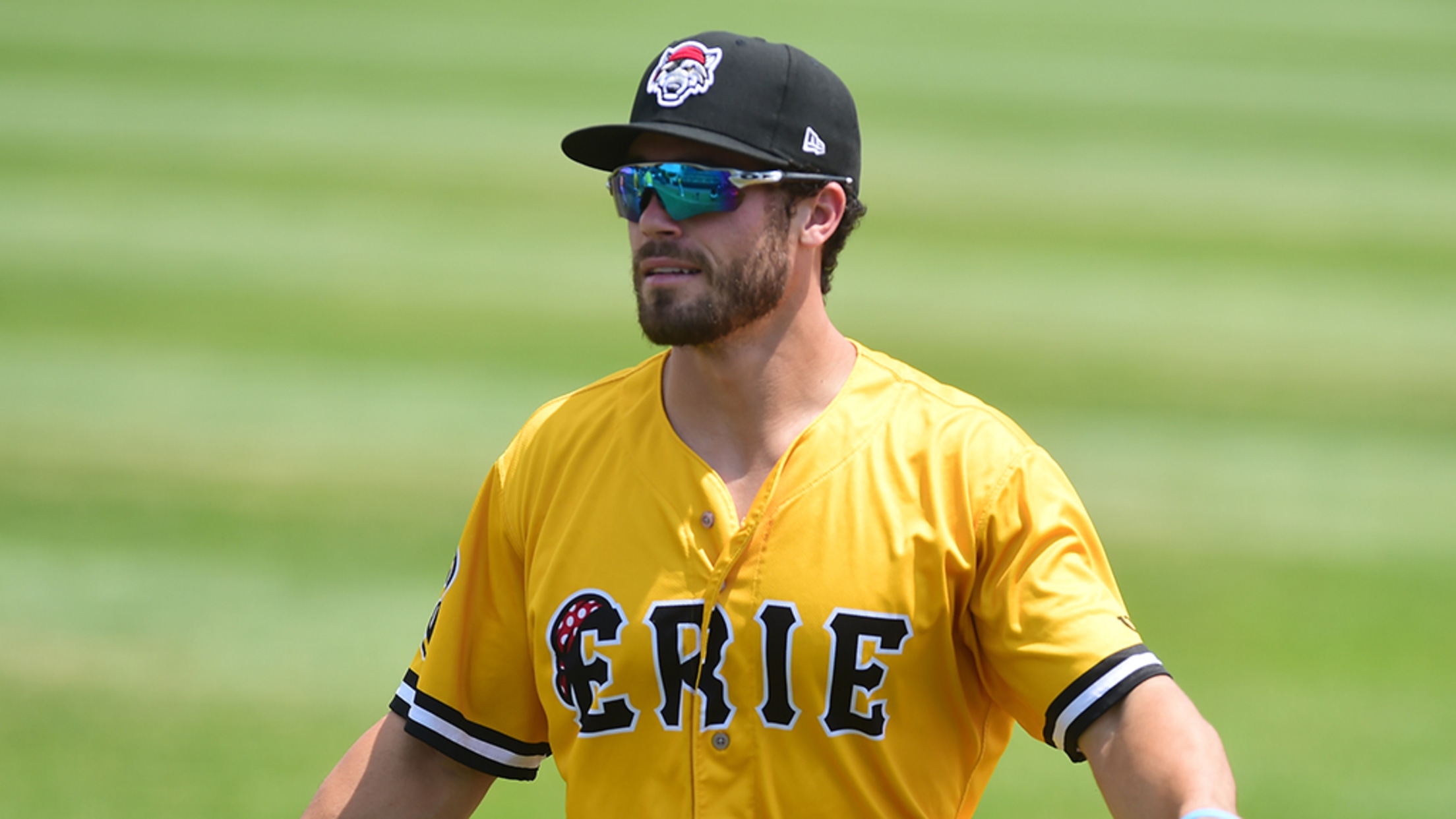 Brady Policelli has played every position except pitcher in a professional career that began in 2016. (Kevin Pataky/MiLB.com)
Labeled a super utility player in the Minors may not conjure up images of future big league stardom, but those within the game know better. For most prospects, a path to the Majors is rarely linear. That includes Brady Policelli, who embraced a suggestion from a former manager to carve
Labeled a super utility player in the Minors may not conjure up images of future big league stardom, but those within the game know better. For most prospects, a path to the Majors is rarely linear. That includes Brady Policelli, who embraced a suggestion from a former manager to carve his own niche in the line of Tigers prospects.
The result? A first taste of Triple-A and a résumé that has grown exponentially thanks to his ability to play nearly every position on the field.
Policelli dabbled in catching during his three-year collegiate career at Towson University, but he spent a majority of his time in the middle infield and at third base. A 13th-round selection in the 2016 Draft, Detroit felt the catching position would suit Policelli well. He wasn't as sure.
"I was more the emergency backup [catcher] in college, but the Tigers immediately converted me to catcher," the Washington D.C., native said. "It was intimidating for me, but I had also done it before and if that was what the organization wanted, I wasn't going to argue.
"It was a bit of an adjustment in the beginning. Catcher is a demanding position and there's so much that goes into it, but I enjoyed it and I still do."
Policelli donned the tools of ignorance exclusively in 2016 and 2017, minus designated hitter duties. He appeared in a combined 30 games his first two seasons, a number cut drastically by injuries that limited him to four appearances in 2017. However, assigned to what was then Class-A West Michigan in 2018, a former catcher, of all people, made a suggestion that would alter the trajectory of Policelli's career.
"[Former Major Leaguer and eight-time All-Star] Lance Parrish was my manager that season," Policelli said. "Detroit had drafted a catcher who they promoted to West Michigan pretty quickly. I was making the most of my playing time, but I was also relegated to backup duty, so I was only playing maybe two times per week."
Parrish complimented Policelli on his patience and work ethic, but they wanted to get him back into the lineup on a more regular basis.
"[Parrish] started asking me about my past experience playing the infield and if I'd be comfortable doing some of that. I began taking groundballs during batting practice just to get used to it and lo and behold, I was starting at second base a week later. I wouldn't be staying there for long."
The addition of another 2018 Draft pick forced another conversation between Policelli and Parrish.
"Detroit drafted Kody Clemens [in 2018] and since he was a second baseman and a [third-round pick], he would be getting most of the reps. So, Lance pulled me back into his office and mentioned the outfield, which I had played a little when I was younger. Next thing I know, I'm starting in the outfield, the infield and at catcher when our starter needed a day off. I was the super utility guy and it was a blast, to say the least."
Policelli added right field to his position checklist that season. He marked off third base, shortstop, left and center in 2020 with what was then High-A Lakeland. Fast-forward to 2021 and Policelli is now the organization's go-to player for flexibility. The 26-year-old has split the season with Triple-A Toledo and Double-A Erie doing what he does best: playing wherever he is needed.
Brady Policelli can't be stopped.

🎙 @SabadosSports pic.twitter.com/96WZFPXxSD

— Erie SeaWolves (@erie_seawolves) July 29, 2021
In the case of this season, that has taken Policelli to every spot on the field except one -- the pitcher's mound. It's a role that the 5-foot-10, 195-pounder embraces.
"I look forward to being able to move around and play all these positions," Policelli said. "It helps me as a player on a personal level but also contributes to the success of whatever team I'm playing with. The more you're on the field, the better player you become. If that means I'm in right field for a month and then back behind the plate after that, that's fine. I go out and try and make the most of it."
Policelli has done that this year, becoming the only Minor Leaguer to date who has played every position, with the exception of pitcher.
"I know that I'm getting close to the Majors. I wouldn't be truthful if I said that my role as a super sub hasn't helped me along," Policelli said. "But everywhere in this organization, up and down, we've got great staff that makes it easier for me to do my job. And when it comes down to it, I want to help the team be successful, whether it's in the Minors or in the Majors."
Having done everything but pitch, would Policelli consider toeing the rubber at some point in 2021? A longstanding tradition exists in the Minors where certain players find their way to each position on the field in the final game of the year. Will Policelli be among them?
"I'd love to play all nine in one game," he said. "But I would never ask. If that was brought up to me, then sure. That would be a really fun day."
Michael Avallone is a contributor to MiLB.com. Follow him on Twitter @MavalloneMiLB.