Toolshed: Burger trying new route to South Side
No. 15 White Sox prospect to spend summer in collegiate league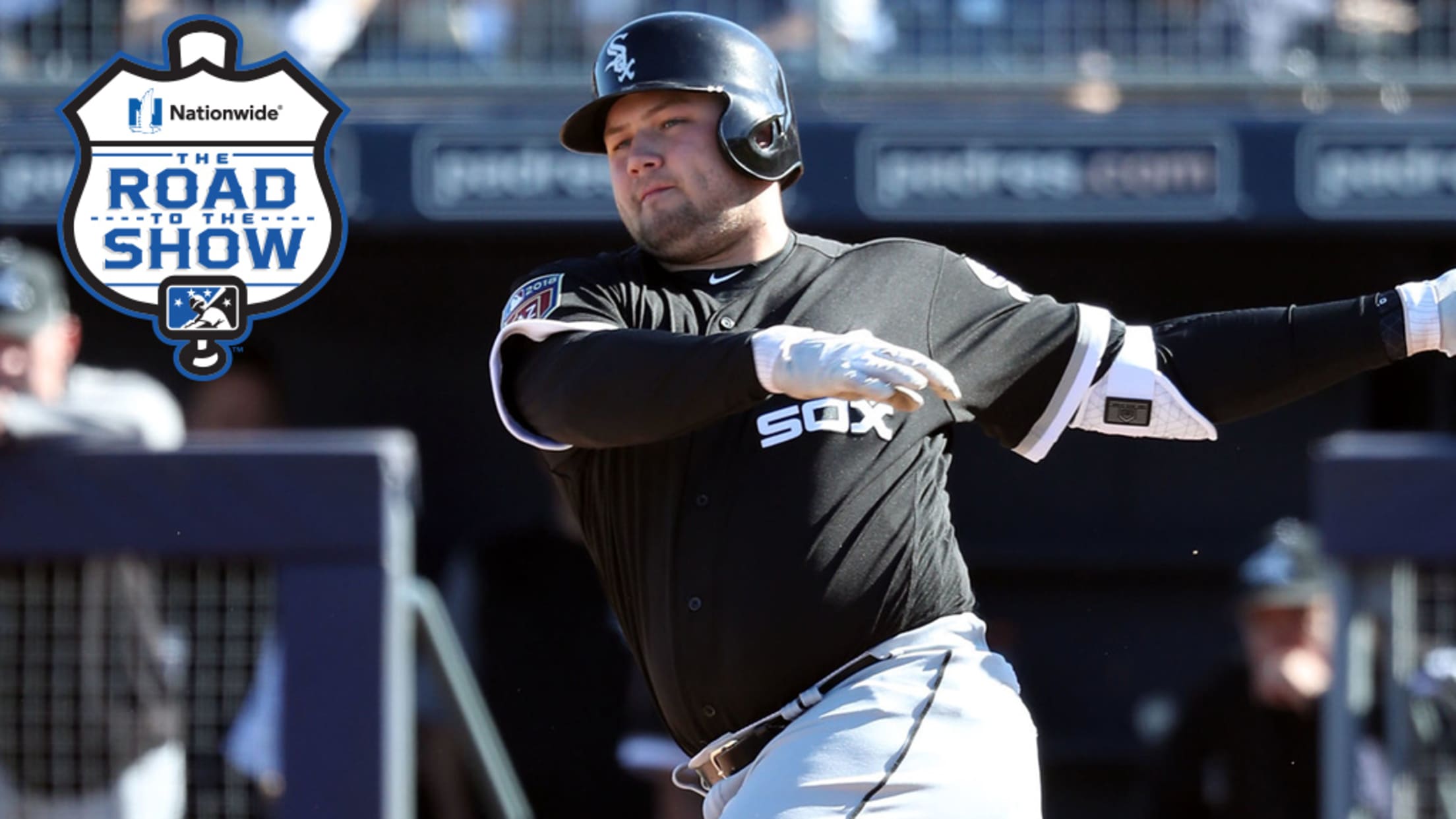 Jake Burger got seven Cactus League at-bats for the White Sox in 2018 before suffering his first Achilles injury. (Bill Mitchell/MiLB.com)
It's Friday, July 17, 2020, and No. 15 White Sox prospect Jake Burger will get to play regular-season baseball in a game that matters in the standings, any standings for the first time since Sept. 4, 2017. That's a stretch of 1,047 days, not that anyone's counting. He'll do so
It's Friday, July 17, 2020, and No. 15 White Sox prospect Jake Burger will get to play regular-season baseball in a game that matters in the standings, any standings for the first time since Sept. 4, 2017. That's a stretch of 1,047 days, not that anyone's counting. He'll do so as a player for the Cornbelters in the CarShield Collegiate League, a circuit originally meant for local Missouri college kids that has expanded to include pro players done in by the cancellation of the Minor League season. He's already been told he'll be hitting second.
CarShield Field in O'Fallon, Missouri, is a far cry from Guaranteed Rate Field in Chicago or even the White Sox alternate training site in Schaumburg, Illinois. The games are seven innings long. The field is made of turf. The competition isn't filled up with players trying to make an impression in an abbreviated 60-game Major League season. But live baseball is live baseball, and for a 24-year-old third baseman who has missed the past two seasons due to major Achilles injuries and most of this summer to the coronavirus pandemic, he'll take that first at-bat wherever he can find it.
"I've been thinking about that actually," Burger said. "We're the visitors, so I'll be the second at-bat up. It'll be fun. I think it'll feel like 10 tons off my shoulders that I'm actually in a real game. I don't know if it'll hit me during the at-bat, but it should shortly after. It'll be interesting. I'm super stoked. I'm getting butterflies thinking about that."
Believe it or not, Burger was actually going to be the Cornbelters manager. The CarShield Collegiate League was cobbled together after the travel-based Prospect League canceled its season in late May, and Burger knew the newfound circuit's commissioner Joe Lincoln, the director of player development at Burger's alma mater Missouri State.
As Major League Baseball solidified its plans for a return, Burger thought it best to step away from a coaching role to keep his options open. That could have included a spot on the 60-man roster, which would have sent the 2017 first-rounder to the alternate site in Schaumburg for intrasquad games against fellow White Sox prospects. But as the days went by without an affirmation to pack his bags, Burger thought it best to give the CarShield League another look, this time as a player. Chicago's 2019 34th-rounder Chase Krogman already had been granted permission by the big club to participate, and if Burger wanted a guarantee to get at-bats, take grounders, run out balls in play -- in other words, to put his injuries behind him for good -- he thought around July 4 that a call to White Sox director of player development Chris Getz was at least worth a shot.
"In the back of my mind, I think I'm ready to be on the 60-man, but that's their decision," Burger said. "I'm going to do everything I can to make them happy and keep myself happy too. It was more of a cold call. Call Getzy and see what he thinks. There weren't any discussions prior to that."
"We opted to take that route with Jake, because he hasn't played games recently," Getz told reporters, including MLB.com's Scott Merkin, this week. "For him to face live pitching and run the bases and just be the baseball player that he is, we feel like that's the best thing for Jake. We are excited for him. We are excited for the White Sox. We are just in a different place with Jake right now."
Though Chicago ultimately approved the move, the organization still wanted to get one final look at Burger's post-quarantine progress before sending him back to the Show-Me State. The third baseman spent part of the week in Schaumburg working out for Getz and members of the Sox training staff. The plan required explicit permission from Major League Baseball to allow Burger to get in time at Boomers Stadium away from members of the 60-man player pool, but once that was settled, he was able to leave a lasting impression on the organization -- one that led Getz to state that Burger is in "a really really good place."
Permission secured. Roster spot locked. Lineup spot already written in. The only thing left are the swings, the runs, the throws, etc. Burger is a full go to play third base, though he expects to get some time in at designated hitter as well, and he's hoping to get in roughly 75 at-bats with his new team. That's 75 more competitive at-bats than he could get almost anywhere without Minor League Baseball in 2020.
"It's huge," Burger said. "I don't really want put too much into results. As long as I'm on the field, that's a big win for me over the last three years. From what I've heard and seen from being over there a couple times, the talent's really good. There are 15 to 20 pro arms in it and a lot of Division I arms. The competition won't be too weak. We'll see. From what I've seen, it's been fairly good. Guys like throwing 92-plus. As long as I can see that velo, that's huge for me."
It's worth reflecting on the road that got Burger to this point ast which he can even play the game.
The right-handed slugger was the highest position player ever taken out of Missouri State when he was selected 11th overall in 2017 after hitting .339 over his three seasons on campus and combining to hit 43 homers in the final two. Beyond his above-average potential with the bat, he showed enough range and a strong enough arm to stick to the hot corner, increasing his potential value. After signing for $3.7 million (just below the $4,199,200 slot), Burger hit .263/.336/.412 with five homers in 51 games between the Rookie-level Arizona League and Class A Kannapolis in his first taste of the Minors in the summer of 2017.
As a college standout prepared to take the fast track to the South Side, the former Bear received a non-roster invite to 2018 Major League Spring Training camp and had appeared in four games when the injury bug struck. In his second at-bat of the fourth game against the A's on Feb. 26, Burger bounced a ball to the left side of the infield and made it three-quarters of the way up the line before crumpling to the ground in pain. He later was diagnosed with a ruptured left Achilles that would have knocked him out for the entire 2018 campaign. That fate was assured that May when he retore the same Achilles tendon, resetting his timeline. He was finally cleared to play in an extended spring training game in May 2019, only getting in one game before complications returned in his left heel.
"I woke up the next morning and could barely walk to the bathroom," Burger said. "Alright, something wasn't right there. Got the MRI and saw something was wrong on the back side. It played a decent role in slowing me down during recovery. It's one of those things where it was bound to happen. I talked to my surgeon and literally everybody and they said you see these with Achilles injuries. There's going to be some side effect other than the Achilles injury. It sucked to miss the full season."
With yet another year lost -- two out of a possible three in Burger's early career -- the player and the organization faced another decision in the fall. The team could have monitored his progress further during instructs, but Burger sought a different path. Surgeon Dr. Robert Anderson -- a known orthopedic surgeon who counts football players Cam Newton, Saquon Barkley and Richard Sherman among his other patients -- was based out of Bellin Health Titletown Sports Medicine and Orthopedics in Green Bay, and Burger thought he would get more out of recovery by being close to Bellin's facilities, where he could be watched by specialists for his specific injuries. Though it's more orthodox for clubs to keep recovery in-house, the White Sox acquiesced to their prospect's request.
"A lot of organizations would say no, but the White Sox were fully on board with that," Burger said. "I was up in Green Bay for eight weeks of the offseason. It was awesome. That was the full progression to the next Spring Training."
Though he was back to full health, Burger didn't score a non-roster spring invite in his return to Arizona with the Sox choosing to follow his progress on the backfields. He thinks he was set for another assignment to Kannapolis to regain his footing in Minor League Baseball when all of Spring Training was put on hold in mid-March. Burger originally was allowed to keep working out of the facilities in Glendale under certain restrictions, but had to return home to the St. Louis area when things shut down for good around March 27.
Before his move back north, Burger admitted to feeling fine physically with everything in his left leg, but he couldn't quiet the nagging doubts in his mind. So he took up a different family sport in tennis against another Division I talent -- his mom, who played at the University of Evansville.
"The silver lining of getting sent home helped me get over any thoughts about [the injury]," Burger said. "I've been able to play tennis literally every single day for an hour, hour-and-a-half. When I'm doing that against my mom, it's about winning the point and competing and which shot is coming next. I'm not even thinking about the foot. That's what got me out of it. It was running, quick cuts and constant movement. That underlying [feeling of] 'What if I take this step or step backwards and it goes again?' I had those all the time before I got sent home. Now I don't even think about it."
In fact, if any prospect was situated for quarantine and knowing what to do to get through to the other side, it was Burger.
"It was uncomfortably comfortable," Burger said of the time off. "I've been here for the last two years where I've been isolated from everybody. When I had the surgery, I couldn't go to restaurants. I had my little scooter, but I had to stay at home. To me, it was like what I'd been dealing with the last two years in a sense. I took it in stride. Not a lot of people have dealt with what I've dealt with the last two years, so I'm more ready for this than the other guys in Minor League Baseball and Major League Baseball."
Following additional discussions with the White Sox, he hopes he can participate in an expanded Arizona Fall League this autumn or even international winter ball, should pandemic-related travel restrictions ease by then. Whatever can help him make up for two years of lost at-bats. But he has a few other firsts to get out of the way in his CarShield League debut before all of that to prove he's fully back.
"I would say 50 percent of me being back is that at-bat, 50 percent is me fielding my first ground ball, throwing it across and getting the guy out," Burger said. "Those are the two things. But then obviously, I'm a power guy. So maybe 1 percent is hitting a home run too. Hopefully, all that happens in the first game."
Sam Dykstra is a reporter for MiLB.com. Follow and interact with him on Twitter, @SamDykstraMiLB.