Toolshed: Tribe's Miller talks tools of trade
Infield prospect discusses place in Cleveland-San Diego blockbuster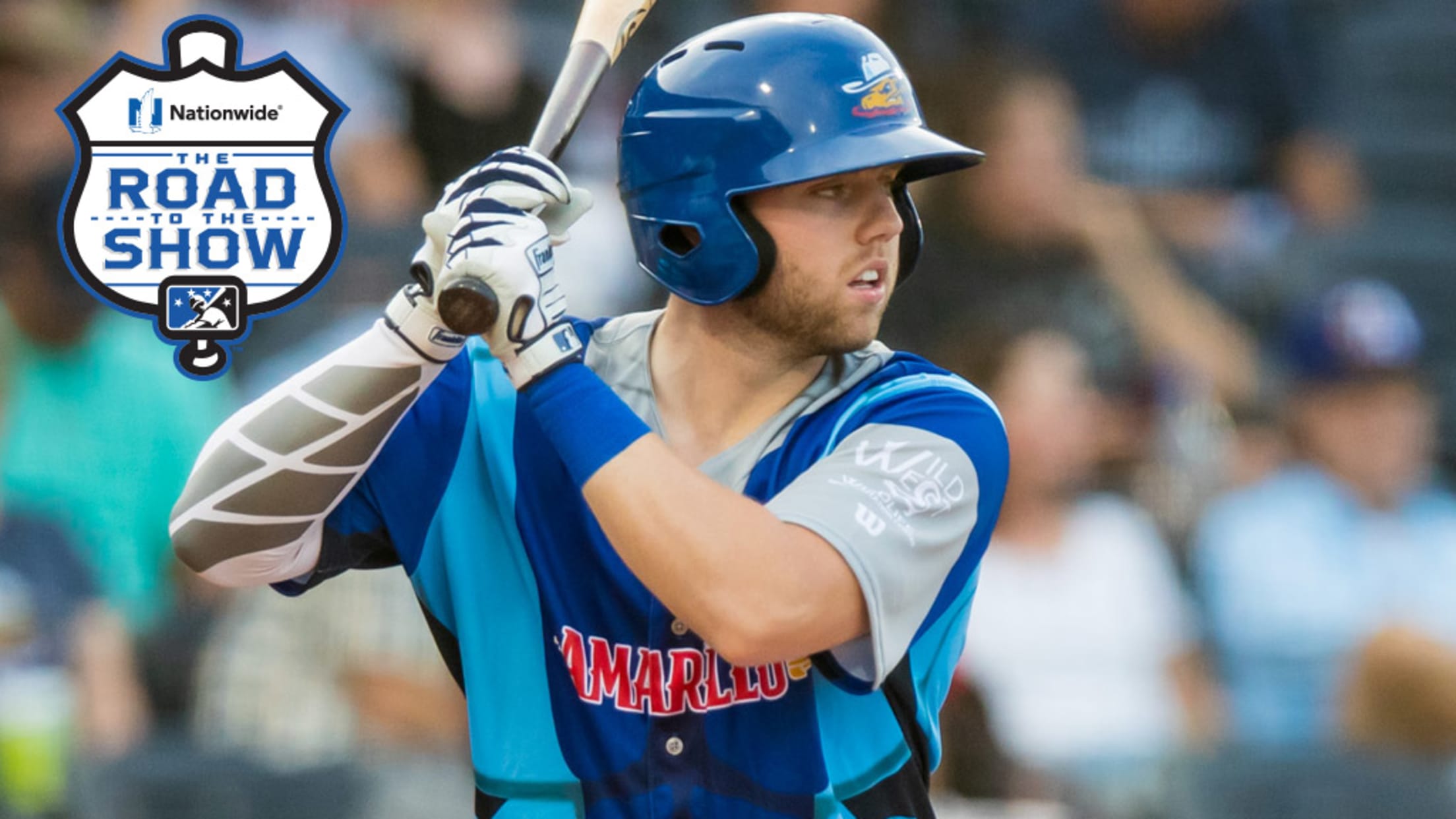 Owen Miller is a career .307 hitter over 205 games in the Minor Leagues. (John Moore/Amarillo Sod Poodles)
Where do you begin when discussing a prospect trade in "these times?" Maybe start with the fact that the Trade Deadline was Aug. 31, one week before the Minor League season would have traditionally ended on Labor Day. Or maybe with the post-trade transition that consisted of two days of
Where do you begin when discussing a prospect trade in "these times?"
Maybe start with the fact that the Trade Deadline was Aug. 31, one week before the Minor League season would have traditionally ended on Labor Day. Or maybe with the post-trade transition that consisted of two days of quarantine in the new home, followed by a third day of coronavirus testing before players officially joined other Minor Leaguers at the alternate training site. Maybe even with the brief introductions, made even briefer by the fact that there is no big clubhouse setting or long bus trip in which to congregate and trade stories.
Or maybe with the fact that -- even in the midst of a shortened, unique season brought on by a pandemic -- trades still blow through in a whirlwind. Just ask San Diego-turned-Cleveland prospect Owen Miller.
"It was definitely crazy," said the 23-year-old infielder. "I mean, that Sunday and Monday especially we heard a lot of rumors and you see a lot of stuff on Twitter. But that Sunday night, it was crazy when Taylor Trammell got traded. We were in the same hotel room at the time, and he got traded to the Mariners. I was like, 'Oh my gosh,' just over that. The next morning we woke up and ended up going to the field. All of a sudden, we saw that the Padres got Mike Clevinger and names started popping off. We ended up talking to our GM and all the coaches, and they just explained to us that we got traded too."
At least one part was simple.
"When we were in San Diego, we were just at a hotel and everything, so it's not like we had to move out of an apartment. I didn't have my car there or anything like that. So at least as far as that, it went pretty easy."
Several nouns Miller used were of the first-person plural variety because he was involved in the biggest swap of this deadline. The deal is primarily known as the one that sent Clevinger to the Padres -- a clear sign the NL West club planned to make a big go of it in an attempt to return to the playoffs for the first time since 2006. But the new San Diego ace also was joined by outfielder Greg Allen in the deal, and another player to be named later will make it a trio of players headed to southern California from northeast Ohio. The haul for Cleveland -- being, in this case, the selling club -- was even more seismic. Miller was joined by fellow prospects Joey Cantillo and Gabriel Arias along with Major Leaguers Cal Quantrill, Josh Naylor and Austin Hedges. A total of nine players (eight of whom were named) were moving amidst the oddest Major League season in recent memory. In fact -- according to a report by Bob Nightengale of USA Today -- it was the inclusion of Miller and Hedges that sealed the deal for Cleveland.
Thirteen days later, Miller is working out of the alternate training site at Class A Lake County (20 minutes away from Progressive Field), but still trying to make his first big impression.
"They're probably more just trying to feel me out," he said. "I would say any organization when a new player comes, there's always a brief period of transition. They have to watch me play. So there hasn't been too many conversations. But I would think as as I get to know everyone more, and we start adjusting more, we'll definitely have some conversations. ... Honestly it feels like right when you get drafted and you're just meeting a bunch of new people and learning a new system."
If Miller was indeed the sweetener, it's not hard to see why his inclusion may have tipped the scales for the Indians. The 2018 third-round pick now sits as the No. 19 prospect in a young Cleveland system. Of the club's top 20 prospects, only five are 23 or older, and the other four (Triston McKenzie, James Karinchak, Bobby Bradley and Daniel Johnson) have varying levels of Major League experience, something Miller still lacks. While the organization is filled with promising young infielders such as Tyler Freeman and Brayan Rocchio, it wasn't quite as deep on the dirt at the upper levels, outside of top prospect and third baseman Nolan Jones. Coming off an All-Star season at Double-A Amarillo in the Padres system, Miller builds out that depth a bit, especially at an interesting time for his new organization.
At 26-18, Cleveland is very much in the thick of the hunt for its fourth postseason spot in the past five seasons. But it's no secret the club could look to trade Francisco Lindor this offseason, one year ahead of his impending free agency, out of a desire to get something for him before he walks to a club more willing to spend the sizable money it takes to sign a four-time All-Star in his prime. The rush to fill the void at shortstop, where Miller played 71 games in 2019, could be on much quicker than most Indians fans are willing to admit. Don't expect Miller, who is out of Fernando Tatis Jr.'s similarly long shadow, to start studying the depth chart too closely just yet.
"As a Minor Leaguer and as a prospect, I don't think it's ever good to really play GM," he said. "I just I know someday I'll be able to help a team win at the big league level, and it's just really working every day to hone in on my craft to make that happen. Right now, being able to play different positions that gives me the opportunity to make that next step."
To that point, some believe Miller's true future lies at second base, where he played 48 games in 2019 for the Sod Poodles, because of a below-average arm. That said, the 5-foot-11 infielder got brief looks at third base during his Padres tenure and has brought up versatility in his brief early conversations with Cleveland brass. He's even discussed his willingness to learn left, if it means making the most of his time at the Lake County alternate site.
"I'm probably sitting on the infield right now," Miller said. "It's been mainly second and short with even a little bit of first base and and third base in there as well. Just really just getting reps at all positions just to really let them know, 'Hey, if you ever need me at anywhere, I'll do whatever it takes to get the bat in the lineup.'"
It's that bat that remains Miller's best tool, dating back to his time at Illinois State, where he was a .345 hitter over his three seasons on campus. The right-handed slugger makes a good amount of contact for the modern era -- fanning in only 14.3 percent of his plate appearances so far in his Minor League career -- and thrives by spraying the ball to all fields. The Padres thought enough of that tool to send Miller to Double-A for his first full season in pro ball, and the Wisconsin native responded by hitting a solid .290/.355/.430 with 13 homers over 130 games. That worked out to a 121 wRC+, ninth-best in the Texas League. What's more, Miller drew strong reviews for his consistency by never letting his monthly OPS waver beyond .732-.833 despite the aggressive push to the Minors' second-highest level.
"I don't know how many multi-hit games he had during the year, but it seemed like every night he was destined to get two or three hits," Amarillo manager Phillip Wellman said on this week's Minor League Baseball podcast. "He was always right in the middle of stuff. I can remember nights when we were behind and he was coming up fifth [in the inning], and I'd tell our hitting coach, 'We've got to get to Owen Miller. If we get to Owen Miller, we have a chance.' For his first full season in Double-A, it was very impressive. … I'm not real sure if he'll end up at second or short or third, I don't know. But I know if he keeps swinging the bat the way he's capable of swinging the bat, they're going to find some place to play this kid."
To fact-check the skipper, Miller had multiple hits in 42 of his 130 games with the Sod Poodles last season. Perhaps it's no wonder Wellman tried to get the infielder in the lineup as much as he could. Miller led the Texas League with 560 plate appearances.
The next step in Miller's offensive development, by his own admission, will be adding a little more power. It's an emphasis that began at the Padres' alternate site at the University of San Diego and will carry over to the infielder's time at Lake County.
"I'm still working on different things as far as driving the ball more, hitting the ball with more force," he said. "Probably using more of my body when I swing and not being so handsy at the plate. I'm just trying to stay more connected with my body, and I'm working on different drills that allow me to do that."
The last time Miller was on a field in a game that mattered, it was Sept. 15, 2019, specifically Game 5 of the Texas League Finals -- a series Amarillo won, 3-2, over Tulsa after ninth-inning homers by Trammell and Hudson Potts. From that game alone, six of the Sod Poodles' eight starting position players have been traded by the Padres to new teams in Miller (Indians), Trammell (Mariners), Potts (Red Sox), Edward Olivares (Royals), Buddy Reed (Athletics) and Luis Torrens (Mariners). The Texas League trophy will be Amarillo's legacy, but creating a club of players, like Miller, that other organizations want to acquire in trades is a beneficial product all its own.
"We were talking about that last week," Miller said. "We said, man, that has to be a record for for the amount of guys getting traded from a Minor League team the year before. ... It will definitely be cool someday to look back on that year and just see all the guys playing in the big leagues for different teams."
Sam Dykstra is a reporter for MiLB.com. Follow and interact with him on Twitter, @SamDykstraMiLB.