Toolshed: Who will make the next big leap?
Candidates that could climb from Class A Advanced straight to MLB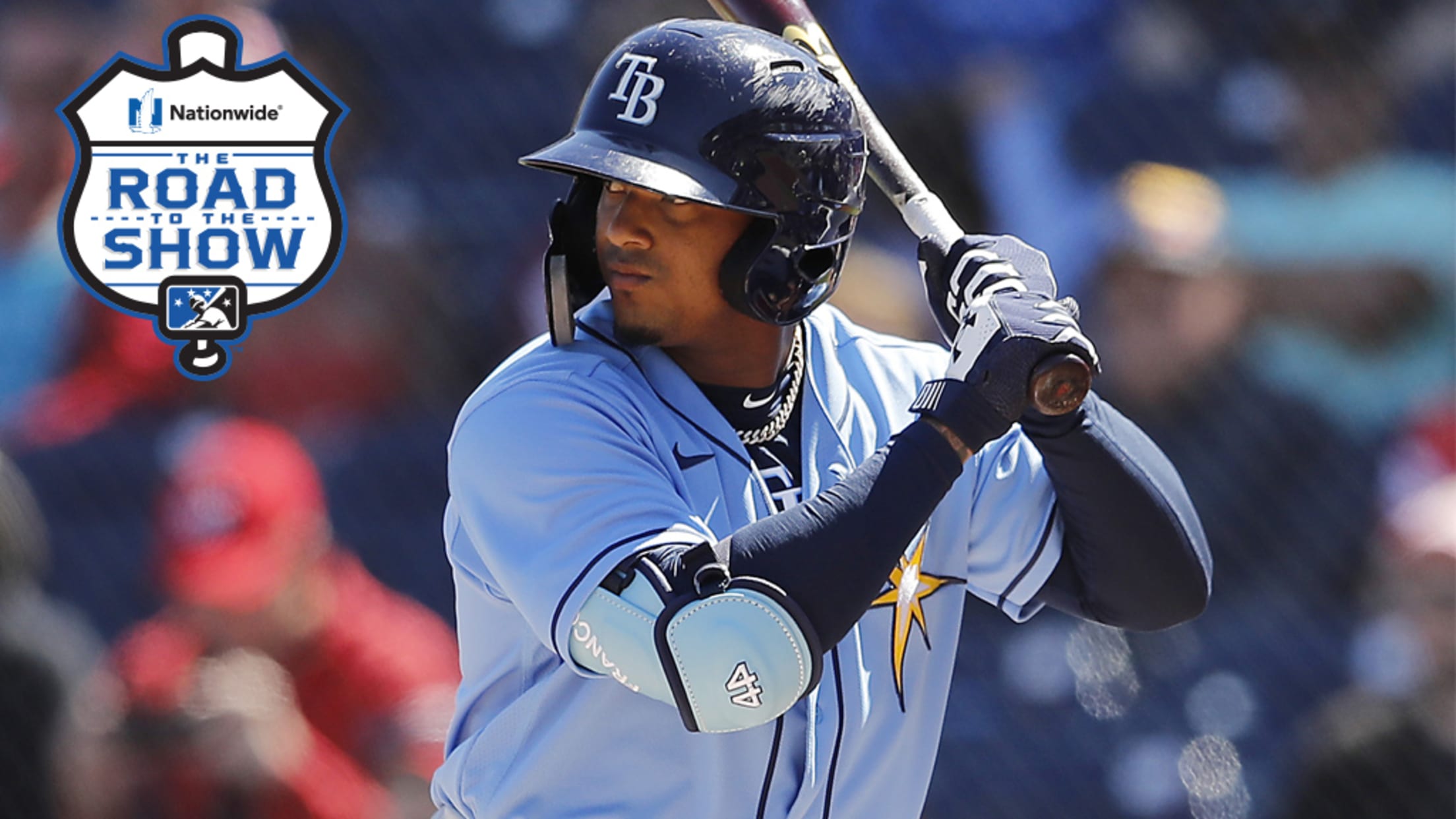 Wander Franco would be the highest-profile player to make the jump from Class A Advanced to the Majors in this unique 2020 season. (Michael Reaves/Getty Images)
Seth Romero recently became the latest example of a mini-trend taking place during the 2020 Major League season, yet there was still an element of awe involved. The Nationals purchased the contract of their No. 11 prospect/2017 first-rounder Thursday, and he made his MLB debut the same day. But it
Seth Romero recently became the latest example of a mini-trend taking place during the 2020 Major League season, yet there was still an element of awe involved.
The Nationals purchased the contract of their No. 11 prospect/2017 first-rounder Thursday, and he made his MLB debut the same day. But it wasn't exactly a normal debut, at least by the standards of a typical trajectory in professional baseball. Romero, who underwent Tommy John surgery in August 2018 and hadn't been on a regular-season mound since, hadn't pitched in Double-A yet. Heck, he hadn't even pitched in Class A Advanced. His highest level of pro experience came over 25 1/3 innings at Class A Hagerstown the year he underwent the elbow procedure. But without Minor League Baseball enabling him to rehab and build himself back up, the Nats decided it was time for him to get truly competitive innings in the only place he could: the Major Leagues.
Including Romero, six prospects have made their Major League debuts during the shortened 2020 season without having played a game at Double-A or above. The other five are Anderson Tejeda (Rangers), Kris Bubic (Royals), Humberto Mejia (Marlins), Jordan Holloway (Marlins) and Nivaldo Rodriguez (Astros). Royals infielder Jeison Guzman, who was called up earlier this week, will make it seven whenever he gets into a game for Kansas City.
Baseball Prospectus' Craig Goldstein wrote a smart piece on what the success of these players could mean for the player-development strategy of skipping levels beyond 2020. For now, let's consider the shorter term. Who's next?
This week's Toolshed explores which top prospects who have yet to play above Class A Advanced could skip straight to the Majors during the 60-game 2020 season.
Wander Franco, SS, Rays: Look, this is going to remain a possibility until the Rays are finished playing this season, whenever that may be. For all the prospects who have leaped from Class A Advanced to the Majors in 2020 and all who are still to come, none have the prospect status of Franco because, of course, no one has the prospect status of Franco. The switch-hitting shortstop is the top overall prospect in the game because he's hit everywhere he's played in the early days of his pro career. With his bat speed, hand-eye coordination and plate discipline, Franco likely would provide a competitive at-bat in the Majors right now, even at 19 years old. At 12-8, the Rays have done little to hurt the expectation of competing for a deep postseason run once again. The addition of Franco could give Tampa Bay an additional injection of talent to push it over the edge, especially if Willy Adames takes any steps back in production.
Daniel Lynch, LHP, Royals: Kansas City has gotten aggressive with its young pitchers early on in a fun, yet unexpected way given their predicted competitive level for 2020. It allowed Brady Singer to open the season in the rotation and later slotted in Bubic as well. Lynch, who unlike Bubic is a Top-100 prospect, seemingly should be next in line. The 23-year-old left-hander's fastball and slider could play in the Majors right away, and he's shown good enough control to find the zone with regularity in the Minors and the Arizona Fall League. There have been rumors that Matt Harvey could make his Major League return with the Royals, but allowing Lynch (or Jackson Kowar who has reached Double-A and is ineligible for this list) to get a look before the short season is up could lock in the future of the Royals starting corps in the present.
Brailyn Marquez, LHP, Cubs: No one is off to a better start in the Majors than the 13-3 Cubs, who have a 6.5-game cushion at the top of what was expected to be a crowded NL Central. It's too early for any club to be comfortable, and if Chicago wanted to bring a top-level talent for the stretch run or even the postseason, it could do much worse than Marquez. The No. 74 overall prospect is already well-known for throwing triple-digit heat, and he gets bonus points for being left-handed. The secondaries still need work and he's had the typical control issues at the lower levels for young fireballers, but Marquez's heat certainly could already play in a Major League bullpen. Notably, Chicago only has one left-handed reliever in Kyle Ryan, so they could definitely consider another. It also doesn't hurt that Marquez needs to be added to the 40-man roster this offseason anyway to protect him from the Rule 5 Draft. This would definitely push up the 21-year-old's schedule, and there remains hope that he will be a starter one day after his first trip to the upper levels of the Minors. But his skill set is too tantalizing right now to leave behind at the alternate site in South Bend when this could be a special season in Chicago.
JJ Bleday, OF, Marlins: The early-season COVID-19 positive tests forced Miami to undergo a lot of roster turnover, yet the new-look Marlins are 6-3 since they resumed play and continue to defy expectations. Entering Friday, the club is 8-4 and very much in the thick of a potential playoff pursuit. FanGraphs give the Fish a 24.4 percent chance of making the postseason, and if that doesn't sound like much, just consider they started out the season at 9.2 percent, even under the expanded format. The Marlins already have a bit of a youth movement going on in the outfield with Monte Harrison, Lewis Brinson and Magneuris Sierra seeing time on the grass. None of those three, however, come with Bleday's ceiling, and it helps the 2019 first-rounder's case that he stands out in right field, which has featured a rotation of Brinson, Matt Joyce and Jon Berti without any outright claiming of the spot so far. Bleday is more advanced than the typical 22-year-old, considering he's only a year-and-a-half removed from leading NCAA Division I in home runs, and Miami has been aggressive with him before, sending him straight to Class A Advanced Jupiter to open his pro career. Fellow Top-100 prospect Jesús Sánchez, who is on the 40-man with Triple-A experience, could stand in Bleday's way should the Marlins decide to really go for it, but the club that allowed Mejia and Holloway to jump from the Florida State League to the Majors shouldn't be ruled out from at least considering Bleday.
Luis Campusano, C, Padres: San Diego has pleasantly surprised a few folks early on with its 11-9 start, and there's room for growth on top of that as Luis Patiño and (potentially) MacKenzie Gore build out bigger roles for the NL West club. The Padres could keep the youth train going by considering the No. 52 overall prospect, even at a time when they already have Austin Hedges and Francisco Mejía competing for time behind the plate. The problem is neither backstop has been all that effective early on; in fact, Padres catchers combined to post just a .399 OPS (ranked 29th of the 30 teams) and were worth -0.2 fWAR (28th). Those are early returns, but San Diego will need significant improvement from the catching spot if it's going to get anywhere come September. Enter Campusano, last year's California League co-MVP, who has the potential to be above-average with his hit and power tools while showing a plus arm at times. The 21-year-old is one of three catchers at the Padres' alternate site -- Luis Torrens and Webster Rivas are the others -- and he definitely provides more excitement than the other two. Transitioning to a young catcher in the middle of an already-short season comes with plenty of risk, but this is a Padres organization that was willing to make Patiño the youngest player in the Majors already this season. Going to Campusano at some point isn't that much of a stretch further.
Nick Lodolo, LHP, Reds: Cincinnati certainly has no rotation issues right now. Reds starters have combined for a 2.56 ERA (second-best in the Majors) and a 3.2 fWAR (first), so Lodolo doesn't need to replace anyone, per se. But this is an organization that already pushed a lot of chips toward the center of the table with an aggressive offseason, and an 8-11 start isn't the ideal return in a shortened season. More so, every rotation has its depth tested at some point, and when that test comes, the Reds may not want to skip a beat by turning to its top prospect. Cincy already showed it trusted the 22-year-old left-hander by giving him a Summer Camp start at home last month against Detroit, and while the pitching line (1 1/3 IP, 5 ER, 3 HR) was certainly humbling, Lodolo showed good velocity by sitting 93-94 mph with his sinker. He was going as deep as five innings at the Reds' alternate site recently, and he'd be extended enough to step in without significant limitations. The No. 52 overall prospect, who gets above-average grades for his heater, slider and changeup and can fill up the strike zone, would likely be with Double-A Chattanooga by now, putting him within striking distance of the bigs. Even with limited pro experience, the 2019 first-rounder out of TCU should at least be in the conversation for helping a Reds club that can't afford to turn away good talent.
Ronaldo Hernandez, C, Rays: Ending with a few non-Top-100 prospects, but returning back to Tampa Bay. The Rays recently outrighted Kevan Smith back to the alternate site, leaving them with only three catchers on the 40-man roster. The other two ( Mike Zunino and Michael Perez) are in the Majors. The third is Hernandez, who is still a work in progress, but features a plus-plus arm and above-average power from the right side. Concerns over his defense might keep Hernandez from claiming everyday duty behind the plate should Zunino or Perez suffer an injury, but the fact that the Colombia native can run into a ball at any level certainly would earn him some playing time and even a few pinch-hit at-bats against left-handers. The roster situation remains his biggest asset in making a 2020 debut happen.
Sherten Apostel, 3B/1B, Rangers: The corner-infield spots were question marks at the outset of the 2020 season for Texas, and while those questions have some answers, it's worth remembering that the club's No. 10 prospect has at least a spot on the depth chart by way of his 40-man roster status. The 21-year-old would provide some thump coming off a 2019 season in which he slugged .440 with 19 homers between Class A and Class A Advanced, and his plus-plus arm could be an asset at any hot corner. In truth, Apostel appears here because of the Rangers' aggression in utilizing young prospects so far in 2020. Tejada and Leody Taveras have made their debuts this season, and while Apostel regularly features lower on prospect lists than those two, he at least shares a similar roster situation.
2020 Draft picks: Inevitably, any question of quick ascents turns to recent draftees, and the lack of a Minor League season certainly turns the volume up on those calls. Toolshed already covered which 2020 picks could move quickest in a previous column, and not much has changed since then. Well, at least in terms of their trajectories.
Sam Dykstra is a reporter for MiLB.com. Follow and interact with him on Twitter, @SamDykstraMiLB.