Stadium Map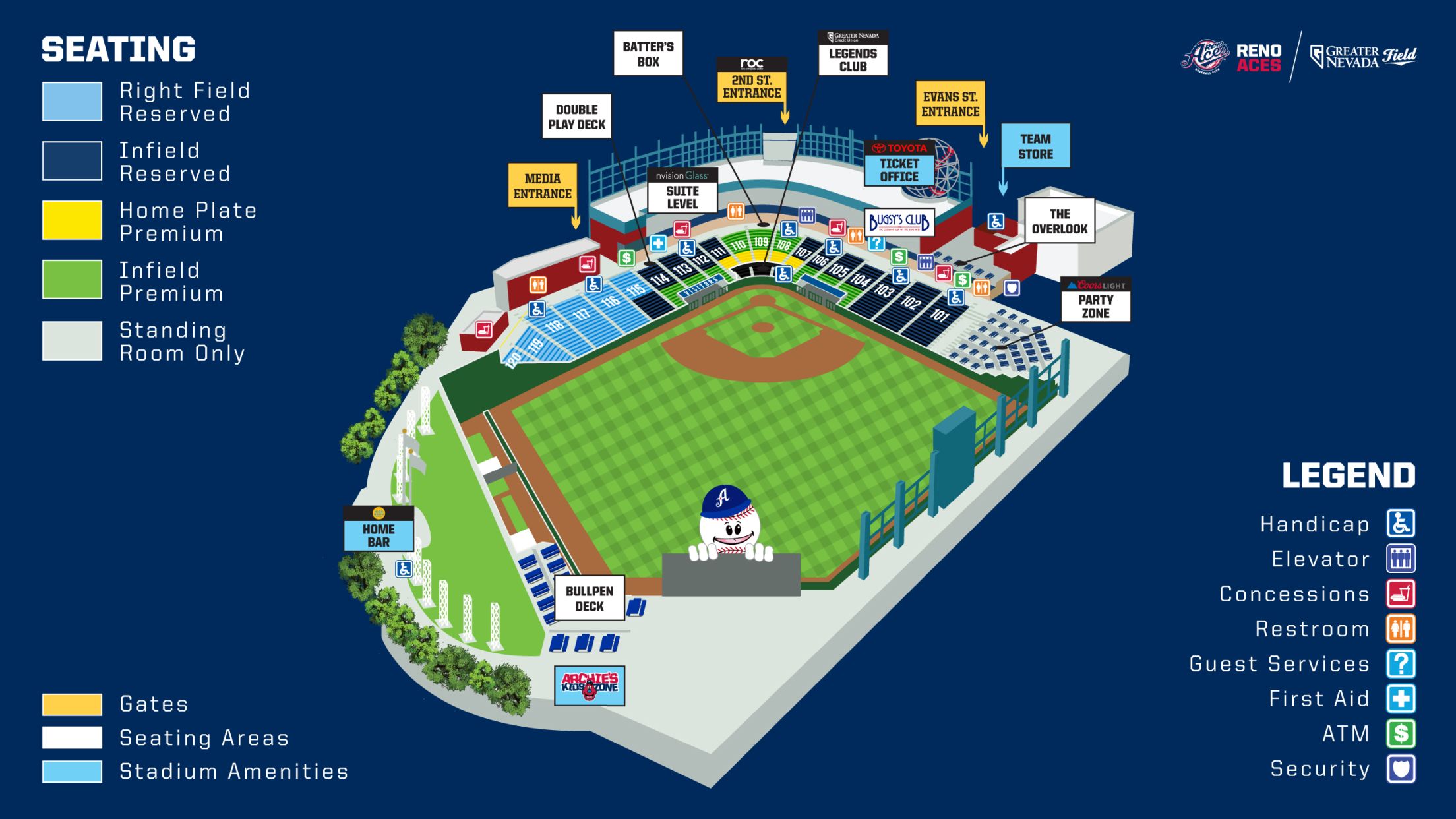 Complete A-to-Z Guide
A
ADA SEATING
Accessible seating is available throughout the main concourse at varying price levels. Companion seats adjacent to wheelchair-accessible seating are available. To purchase tickets for accessible seating please call the Ticket Office as (775) 334-7000. Tickets may also be exchanged prior to game date, or on day of game based upon availability at the main ticket windows at the Evans Street Entrance or in Advanced Tickets, located in the Guest Services Office, behind Section 105.
ADDRESS
Greater Nevada Field
250 Evans Ave
Reno, NV 89501
AFFILIATION
The Reno Aces are the Triple-A affiliate to the Arizona Diamondbacks.
ALCOHOL MANAGEMENT
The Reno Aces and Professional Sports Catering each work hard to promote responsible alcoholic beverage sales and use. No alcohol (including non-alcoholic beer and wine) may be brought into the Greater Nevada Field. Once inside the park, alcoholic beverages may be purchased throughout the park. The following restrictions apply:
Guests must 21 years of age or older to purchase or consume alcohol. Proper identification is required of all guests and must be presented.
There is a two-drink limit per purchase.
No alcoholic beverages may leave the ballpark with exiting guests (including unopened bottles and cans from any Luxury Suite).
All alcohol sales can be terminated at any time as deemed necessary by management discretion.
APPEARANCE REQUESTS
The Reno Aces mascots have been entertaining and educating fans of all ages in and out of Greater Nevada Field. Archie is a fan favorite.
To make a request, visit either renoaces.com to fill out the form under the fans/community tab. Completion of this form does not guarantee an appearance.
ARCHIE'S KIDS CLUB
Archie's Kids Club (Aces) is for youth 3-14 years old. Young fans can stop by the clubs' Team Shop to register for your official Kids Club membership or visit: https://www.milb.com/reno/community/archies-kids-club
ATM
Greater Nevada Field is now a cashless facility. For those that may not be inclined to use a credit or debit card in the facility, guests may access cash at the ATM behind section 105 by the Guest Services office and exchange it for a gift card in the Team Store.
B
BAG SEARCH
All guests' bags are subject to search upon entry. Greater Nevada Field has adopted a Clear Bag Policy. For more information, please see CLEAR BAG POLICY, or click HERE for more information.
BASEBALL AUTOGRAPHS
Autographs are left to the player's discretion. Autograph seekers must return to their seats 15 minutes prior to first pitch.
BABY CHANGING STATIONS
Baby changing table stations are available in most Greater Nevada Field restrooms.
BANNERS/SIGNS
Management reserves the right to remove any signs or banners at any time. Each banner and sign must comply with our Guest Code of Conduct. Signs and banners are permitted during Aces events as long as:
Content is related to the sport at hand.
They do not obstruct the sight line of another guest.
They are not in the field of play.
They do not cover up any existing signage.
They are not commercial or political in nature & in good taste.
BATTING PRACTICE
Gates open one hour before first pitch. This time allows guests to view infield practice for both teams during Aces games. Unfortunately, Aces batting practice takes place before gates open and is closed to the public. Guests are encouraged to view BP from the Bugsy's Overlook, upstairs at Greater Nevada Field, (if a party has not reserved it).
BROADCASTS
All Aces games can be found on MiLB.TV. You can also listen free here: LISTEN HERE or in stadium on 88.1FM.
BUGSY'S CLUB
The exclusive club of the Reno Aces provides members an unmatched premium experience. Please visit https://www.milb.com/reno/tickets/bugsys-club for more information.
C
CAMERAS/VIDEO EQUIPMENT
Hand-held and video cameras are allowed into Greater Nevada Field during all regular season baseball games provided that they are intended for personal use only.
Credentialed professional news crews/cameras are allowed in the stadium and have access to the areas they are granted with their credential.
CASHLESS VENUE
Greater Nevada Field is a cashless facility. All concessions stands, bars, box office, team shop, and parking areas accept credit/debit cards only.
CHARITABLE DONATIONS
The Aces Community Relations Department take pride in supporting our community and are happy to consider your donation request! All donation requests must be made at least two (2) weeks prior to the scheduled event.
To make a request, visit either renoaces.com to fill out the form under the fans/community tab. Completion of this form does not guarantee a donation.
CHILDREN
Children two (2) and under do not require a ticket to enter Greater Nevada Field. However, they must sit on the lap on an accompanying adult. Children three (3) years of age or older require a ticket for admittance to the stadium.
CLEAR BAG POLICY
Fan safety continues to be our top priority at Greater Nevada Field. The Clear Bag Policy is to ensure the safety of our guests and provide an expedited ballpark entry process and enjoyable fan experience at all Greater Nevada Field events.
All bags and backpacks brought into the stadium must be clear. All bags are subject to search prior to entry. No hard-sided coolers of any size are permitted. Diaper bags, regardless of size, will be tagged upon search, and guests must be accompanied by their babies. Other permitted bags include a one (1) gallon freezer bag and a small clutch purse with or without a strap no larger than 4.5" x 6.5".
See a full list of approved and non-approved bags, click HERE .
COMMENTS, COMPLIMENTS AND COMPLAINTS
Guests with a comment, compliment or feedback may express it during games to the staff at the Guest Services office, ticket kiosk, or send an email to [email protected].
CONCESSIONS
Professional Sports Catering, LLC (PSC) is the exclusive concessionaire at Greater Nevada Field. They operate all concession stands and hospitality areas. Guests may inquire or make comments regarding food service by contacting PSC directly at 775-334-7026.
D
DIGITAL TICKETING
The Reno Aces are going digital! Digital ticketing provides a safe, convenient and secure way for fans to use and share game tickets. It also helps prevent lost, forgotten and fraudulent tickets and provides a contactless entry solution for all fans coming through the gates at Greater Nevada Field. Learn more HERE.
DOG DAYS
Once a month, guests can reward their canine companions with a trip to the ballpark. Guests will need to purchase Standing Room Only (SRO) tickets to sit and relax on the Family Berm. Dogs are NOT allowed in the seating bowl.
Please Note: All fans with a dog must enter and exit through the Media Gate on Kuenzli/2nd St., as well as bring the dog's vaccination records and sign a waiver upon entrance. We also ask that dogs be kept leashed at all times and not be left unattended.
DRESS CODE
Given the numerous young fans in attendance at Greater Nevada Field, management strives for a family-friendly atmosphere. As such, Greater Nevada Field management reserves the right to ask anyone with obscene, indecent and/or inappropriate clothing to remove or cover up the item to ensure the safety and preserve the enjoyment of the guest experience. Those who refuse to comply will be denied entry or removed from the property without refund.
DRONES
Drones are not permitted at Greater Nevada Field without prior consent from Management. A guest caught flying a drone will be ejected from the stadium and may be subject to criminal chargers.
E
ELECTRONIC CIGARETTES
In compliance with our smoking policy, the use of electronic cigarettes is forbidden in the seating bowl and all other areas of Greater Nevada Field. The smoking of e-cigarettes is allowed only in the following designated areas (see Smoking Policy).
ELEVATORS
For the convenience of our guests, elevators are located at the Second Street Entrance, between Franx Hotdogs and the Team Shop on the concourse, and under the FHD main stairwell, next to the restaurant outside Evans St. entrance. Please refer to directional signage or ask for directions from Guest Services. Fans with disabilities are given priority for elevator use.
EMPLOYMENT OPPORTUNITIES
Information regarding employment with Reno Aces can be found HERE.
EXIT/RE-ENTRY
Greater Nevada Field is a NO RE-ENTRY facility.
F
FAMILY RESTROOMS
Family restrooms are throughout the stadium and are used for not only guests with children but disabled guests as well. These restrooms offer baby changing tables as well.
FAN CODE OF CONDUCT
The following things are prohibited from Greater Nevada Field:
Trespassing on the playing field;
Interfering with baseballs that are in play;
Throwing objects;
Using foul or obscene language or gestures;
Using derogatory language, which is defined as offensive language concerning another person's race, ethnicity, gender, religion, disability, age, sexual orientation, or national origin;
Excessive or underage consumption of alcohol;
Disruptive, unruly, or abusive behavior;
Accessing areas of the ballpark without a proper ticket, pass, or credential;
Misusing tickets, passes, or credentials; and
Bringing prohibited items into the ballpark.
Violations of the Fan Code of Conduct will not be tolerated and may lead to consequences including ejection from the ballpark and a ban on attending future games. The use of derogatory language will result in ejection. Please report any issues to the Guest Services Office located on the main concourse behind Section 105
FAN ESCORT
Transportation may be provided to guests who require assistance. Wheelchairs will pick up guests at stadium entrances and escort them to and from their seat.
FAN MAIL
While we cannot guarantee that all fan mail will be answered, the team, coaches, players and staff like hearing from fans. Cards and letters to players can be sent to the Greater Nevada Field front office (see address). Greater Nevada Field is not responsible if an item or letter is not returned.
FIELD ACCESS
Only authorized personnel with proper credentials will be permitted on the field of play before, during, or after a game. Any unauthorized person who travels onto the field will be removed from Greater Nevada Field and subject to arrest and prosecution.
FIREARMS/WEAPONS
Firearms or weapons of any kind, including pocketknives, are not permitted in Greater Nevada Field. Guests found carrying a weapon will be asked to return the weapon to their vehicle before entering the stadium.
Firework Night Policy
If there are post-game fireworks, the berm and kids zone will be cleared at the top of the 8th inning.
FIRST AID FIRST GAME CERTIFICATES
There is a First Aid office located behind Section 114. Professional, emergency medical personnel are on duty at each game. Should you need assistance, please notify the nearest uniformed employee.
FIRST GAME CERTIFICATES
For anyone attending a game at Greater Nevada Field for the first time, stop by the Guest Services office (behind Section 105) to receive a FREE First Game Certificate.
FOOD/BEVERAGE
Guests are allowed to bring sunflower seeds, peanuts, one (1) factory-sealed bottle of water into Greater Nevada Field. All other food and beverages must be pre-approved based on specific medical conditions. Formula for babies is allowed entry.
FOUL BALLS/HOME RUNS
Guests are welcome to keep any foul ball or home run ball hit into the stands for baseball. At NO time are fans allowed to enter the field to retrieve a ball. Violators may be ejected from the stadium.
G
GATE ENTRANCES
There are three entrances at Greater Nevada Field.
Second Street gate is designated for Season Ticket Members and guests without a bag.
Evans Street gate is the main entrance to the ballpark and open for all guests
The Upstairs entrance is open to all guests, especially those who would like to enter the upstairs part of the ballpark early. Guests must stay upstairs until the main gates open.
GATE TIMES
Greater Nevada Field generally opens gates one (1) hour before first pitch. On game days, the upstairs entrance will open 30 minutes to one (1) hour earlier than all other gates. The Reno Aces reserve the right to adjust the gate times in conjunction with special promotions, MLB injury rehabilitation or rescheduled games.
GIFT CARDS
Gift cards are available in the Reno Aces Team Shop.
GREATER NEVADA FIELD FACTS
Architects: HNTB was the lead architectural firm. HNTB spearheaded world-class venues like Levi's Stadium, Denver Bronco's Sports Authority Field, Kentucky Football Complex, Iowa State University Stadium, and University of Michigan Stadium.
Numbers: In building Greater Nevada Field 12,000 cubic yards of concrete were used – enough to cover 7 football fields. We hold 9,534 guests with more than 6,500 fixed seats located throughout the stadium.
Field: In November 2017 we removed 250 tons of old warning track material and donated to 4 local high schools. Once the material was removed we value engineered the warning track to include slope drainage as well as drainage pipe along the concrete walls to move excess water more efficiently. We then added a 2 inch layer custom blend of DG and 3/8" gravel chips as a drainage base totaling 400 tons of base material. On the surface we added 310 tons of 3/16" DuraTrax Lava Rock at a 3 inch depth. A DuraEdge product out of Utah.
GROUP OUTINGS
We offer a wide range of special event locations throughout Greater Nevada Field to suit your corporate or personal needs. Whether you are planning a child's birthday party, or a trade show, we have ideal accommodations for your group! Please call (775) 334-4700 for more information.
GUEST SERVICES
The friendly and knowledgeable Guest Services staff is available to assist our guests with any questions, comments, or concerns. The Guest Services Office is located on the main concourse behind Section 105. Guests can also check-in strollers or borrow wheelchairs from the Guest Services Office.
K
KIDS RUN THE BASES
Kids Run the Bases after every Sunday home game. To participate, kids 14 and under will line up at the top of Section 118/119 at the top of the 9th inning. Kids run the bases is subject to change based on inclement weather or field conditions.
KIDS ZONE
Archie's Kids Zone is an area in the Family Berm specifically designed for the youngest Aces fans. Kids 12 and under are invited to enjoy the play structure, baseball throw and bounce house.
Please note: This area may close due to weather, or any other reason, at the discretion of the Reno Aces.
L
LOST AND FOUND
All items found within the stadium during a game should be turned into the Security Office as soon as they are found. Any claims for lost items can be filed through a QR code posted throughout the stadium or by clicking here. Please call 775-544-1083 for more information.
LOST CHILDREN/ADULTS
Please take all lost children/adults to First Aid office behind section 113. Guests should report any missing person to an Usher. A Guest Services Office Representative will work closely with all game personnel to help locate missing individual(s).
M
MARRIAGE PROPOSALS
Marriage proposals, Baby Gender Reveals, and any other special requests have a small cost to them. Please contact Vince at [email protected] or (775) 334-7027 for more information.
MASCOTS
The Reno Aces have two mascots - Archie and Truckee! Archie is a red sasquatch whose love for baseball brings him down to Greater Nevada Field during Aceball season! Truckee is a water droplet that comes to us from right behind the grass berm, jumping out of the Truckee River with joy whenever "Play Ball" is yelled! Learn more about Archie's Kids Club HERE.
MEDIA CREDENTIALS
Any media members working for a professional news-gathering agency are required to display their media credentials at all times. These credentials are issued by the following personnel for the specific sport:
Aces Media credential contact: Adam Nichols ([email protected])
METAL DETECTORS
All guests attending an event must be screened via metal detectors before entering Greater Nevada Field. The increased security measures are the result of MLB's continuing work with Homeland Security. For more information, please click HERE.
MILITARY/FIRST RESPONDER DISCOUNT
Every home game, Military and First Responders are eligible to purchase tickets for $3 off the current single-game rate at the ticket window. Maximum of 6 tickets per purchase. Seating is subject to availability and excludes blackout dates
N
NEWSLETTER
Fans interested in receiving more information about the Reno Aces may sign up for our newsletter by clicking HERE.
NOISEMAKER POLICY
All noisemakers are strictly prohibited from entering the stadium. Items may be confiscated and disposed of by Management. Items include, but not limited to the following: cowbells, airhorns, vuvuzelas, etc.
NURSING MOTHERS
Nursing mothers are welcome to breastfeed at any location in Greater Nevada Field. If the mother requests private accommodations, the mother and child should be escorted to a family restroom or First Aid.
P
PARKING
Greater Nevada Field offers two areas for parking - more info can be found at: https://www.milb.com/reno/ballpark/parking
PROHIBITED ITEMS
The following items are not allowed into Greater Nevada Field:
Alcohol, or non-alcoholic beer
Non-clear bags, Bags over 16"x16"x8", Ice chests or hard-sided coolers
Cans and glass containers (all other containers unless one (1) factory sealed bottle of water MUST be empty before entering the stadium)
Drones
Any food other than peanuts, sunflower seeds, or baby food
Laser pointers
Tripods
Fireworks, confetti, bubbles
Weapons – no weapons such as guns, knives, etc. are allowed in the stadium.
Hoverboards, skateboard, bicycles, or roller blades
Sticks/clubs (including signs attached to sticks)
Bullhorns or other noisemakers like whistles
Beach balls or other inflatables
Squirt guns or super soakers
Illegal drugs
Nets, ropes, other devices to obtain objects from the field
Obscene, offensive, indecent, or inappropriate clothing/attire
Scooters
PROMOTIONAL ITEMS
Promotional giveaways are scheduled on various game dates throughout the season. Each guest must have a valid game ticket and pass through the Evans Street Gate or Second Street Gate to receive the item. Each guest must receive the item immediately upon entry through the gate. Only one item is given to each ticketed guest.
PUBLICATIONS
The Aces Digital Program is a free publication available to all fans. It contains player bios and a variety of articles about the Reno Aces, including fun stories on the players. Scan a QR code in the stadium or text "program" to 21003 to receive yours. It can also be found here: **<a href="https://nam11.safelinks.protection.outlook.com/?url=https%3A%2F%2Fwww.milb.com%2Freno%2Ffans%2Fdigital-program&data=05|01|ajgrimm%40renoaces.com|eb56326ddf154c296f1c08db93759afe|c302f68424db46278ff43fa52200f421|0|0|638265905555002291|Unknown|TWFpbGZsb3d8eyJWIjoiMC4wLjAwMDAiLCJQIjoiV2luMzIiLCJBTiI6Ik1haWwiLCJXVCI6Mn0%3D|3000|||&sdata=B96JFoyy9%2BD3eM9qelwl80SQXsn0N5jHAZ3l9JXsfZc%3D&reserved=0" title="Original URL:https://www.milb.com/reno/fans/digital-program
Click to follow link.">https://www.milb.com/reno/fans/digital-program.\*\* Message and data rates may apply.
R
RAINOUT POLICY
If it is raining before a baseball game…
The decision to postpone a game, due to weather, is typically made close to the game's scheduled start time. Team officials pay close attention to the weather leading up to game time and make every effort to keep the field ready for play. Unless the weather prior to game time is particularly severe or the forecast reveals the inclement weather is inevitable, team officials will plan to play the game as scheduled. If a game is rained out fans who purchased Tickets through the Reno Aces Ticket Office or the official Reno Aces Website, will receive a digital voucher, that will be loaded into their MyTickets account. Vouchers can be redeemed at the Ticket Office or over the telephone at (775) 334-7000 for no additional charge. Vouchers can also be redeemed online through the ticket holder's MyTickets account, subject to Tickets.com service fees.
If it begins to rain during the baseball game…
If it starts to rain while a game is in progress, the grounds crew will cover the field if it is necessary to keep the playing surface suitable for play. The game will then enter a rain delay. During this time, team officials and Triple-A West umpires will pay close attention to the weather and the forecast for the remainder of the game. After a reasonable amount of time, the umpires will decide if the weather has improved and is suitable for play or if the game should be declared a rainout.
If the teams have played five innings or more (or if the Aces are leading after four and a half innings of play) and a rainout is declared, the game is considered an official game. In other words, the game is finished, the game has a final score, and play will not continue at a later date. On the other hand, if a game is rained out fans who purchased Tickets through the Reno Aces Ticket Office or the official Reno Aces Website, will receive a digital voucher, that will be loaded into their MyTickets account. Vouchers can be redeemed online or in person at the Greater Nevada Field Ticket Office.
RAINOUT TICKET POLICY
Fans who purchased Tickets through the Reno Aces Ticket Office or the official Reno Aces Website, will receive a digital voucher, that will be loaded into their MyTickets account. Vouchers can be redeemed at the Ticket Office or over the telephone at (775) 334-7000 for no additional charge. Vouchers can also be redeemed online through the ticket holder's MyTickets account, subject to Tickets.com service fees.
RESTROOMS
Restrooms are conveniently located throughout the stadium. Suite restrooms are available behind Suites 5/6 for men and women. All restrooms are ADA accessible and most are equipped with baby changing stations.
S
SAFETY WARNING
During all batting practices, fielding practices, warm-ups and the course of the game, hard hit baseballs and bats may be hit into the stands. For everyone's safety, please always stay alert and be aware of surroundings. Any guest who is concerned with their seat should contact the ticket office for an alternate seat location, if available.
SCOREBOARD MESSAGES
The Reno Aces enjoy recognizing fans and their parties. All requests must be submitted 48 hours in advance to appear on the video board. We no longer offer a paying service for messages regarding anniversaries or special events – we only offer free birthday messages. Birthday submissions are limited to the first and last name of the individual and their age. Birthday messages are subject to approval by Management. All in-game video board request should be sent to [email protected]
SECURITY
Greater Nevada Field is managed in-house with staff that provides protection for our guests, players, and staff. The ballpark is staffed 24 hours, all year round and is equipped with indoor and outdoor surveillance cameras. Guests can also Text a Problem to (775) 544-1083. Message and data rates may apply
On game days, security is implemented with staff from the Reno Police Department (RPD).
SERVICE ANIMALS
Services Animals, defined by the ADA, are welcome at Greater Nevada Field, provided they are accompanied by their handler and leashed at all times.
SMOKING POLICY
Greater Nevada Field is a vape-free and smoke-free facility. Smoking is prohibited in all seating areas, including the concourse, restrooms, concession stands, seating areas, suites, and administrative offices. A smoking area is available outside of the stadium with exit/re-entry available at the Evans St. gate.
SOCIAL MEDIA
Fans can follow both teams and the stadium on a variety of social media platforms:
Facebook
Twitter
@renoaces
@greaternvfield
Instagram
@renoaces
@greaternvfield
SOLICITATION
Guests shall not solicit or distribute literature on stadium property without consent from Greater Nevada Field Management. This includes, but not limited to: political literature, pamphlets, tickets (raffle or otherwise); memberships in outside organizations, clubs, societies, etc. Petitioners can seek signatures from guests on sidewalks and across from all entrances.
SPECTATORS ON PLAYING FIELD
Spectators are not permitted on any part of the playing field. Spectators are also not permitted to throw anything onto the field. Persons who violate this will be detained by stadium officials and then be subject to arrest and prosecuted.
STANDING ROOM ONLY TICKETS
Standing Room Only (SRO) tickets do not have a physical seat associated to the ticket. Guests may stand along the drink rails anywhere on the main concourse or sit in the Berm grass area. Berm seating cannot be reserved under any circumstances.
STROLLERS
Strollers are permitted on all concourse areas in Greater Nevada Field, however the use of strollers should not interfere with other guests or block entryways or aisles. Strollers should be stored under the guests' seat or may be checked in at Guest Services.
T
TAXICAB SERVICE
If you are in need of a taxi, please visit Guest Services and we will be able to assist you. If you would like to call a taxi yourself, the phone number to Yellow Express Cab is (775) 355-5555.
TEAM SHOP
The Reno Aces Team Shop is located next to the Evans St. entrance. The shop is open every Aces game day when gates open. Online orders can be picked up on Thursday's between 1 PM – 3 PM. Explore the Team Store HERE.
TEXTING
Text a Problem is for your safety. Throughout your time at Greater Nevada Field, guests may text our 24/7 Security personnel if they witness any unruly fan or uncomfortable situation. This allows guests to remain in their seats and anonymously call for assistance as needed. Please text (775) 544-1083 for assistance. Text your specific location and nature of issue. Ex: Sec 101, row 10 – intoxicated guest. Message and data rates may apply
TICKET KIOSKS
The kiosk is staffed by Front Office staff who are willing and able to answer any question guests may have. In addition, guests may inquire about ticket packages for full, partial, and future seasons.
Baseball: Located behind Section 106
TICKET OFFICE HOURS
The Ticket Office is located next to the Rotunda Entrance and is open Monday-Friday, 10 a.m.- 5 p.m… Gamedays 3 hours prior to game time till one hour after game time.
Advance Tickets, located in the Guest Services office, opens when gates open and closes at the beginning of the 6th inning. It is only open on game days. You can also view our digital ticket page HERE.
U
UMBRELLAS
Umbrellas are allowed inside Greater Nevada Field should rain be in the forecast and on hot days, provided they do not interfere with the view of other guests.
V
VISITING TEAM FANS
Visiting team fans are our guests. Harassment of the visiting team or their fans will not be tolerated and may result in ejection.
W
WEAPONS
Weapons of any kind are not permitted in Greater Nevada Field. This includes persons who hold a License to Carry (either a Concealed Carry or Open Carry license).
WEBSITE
The official websites for the Reno Aces and Greater Nevada Field are as followed:
WHEELCHAIRS
Greater Nevada Field has a limited number of wheelchairs available to guests. If wheelchair service is needed, please contact a Guest Services representative, or go to the Guest Services office for assistance.
WIFI
Guests at Greater Nevada Field will be able to enjoy free Wi-Fi. The Network ID is Greater Nevada Field. Guests will be directed to a Login page/Onboarding Portal where Guest Access can be acquired.
Become An #Aceball Insider
Stay up-to-date with everything #Aceball by becoming an #Aceball Insider today!